Virtual Cannabis Dinner Pairings Offer An Alternative To Heavy Alcohol Consumption During The Pandemic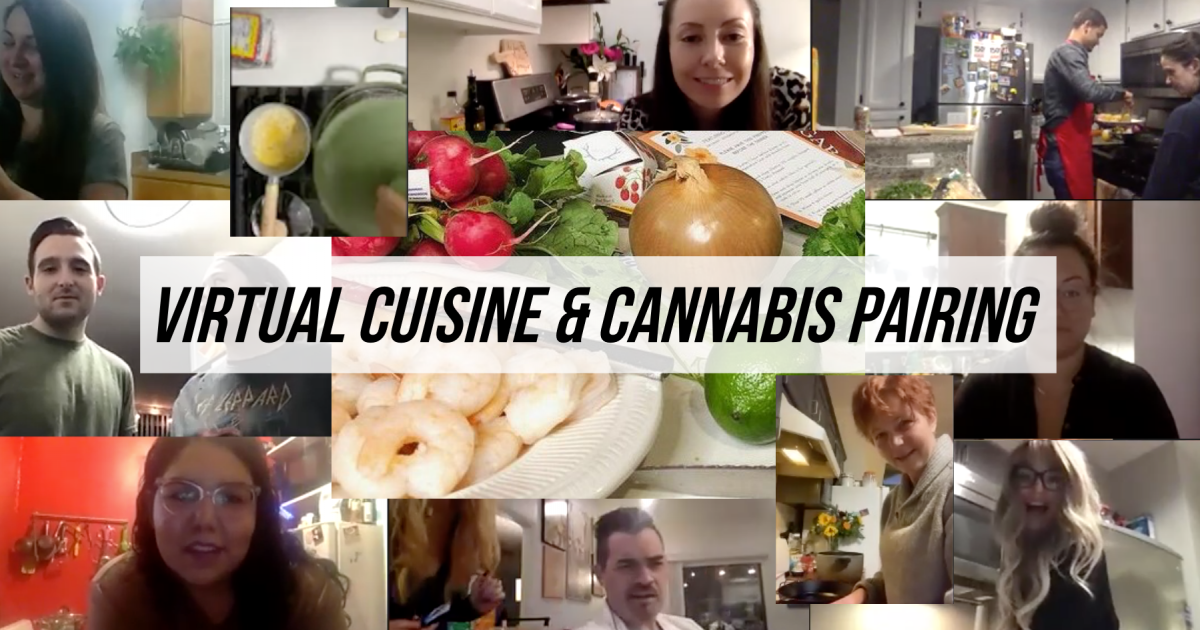 According to a report in the journal JAMA Network Open, American adults report drinking 14% more often during the coronavirus pandemic than usual. The increase in frequency of drinking amongst women was more pronounced, with heavy drinking episodes (four or more drinks within a couple of hours) up by 41% during the pandemic.
At the same time, the World Health Organization (WHO) firmly advised that alcohol use can compromise the body's immune system and "increases the risk of adverse health outcomes." The WHO stated. "Therefore, people should minimize their alcohol consumption at any time, and particularly during the COVID-19 pandemic."
Much like wine and dinner pairings, the cannabis industry has matured to introduce product and dinner pairings of the same nature. The unique tastes, aromas, and experiences offered by the world of new varieties of cannabis products are used to complement food textures, tastes, and aromas.
Part of the attraction to these gatherings is in enjoying an alternative experience to alcohol consumption. Cannabis and cuisine offers a relatively new domain for both epicureans and aficionados to explore and enjoy.
"It's easy to drink a few beers, glasses of wine or cocktails without much thought because it has been socialized, but it's cannabis' turn, and we're seeing more people use cannabis as an alternative to alcohol,"
Khara Pechtes of cannabis and cuisine event host, Food Flower Future (foodflowerfuture.com) asserted. "Drinking is easy, cannabis takes more intention, and in a way seems more meaningful when you are paying attention to how it affects you, and whether you need more, or if you find your 'just right' fit."
With its extensive medicinal properties, consumption of cannabis can deliver benefits that alcohol can't. Chemical compounds in the plant can help with sleep, anxiety, stress, as well as emotional exploration. Alternatively, alcohol is widely proven to cause potential, even terminal, health conditions.
"Cannabis, when used correctly, is the way to ease into the day or night with sophistication, awareness, and skill," Pechtes continued. As such, alcohol is never present at Food Flower Future's in-person, sit-down dinners.
Virtual Cannabis and Cuisine Pairing
As an industry highly dependent on in-person events, cannabis enthusiasts have pivoted to virtual gatherings instead. Instead of joining one another at a designated dinner location where carefully selected cannabis pre-rolls and products are paired with a prepared meal.
"The traditional make your own brownie or cookie edibles are no longer the 'go-to' experience," Pechtes said. "We're now seeing delicious gummies made with real fruit juice and even certified vegan products on the market with exact, low dosing that is safe, clear, and sophisticated."
I was recently invited to participate in a Food Flower Future live cooking class and cannabis pairing dinner. Featuring Jamaican-based chef Kimmy King (@kimmycooks_), the menu highlighted exotic flavor layers and ingredients common on the island.

Cannabis and hemp products paired with the 3-course meal included:
Appetizer: Elote Style Corn with Zesty Cilantro Lime Butter
Main: Plantain Dumpling and Lobster Stew Over Rice
Dessert: Sweet Sweet Tamarindo Balls
Most notable about this pairing menu is the assortment of new and unique product trends it reflects. Cannabis edibles, beverages, and CBD products represent an industry evolving with products to appeal to a variety of tastes and audiences.
The cannabis (THC and CDB) infused beverage market was poised to have a watershed year in 2020 prior to the pandemic. Brands like CANN and Wyld Canna have taken cue from mainstream consumer trends bringing alcohol-free sparkling waters and refreshments to the market.
Crafted more for custom flavor than punch, these low-dose THC and CBD infused drinks aren't designed to render you unable to drive, making them manageable for new and seasoned consumers alike.
Low dose cannabis edibles have been developed to fit within everyday consumption. Crackers can be eaten in moderation, and infused oils can be used in cooking.
The mild, calming effects of hemp-based CBD products are desirable for new consumer audiences seeking to enjoy the plant without the psychoactive effects of THC. Manufacturers recognize that and have evolved product offerings to accommodate them.
There was a time when hemp CBD pre-rolls were nothing short of disgusting tasting.
Paired with this menu, Dad Grass was a delightfully mild CBD pre-roll with a hint of lemon, and devoid of the hard bite and aftertaste of traditional hemp pre-rolls. Wyld Canna sparkling CBD waters were a welcoming and vibrantly flavorful pairing for my friend, a strict CBD consumer.
Most notable for the THC cannabis consumer who prefers a "controlled," yet noticeably soothing experience, Mendocino, California based Arcanna Flowers (@Arcanna_flowers) introduced a new pre-roll strain, "Wookie Cookies," paired with the dessert course. Arcanna Flowers' unique product impressed me with its exceptionally tame "mind altering" properties, overshadowed by a pleasant relaxing experience.
The mood of this two-hour cooking class and pairing was upbeat and engaging and helped fill the void of community the industry currently suffers from. "It's fun cooking with everyone and connecting online at a time when we are so distant," said class participant Nicole Cunningham.
Participants I spoke with also highlighted the experience of tasting more flavors in cannabis strain food matching with alcohol removed from the equation. Without alcohol, people were alert, having fun, and able to enjoy different interpretations of the final menu with lots of laughter.
"Every experience opens my mind and palette a little more than before," shared Jessie Gonzalez, who goes by industry name "Mommy Jane" (@themommyjane). "I also really love the fact that no one has to deal with over-intoxication and we can all wake up hangover free."
"With alcohol purposefully not included, it makes for an obvious change that is positive," Pechtes said. "It makes you think differently about dinner parties and what should be a staple or even offered other than alcoholic spirits, why not a cannabis tray of goodies passed around like having your alcohol cart on display?"
At its core, the cannabis industry is founded on community, so interacting with like-minded cannabis enthusiasts in Food Flower Future's product and cuisine virtual environment made for a refreshing, and almost essential opportunity to reconnect with a movement largely on hold.
Benzinga's Related Links:
© 2020 Benzinga.com. Benzinga does not provide investment advice. All rights reserved.
---