Arizona and Montana To Vote On Cannabis Adult-Use Legalization In November Ballot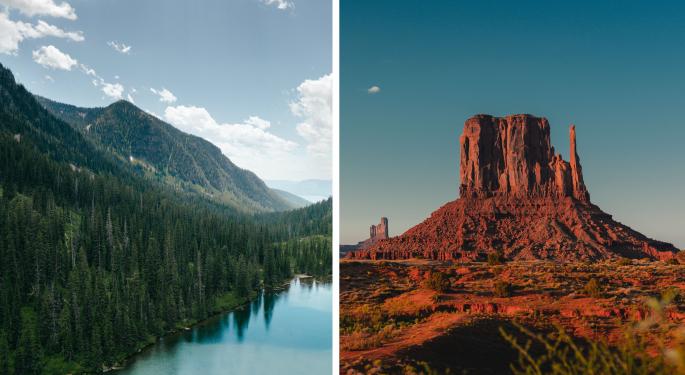 This week, Arizona and Montana announced that ballots for adult-use cannabis legalization have qualified for their respective November ballots.
The two states would add over 5 million potential cannabis consumers (adults over 21) to the cannabis market.
Arizona
The Secretary of State announced Monday that an initiative to vote on the legalization of recreational cannabis in Arizona was approved and will be included in the November ballot.
More than 455 thousand signatures were submitted by activists.
It'll now be up to voters to decide on the measure. If passed, adults will be allowed possession of up to an ounce of marijuana and cultivation of up to six plants of marijuana for personal use, Marijuana Moment reported.
In 2016, Proposition 205, a similar ballot, was rejected by Arizonan voters by a close call. 51.3% voted on 'No', while 48.7% said 'Yes'.
A recent poll of 600 participants predicts the measure will pass this time, with a 62% approval rate.
The measure also contains provisions meant to provide restorative justice to people with marijuana convictions by establishing expungement and social equity programs.
Montana
Montana's Secretary of State announced on Thursday that two new cannabis measures have qualified for the November ballot, after activists submitted over 130 thousand signatures.
A first measure would legalize possession of up to one ounce of cannabis and home cultivation of up to four plants and four seedlings, by making a statutory change.
"Our research has always shown that a majority of Montanans support legalization, and now voters will have the opportunity to enact that policy, which will create jobs and generate new revenue for our state, by voting yes on both CI-118 and I-190," said Pepper Petersen, spokesperson for New Approach Montana, a Helena-based marijuana reform campaign.
"It also means that law enforcement will stop wasting time and resources arresting adults for personal marijuana possession, and instead focus on real crime," he added.
According to Marijuana Moment, the initiative would also set the grounds for a legal cannabis industry, by putting the Montana Department of Revenue in charge of regulation. Licenses are expected to be issued by January 1, 2022, granting a priority to existing medical cannabis businesses in the state.
A second ballot initiative would add an exception in the state constitution to make anyone over 18 years of age or older an adult for all purposes, except for the purchase, consumption, or possession of alcoholic beverages and marijuana, which would be kept at a minimum of 21 years of age.
Pictures by Gautier Salles and Tevin Trinh on Unsplash.
View Comments and Join the Discussion!
Posted-In: arizona Montana New Approach Montana Pepper PetersenCannabis Markets