Bond Market Looks To Jobs Data And ECB Meeting In Shortened Trading Week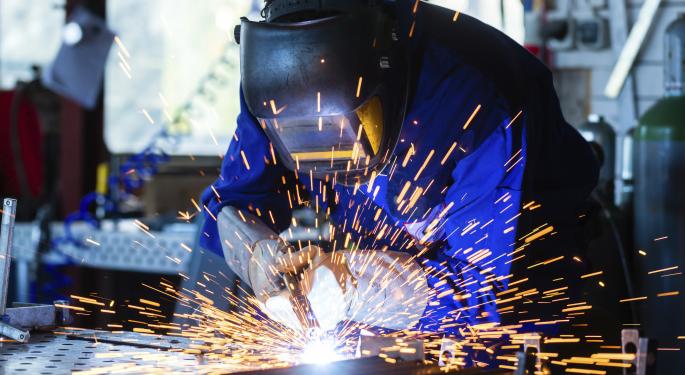 The recent rally in bond prices will be tested by several important economic releases in this pre-holiday trading week. With the market closed Friday, July 4, the Commerce Department is publishing its unemployment data on Thursday. The rate is expected to stay at 6.3 percent with 220,00 new jobs created in May. Average workweek is expected to remain unchanged at 34.5 hours, as is the rise in hourly earnings at 0.2 percent.
These expectations are consistent with the Fed's forecast of an improving overall economy featuring stable, but sluggish, jobs growth.
On Tuesday the ISM Manufacturing Index is expected to point to a continuation in the growth of the manufacturing sector with a reading above 55, according to the most recent survey by Reuters. The same survey predicted the Chicago ISM Index would be even stronger at 60.0 on Monday; the actual number was an even more bullish 62.6.
Related Link: Bond Market Fears Inflation On The Horizon
Pressure on Yields
With the U.S. economy, and particularly job growth, improving slowly, the bond market continues to be supported by the excess liquidity pushing down eurozone eurozone yields. Friday's U.S. 10 year note close of 2.53 was the lowest rate in over three weeks. This breakout of the recent range to lower yields should lead to a near-term retest of the year-to-date lows for the 10 year note of 2.42 percent. The catalyst for the next leg of the move may also come Thursday when the European Central Bank (ECB) announces its latest policy decision.
The ECB will probably keep interest rates unchanged after cutting its benchmark rate to a record low, including a negative deposit rate and targeted loans to promote lending. ECB president Draghi will announce the ECB's move on Thursday, and the expectations of no changes will keep the market well supported throughout the week. Markets do not expect Draghi to announce a Quantitative Easing(QE) program of bond purchases by the central bank at this meeting. The U.S. Federal Reserve's QE program is expected to be concluded by the fourth quarter. Market participants are expecting the Fed to raise its short term borrowing rate in mid-2015. The recent rally in bond prices has also spread to other domestic credit markets. Both high yield and corporate bonds rallied last week. Their pick up in yield over government bonds, however, remains extremely narrow. Investors are currently willing to take on more risk in an effort to boost yields in their fixed income portfolio. By buying lower rated bonds these investors are rewarded with a higher coupon.
Posted-In: 10-year Treasury note Chicago Business Barometer ecb Federal ReserveBonds Previews Markets Trading Ideas Best of Benzinga
View Comments and Join the Discussion!