SLIDESHOW: Who Will Succeed Bernanke?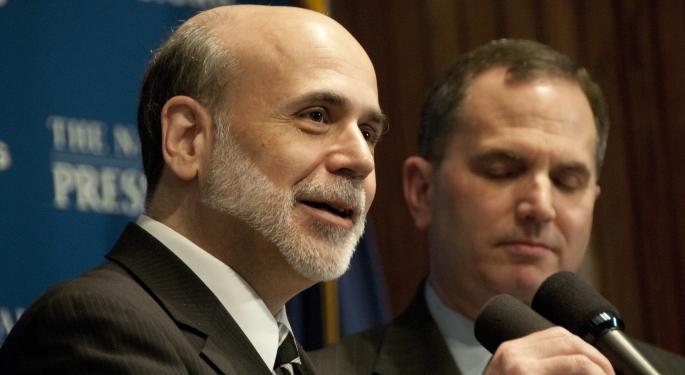 Last week, fears began to rise over the impending exit of Fed Chairman Ben Bernanke from his current office.
However, for those in the know, the move does not come as a shock as it was previously known that his term ends in January at that President Obama had not offered him the option to stay on past his term.
So, the question of who is set to succeed Bernanke becomes paramount to the future of Fed policy. Further, markets need as clear a view as possible so as to refrain from becoming disorderly on fears that a new Fed Chairman or Chairwoman would exit hastily from current policy.
Weighing the Candidates
Last week, CNBC listed several candidates for the role and gave odds on each of them assuming the post come 2014. However, let's dive into exactly what each candidate means for policy and thus for markets and the monetary stimulus that markets have come to love.
Fed Vice-Chairman Janet Yellen

Ms. Yellen is a name that has been thrown around a lot recently as the clear successor to Bernanke.

She would be the first woman to hold the position and is known to hold similar views to current Chairman Bernanke. Thus, her appointment and approval in Congress would most likely mean a smooth transition and continuation of current policy.

CNBC has the odds of Ms. Yellen becoming the next Chairman at 1 in 7.

Photo courtesy of businessinsider.com.

UC Berkeley Professor Christina Romer

Ms. Romer is currently an economics professor at UC Berkeley but was one of President Obama's close advisors in structuring the fiscal stimulus as Chairwoman of the Council of Economic Advisors.

She actually pushed for an even larger stimulus than the government enacted, which could mean that her approval would be met by harsh criticism from deficit hawks however she would most likely support current policies. CNBC has her odds at 1 in 6.

Photo courtesy of ytimg.com.

Harvard Professor Larry Summers

Larry Summers has held a host of positions as an economist in both the private and public sectors in his illustrious career.

He was previously the World Bank's Chief Economist, U.S. Treasury Secretary, Harvard University President, and Director of the National Economic Council, to name a few.

He originally opposed Ms. Romer's stimulus proposal in 2009 as too large but has more recently argued that governments take advantage of low interest rates and borrow lots of money now, which could anger deficit hawks.

There's also the controversy that has yet to blow over his comments on women in science.

Summers is interesting as he has not publicly voiced his opinion on Fed policy as of late and comments in the near future could be interesting as to whether he would be appointed to continue policy or would mark a sharp change to a more conservative Fed. CNBC has his odds at 1 in 6 as well.

Photo courtesy of huffingtonpost.com.

TIAA-CREF CEO Roger Ferguson

Former Fed Vice-Chairman and current TIAA-CREF CEO Roger Ferguson is also on the short-list of candidates to succeed Bernanke.

However, his relationship to former Chairman Alan Greenspan, for whom many blame the credit bubble, and also his relationship to Wall Street as the CEO of a large financial institution could raise serious roadblocks to his approval in Congress.

Ferguson would most likely act as a conservative Chairman and would be a significant change from the current regime. CNBC sees his odds at 1 in 6.

Photo courtesy of flickr.com.

Council of Economic Advisors Chairman Alan Krueger

Alan Krueger is the current chairman of the Council of Economic Advisors.

He was previously the Chief Economist at the Department of Labor and wrote for the New York Times before serving as Assistant Treasury Secretary for Economic Policy.

He is considered an expert on labor markets and labor economics, which could be a boost for him in an appointment process in Congress.

However, many of his economic theories on labor markets are predicated on simultaneous expansionary monetary and fiscal policies, which could anger deficit hawks. Austerity-minded lawmakers under pressure to cut the budget would not like such recommendations coming from the Fed. CNBC gives him odds of 1 in 8.

Photo courtesy of msnbcmedia.msn.com.

Timothy Geithner

Last but not least, is the former Treasury Secretary Timothy Geithner.

Geithner has slipped out of the spotlight since stepping down as Treasury Secretary in January but still remains on the list to succeed his former boss.

Geithner does have the resume to deserve the position: he worked under Treasury Secretaries Larry Summers and Robert Rubin in the international affairs division before joining the Council on Foreign Relations and later the IMF. Then, in 2003, he became President of the New York Federal Reserve and served as Vice-Chairman of the FOMC.

However, Geithner's recent exit from the political spotlight created more enemies in Washington than friends. The chances that he makes it through an approval process in Congress are slim to none, let alone the chances that his former boss brings him back into the fold.

Geithner would support easy-money policy, as many of the alphabet-soup of programs were his ideas that helped to save the financial sector in 2008. CNBC has his odds at basically zero. Besides, he's said that he doesn't want the job publicly.

Photo courtesy of Huffingtonpost.com.
Posted-In: News Bonds Previews Politics Global Econ #s Economics Intraday Update Best of Benzinga
View Comments and Join the Discussion!