BioZone Pharmaceuticals: Dr. Frost's Next Big Thing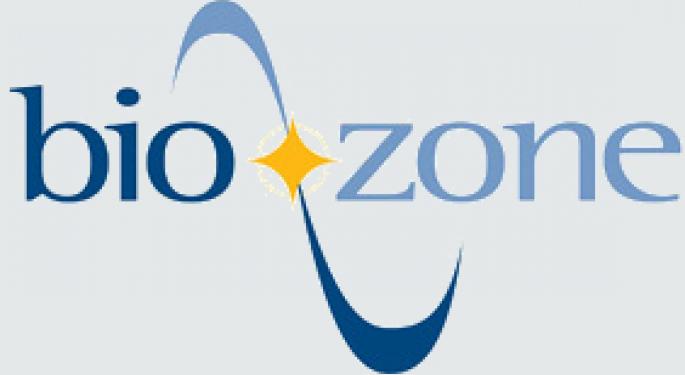 Billionaire investor Dr. Phillip Frost is famous for taking positions in small and development stage pharmaceutical companies and nurturing them to multi-billion dollar valuations. His $5M investment in Key Pharmaceuticals became $180M, a 3,500% return. His $100M investment in Ivax became $1.5B, a 1,400% return. His $10M investment in North American Vaccine became $140M, a 1,300% return. He currently holds an approximate 25% stake in BioZone Pharmaceuticals (BZNE). Many investors are predicting the company will emulate the success of his previous investments, and here is why.
What Is BioZone Pharmaceuticals?
BioZone Pharmaceuticals is a developer, manufacturer and marketer of over-the-counter drugs and preparations, cosmetics and nutritional supplements. It currently operates in two main ways. The first is the manufacturing of pharmaceutical products in its California based facility. The second is the development of a drug administration technology called QuSomes.
What Is QuSomes?
QuSomes is a drug delivery technology set to revolutionize the current standard of administration of insoluble drugs. In short, an insoluble drug requires a solvent to render it effective. At present, the production of such solvents is cost and labor intensive and, upon administration, the solvents can be toxic and produce severe side effects. QuSomes technology uses a newly discovered non-phospholipid liposome. Discovered by Dr. Brian Keller, BioZone's chief scientific officer, it is much less complex, much cheaper and much quicker to produce than the current standard liposomal systems. When combined with a pharmaceutical drug it slows the absorption process, which improves the bioavailability of the drug in question. Improved bioavailability leads to increased efficacy at lower doses, further reducing both cost and associated side effects.
The Pipeline
BioZone is currently using QuSomes in a range of cosmetic and nutritional products. While this generates revenue for the company, the potential for extensive growth is rooted in BioZone's pipeline of QuSomes application to pharmaceuticals. In addition to its use in a number of over the counter drug products, there are two main prescription applications in the pipeline.
The first is a standard of care anti-fungal treatment called Voriconazole. The two commercially available forms of the drug, VFEND (Pfizer) and generic manufactured by Sandoz, both contain a solvent called Cyclodextrin. Simply put, Cyclodextrin is a compound made up of sugar molecules bound together in a ring. Because of its hydrophilic outer and hydrophobic inner rings, it is possible to house hydrophobic compounds in Cyclodextrin, of which Voriconazole is one. While it improves bioavailability, it also causes side effects, and is expensive and time consuming in both its production and its combining with Voriconazole. QuSomes reduces both the cost and the side effects associated with administration. IMS Health estimates the market for Voriconazole to be $871M.
The second is a chemotherapy drug called Docetaxel. Docetaxel primarily treats breast cancer, prostate cancer and non-small cell lung cancer. Sanofi brands the drug as Taxotere and a generic version is also available.
The story with Docetaxel is similar to that of Voriconazole. Its administration requires a solvent called Polysorbate 80 that, again, is toxic and costly to produce. Using QuSomes in place of Polysorbate 80 again reduces both the cost and the side effects associated with the drug's administration. IMS Health estimates the market for Docetaxel to be $2.3B.
The Road To Market
In order to gain exposure to both of these markets BioZone needs to gain FDA approval. Where new drugs are concerned this can be a drawn out, expensive process. This is not true of reformulation. With the two drugs BioZone is targeting already approved, the process is much shorter and has a much higher likelihood of success. BioZone estimates the cost to be approximately $3M for each drug, and the time to approval to be two years. In addition, the high success rate associated with the reformulation approval process means BioZone can initiate sales and marketing before the process completes without too much risk.
In short, if BioZone can raise $6M over the next two years it could gain access to multi-billion dollar pharmaceutical markets.
Drug Manufacturing
Both its current and planned drug manufacturing operations improve BioZone's upside potential. As aforementioned, the company currently manufactures and sells over the counter pharmaceutical and cosmetic products in its California based manufacturing facility. This arm of the business is approaching breakeven, and generates revenues that the company can use to finance its QuSomes operation. Earlier this month MusclePharm, a sports nutrition company of which Dr. Frost also holds a significant share, announced it had made a $2M strategic investment in BioZone. The application of QuSomes technology to MusclePharm's products should serve to decrease the time it takes for the facility to reach profitability.
Regarding future developments, BioZone plans to start developing and selling its own branded label of generic drugs. The traditional barriers to entry in this market are not a concern for the company as the manufacturing plant is already operational and FDA approved. In addition, Biozone's full service production and distribution facility will enable the company to undercut the suppliers that currently distribute generic products to wholesalers.
Conclusion
The financial and strategic support of Dr. Frost could see BioZone both revolutionize the drug administration process and become a leader in the generic drug manufacturing industry. Its manufacturing facility is nearing profitability and, within two years, the company could have access to multi-billion dollar pharmaceutical markets. All said, the track record of Dr. Frost is undeniable, and BioZone stock offers investors an early opportunity to buy into what could be his next big success.
The preceding article is from one of our external contributors. It does not represent the opinion of Benzinga and has not been edited.
Posted-In: Markets Trading Ideas
View Comments and Join the Discussion!