Twitter's Growth Since IPO Isn't Very Impressive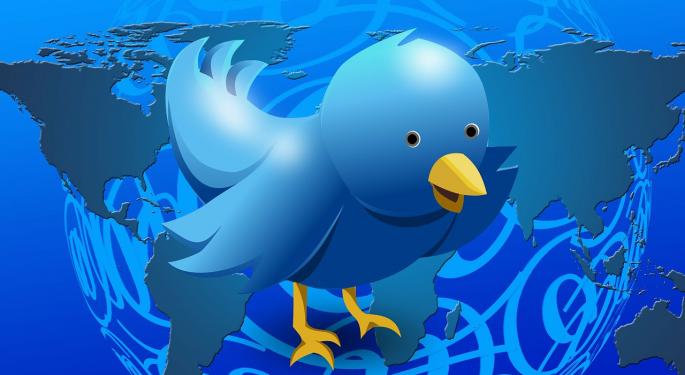 Twitter Inc (NYSE: TWTR) announced Thursday before the market open lukewarm fourth quarter results, as it managed to beat on earnings, while its revenues sorely missed expectations. In reaction, the stock has been trending notably lower.
The weak revenue growth, the slowest since it went public, was a corollary of competitive pressure stifling user growth. The social networking site went public in 2013, offering 70 million shares at a price of $26. On Nov. 7, 2013, the shares were listed on the NASDAQ at a listing price of $45.10.
User Growth
Twitter's user growth has stagnated over the quarters, as is evident by the numbers below. After hitting 100 million monthly active users in September 2011, it doubled the MAU to 200 million by December 2012. However, since then growth has been slow to come by. It took another two years another to add the next 100 million MAUs. Since the first quarter of 2015, the company's MAU numbers have seen very little growth.
Monthly Active Users (MAUs) (in millions)
First-Quarter 2014: 255.
Q2 2014: 271.
Q3 2014: 284.
Q4 2014: 288.
Q1 2015: 302.
Q2 2015: 304.
Q3 2015: 307.
Q4 2015: 305.
Q1 2016: 310.
Q2 2016: 313.
Q3 2016: 317.
Q4 2016: 319.
Milestone Events In Twitter's History
Twitter was founded in February 2006, with Jack Dorsey, Noah Glass and Florian Weber being the founders.
The company's services were made available to the public in July 2006.
Twitter introduced its API in September 2006.
In a noteworthy development, in October 2006, Twitter allowed sign up for the services without phone number, thus opening the scope for using the service through the web interface instead of real SMS.
The company's usage swelled in March 2007 at the SXSW conference in Austin, Texas, with the usage increasing to 60,000 daily messages to 20,000 daily messages.
Twitter introduced the Block feature in May 2007 and it got its first mobile site.
The company incorporated the @replies, which allowed all their @mentions in a new column.
Twitter friends were named as followers in July 2007.
In 2008, Twitter was launched in Japan. The company moved to a new headquarters and got the trending topics feature.
In 2009, helping it to monetize its services better, the company introduced the suggested users feature. Twitter launched the Twitter Lists.
In February 2010, the company revealed the growth figures. The same year, the company introduced the functionality to add your location, launched promoted tweets, which helped in monetization, and made live the promoted accounts.
In 2011, the company launched a new homepage, the follow button, its photosharing service and got integrated into iOS 5.
Twitter acquired a video clip company called Vine in 2013. It acquired Crashlytics to build out its mobile developer products. It also launched its music app called Twitter Music for the iPhone. It acquired Trendrr and MoPub.
In 2014, the company acquired Namo Media and also announced an undisclosed deal to buy SnappyTV.
The Q4 Results
The social networking site reported fourth quarter non-GAAP earnings per share of $0.16 per share on revenues of $717 million, up 1 percent year-over-year. On a reported basis, the company posted a net loss of $167 million or $0.23 per share.
Analysts, on average, had estimated earnings of $0.12 per share on revenues of $740.14 million for the quarter.
Advertising revenues accounted for 89 percent of the total revenues, with mobile advertising revenues making up 89 percent of the total ad revenues. Geographically, U.S. revenues fell 5 percent to $440 million or 61 percent of the total revenues but international revenues rose 12 percent.
Gross margin expanded to 42.6 percent from 36.6 percent in the third quarter.
Average monthly active users came in at 319 million compared to 317 million in the third quarter. Among the other key metrics, ad engagements climbed 151 percent year-over-year compared to 91 percent growth in the third quarter. Cost per ad engagement fell 60 percent.
At the open, Twitter was down 9.88 percent at $16.87. At last check, shares were down 10.36 percent at $16.78.
Posted-In: Education Movers Tech General Best of Benzinga
View Comments and Join the Discussion!