Allergan's Chief R&D Officer Talks Avycaz, Assembly Biosciences And 6 'Potential Blockbusters' In The Pipeline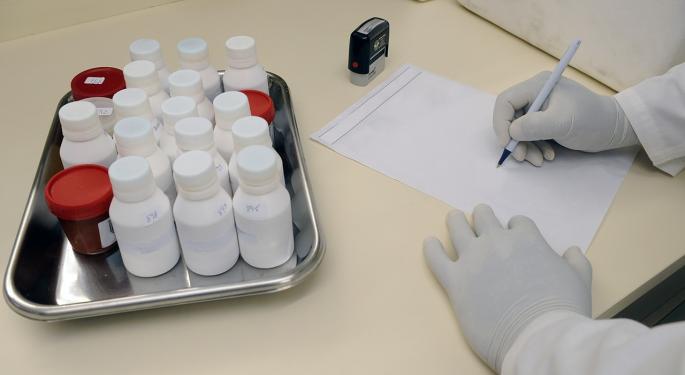 Early Monday, Allergan plc Ordinary Shares (NYSE: AGN) — one of the world's largest pharmaceutical companies that produces branded and generic drugs, and performs pharmaceutical research and development — announced its recent acquisition of Zeltiq Aesthetics.
Benzinga had the privilege of chatting with Allergan Chief R&D Officer David Nicholson about its drug Avycaz and other pipeline developments.
Avycaz Approval
Allergan announced in late January that the U.S. Food and Drug Administration has approved the company's supplemental New Drug Application (sNDA) to update the label for AVYCAZ® (ceftazidime and avibactam) with clinical data from two Phase 3 trials supporting the indication to treat patients with complicated urinary tract infections (cUTI), including pyelonephritis, caused by designated susceptible Gram-negative microorganisms.
The approval is significant because it removes any restrictions regarding the use of Avycaz in patients with susceptible Gram-negative infections. The executive emphasized the fact that Avycaz can now be used more as a first line antibiotic as it is approved without restrictions for use in patients with challenging pathogens.
Nicholson added that the company is presently working to get approval for Avycaz to be used for the treatment of pneumonia.
Assembly Biosciences
Allergan announced in early January that it has entered into a research, development, collaboration and license agreement for the worldwide rights to Assembly Biosciences' microbiome gastrointestinal (GI) development programs.
Nicholson noted that Allergan's GI is one of the company's top four therapeutic areas given its active presence in Inflammatory Bowel Disease and in Irritable Bowel Syndrome. Nevertheless, management is always looking for new venues to boost its GI pipeline and one of the areas of research which Nicholson spent many years is the impact of the gut flora (the bacteria we all have in our gut) on human health.
Related Link: Mid-Afternoon Market Update: Dow Rises 150 Points; Zeltiq Aesthetics Shares Surge Following Acquisition News
"Now some people speculate that differences in the gut microbiome could play a role in development of all sorts of disorders, autism, depression, CNS [central nervous system] disorders," he said. "For me, the low hanging fruit that we should be investigating is changes in gut flora on gastrointestinal diseases such as indeed, IBD and IBS, and that is the focus of our collaboration with Assembly."
Nicholson added that he is "very impressed" with Assembly Biosciences and its ability to evaluate the microbiome and differentiate between the microbiome in healthy individuals and individuals with GI disorders.
The executive further emphasized that the objective of the company's partnership is to introduce products to the market.
Pipeline
Nicholson touted the fact that Allergan has around 70 ongoing projects that are currently undergoing early phase 2 through to late phase 3 stages. Of those, the executive highlighted six products that are either in phase 3 or about to enter phase 3 — all of which have "significant blockbuster potential."
The 6 Products
Abicipar (phase 3) is in development for advanced macular degeneration (AMD).
Rapastinel (phase 3) for the treatment of major depressive disorder (MDD). Of particular note, during the phase 2 study the therapy showed an onset of action within hours in patients who had insufficiently responded to existing antidepressants.
Cenicriviroc (will enter phase 3 this year) for the treatment of non-alcoholic steatohepatitis (NASH). During the phase 2 study the therapy showed a reduction in reduction in fibrosis in patients.
Relamorelin (should enter phase 3 this year) is an agent for diabetic gastroparesis.
Ubrogepant (phase 3) and Olcegepant (phase 2B) for the prophylactic and acute treatment of migraines.
Esmya or ulipristal (completed phase 3) for the treatment of uterine fibroids. During a phase 2 trial Esmya showed a very significant reduction of bleeding associated with uterine fibroids and also showed a very clear improvement in quality of life of women suffering from this disorder.
At last check, ordinary share of Allergan were up 0.42 percent at $247.40.
View Comments and Join the Discussion!
Posted-In: Biotech News Health Care FDA Exclusives Movers Trading Ideas Interview Best of Benzinga