Merrimack Forms A Major Topping Pattern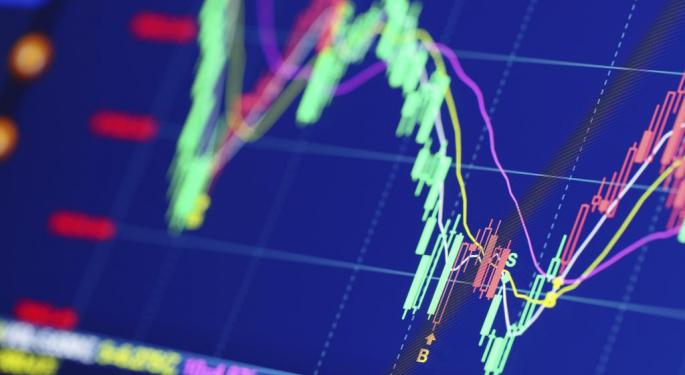 The S&P 500 has been declining slowly over the last month. The Nasdaq Composite has as well, and let's not even discuss the carnage that has been the Dow Jones Transportation Average.
Biotechnology has been one of the top industries for quite sometime, and it had been weathering this most recent sell-off relatively well. Unfortunately, even some of the biotechs are starting to show signs of breaking down.
For investors already holding positions, it certainly couldn't hurt to know when a specific name might be forming a potential breakdown pattern.
One such biotech stock showing a bearish pattern is Merrimack.
The company: Merrimack Pharmaceuticals Inc
Ticker Symbol: (NASDAQ: MACK)
Sector: Healthcare
Industry: Biotechnology
Merrimack Pharmaceuticals, Inc. engages in discovering, developing, and preparing to commercialize medicines paired with companion diagnostics for the treatment of cancer primarily in the United States.
Related:Where Will Intrexon Shares Go Next?
The company has collaboration and license agreements with Baxter International Inc., Baxter Healthcare Corporation, Baxter Healthcare SA, Actavis, Sanofi, PharmaEngine, Inc., Dyax Corp., Adimab LLC, and University of California.
Review the 1-year chart of Merrimack with the added notations: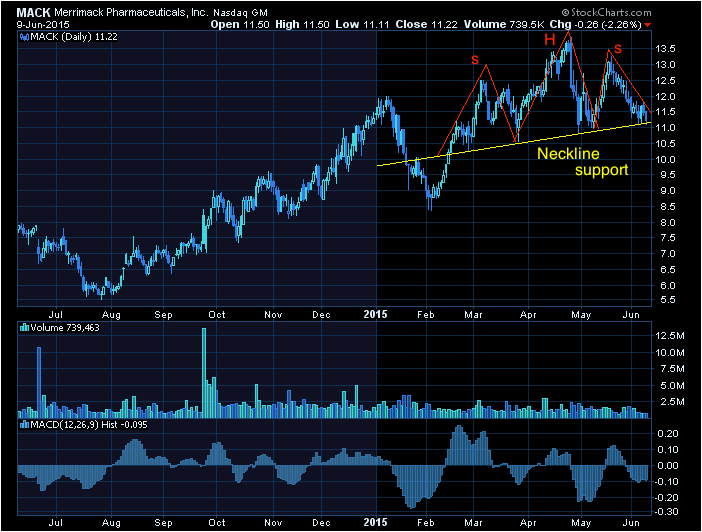 Intrexon declined all throughout last summer up into its October low around $17/share.
Since its July low, Merrimack had been trending consistently higher. From its $5.50 low, the stock hit its peak at almost $14 a share.
Over the last four months of the rally Merrimack has formed three clear peaks, with the middle peak being the highest. This pattern (red) is a common formation known as a head and shoulders pattern.
The implication of a head shoulders is for an eventual breakdown, but traders and investors should wait for confirmation of the pattern before acting on it.
Confirmation of a head and shoulders pattern occurs with a break of the "neckline" support. In Merrimack's case its neckline is a trendline of support (yellow).
Merrimack's neckline support sits right about where the stock closed yesterday, which was at $11.22/share.
The preceding article is from one of our external contributors. It does not represent the opinion of Benzinga and has not been edited.
Tags: Biotech Stocks biotech technicals Christian Tharp
Posted in: Biotech Health Care Technicals Trading Ideas General Best of Benzinga