How Much Further Can Jazz Pharmaceuticals Fall?
The S&P 500 is currently coiling within a common chart pattern known as a triangle. The index isn't really going up, not really going down. At some point the S&P will break out of that triangle.
Some industries are performing well in that coiling-type environment, while others are not.
Transports have been struggling, but energy names have performed quite well.
Biotech stocks have been hit or miss, but most of them have been breaking lower over the last several weeks.
Jazz Pharmaceuticals is one of the biotech names that's had a rough go of it, but how much lower might it go?
The company: Jazz Pharmaceuticals plc - Ordinary Shares (NASDAQ: JAZZ)
Sector: Healthcare
Industry: Biotechnology
Jazz Pharmaceuticals identifies, develops, and commercializes pharmaceutical products for various medical needs in the United States, Europe, and internationally.
Related Link: One Big Step Coming For MannKind?
Its products comprise Xyrem, an oral solution for the treatment of cataplexy and excessive daytime sleepiness in patients with narcolepsy; Erwinaze to treat acute lymphoblastic leukemia; and Defitelio for the treatment and prevention of severe hepatic veno-occlusive disease.
Review the one-year chart of Jazz with the added notations: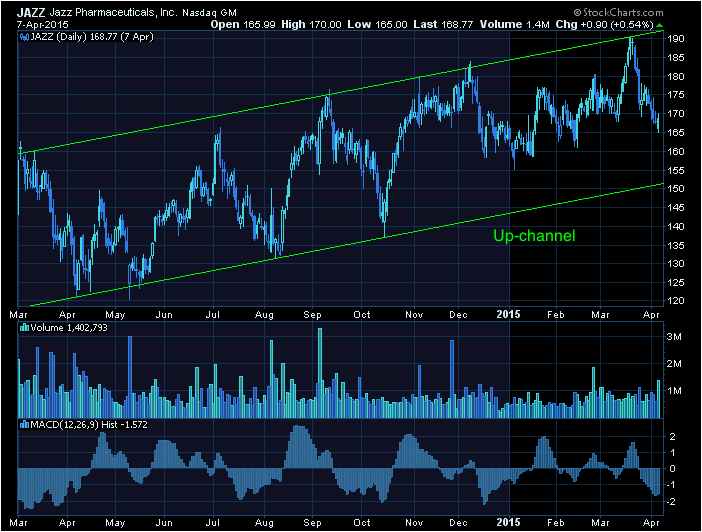 As can be seen from the chart above, Jazz has been trending slowly higher over the last 12 months. The stock hit a 52-week high as recently as three weeks ago.
During the stock's up-trend, Jazz has been trading within a chart pattern known as an up-channel. There have been multiple tests of the channel support and the channel resistance.
As a matter of fact, it was the channel resistance that halted Jazz's March run to new highs.
Jazz has tested its channel support for quite some time, but if it does, it could be a great entry point for investors and traders.
The stock closed yesterday at $168.77 per share.
Tags: Jazz Pharma stock Jazz Pharmaceuticals Xyrem
Posted in: Biotech Technicals Trading Ideas General