Right Product, Wrong Mentality with Intel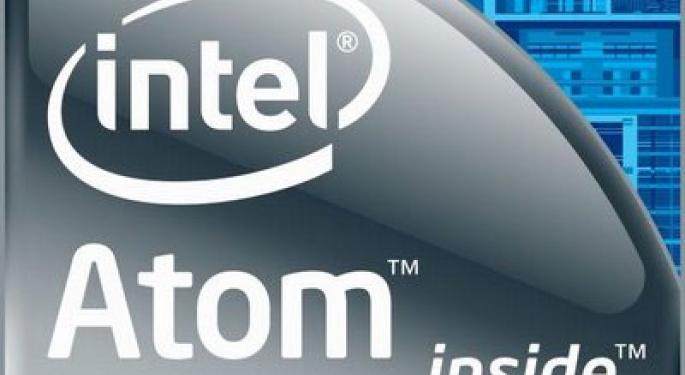 Today the world's largest manufacturer of semiconductors, Intel Corp. (NADSDAQ:INTL) , launched its latest development: the Atom N450 processor chip for netbooks. This news comes days after a tumultuous week for Intel, and on paper promises to offer a light at the end of tunnel for the massive company. Is the Atom N450 really the scion of good news - or the harbinger of bad?
The Atom N450 truly is an advancement over the previous offerings for netbook processors from Intel. Designed to be 60% smaller and 20% lighter than previous processors, the Atom N450 is also a bit faster, with a clock speed of 1.66Ghz. This makes the chip perfect for netbooks, which are designed to be highly portable platforms for internet usage. Intel has already made arrangements to distribute and market the chip, and plans to see it in several netbooks over the next year. So, this seems like a good move by Intel, right?
Well, while the Atom N450 is a promising move for the future of netbooks, its worth is completely invalidated by Intel's stubborn and backwards mentality regarding netbooks. It is no secret that many prefer netbooks over pricier and larger notebooks because of portability. Many also use these netbooks for more than surfing the net, which is their original purpose.
Intel, instead of recognizing this new market and its massive upside potential for profit, instead seeks to try to match the consumer to the product (instead of the product to the consumer, like a smart company). They are continuing to view netbooks as the cheap, economical version of a notebook, instead of a portable alternative, and prefer to focus on development for notebooks. This leaves netbooks almost as a second-thought product, with an upgraded processor (the N450) but not much else.
It is almost as if Intel is saying, "How dare people use a netbook like it's an actual computer, for multimedia, music, word processing, video games, and other purposes? We will not have it!" Is this is the right course of action?
Of course not. The company that firmly embraces the role of a netbook and creates hardware specifically created to make the netbook more akin to a portable PC will make significant inroads in the market. Now, I am not saying that netbooks are future. I am saying, though, that as technology continues to progress, notebooks themselves eventually could be as portable as netbooks without sacrificing performance. Why not place yourself 5-7 years ahead of your competitors by starting now and using netbooks as a testbed for the future?
Just so I am clear, the problem here is not with the Atom N450. It is a nifty piece of hardware that will work great in any netbook on the market. The problem is that Intel's reactionary mentality towards netbooks means that the Atom N450 will be relegated to a second-class platform and will not get to perform or be developed as well as it otherwise could.
The discussion about the Atom N450, though, just may be relegated to the backburner in case the FTC suit against Intel turns ugly.
Posted-In: Economics After-Hours Center Tech
View Comments and Join the Discussion!