How Quant Data's Option Order Flow Tool Helps Bridge The Gap Between Institutional And Retail Traders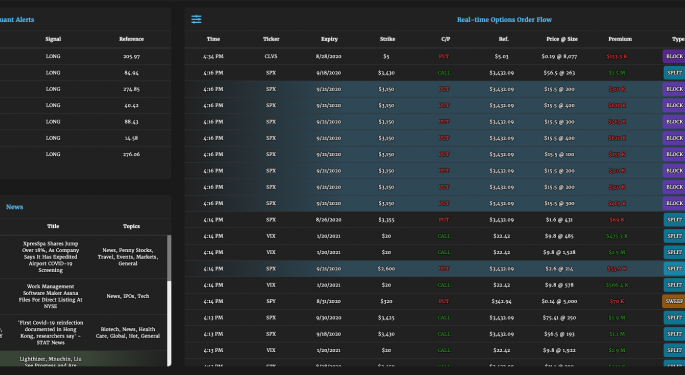 Benzinga will be holding its annual Benzinga Global Fintech Awards, a day of dealmaking, networking, and recognition in the financial technology space, on Nov. 10, 2020.
In recognition of those disruptive innovators creating positive and diverse change within the financial services space, Benzinga chatted with Andrew Hiesinger, Head of Operations at Quant Data.
About Quant Data
Technology has reduced information asymmetry for investors. The problem with technology: it can be difficult to access due to cost.
Founded in 2020, QuantData is a fintech specializing in low-cost access to option order flow.
In the simplest way possible: Quant Data is a web-based provider of option order-flow, real-time news, sentiment tracking, and charting.
"We filter order flow for conviction and urgency," said Hiesinger. "We're looking for the institutional traders getting in for some reason we don't know about."
Core Product Portfolio
"We offer real-time options order flow and alerts."
In bridging the gap between institutional and retail traders, Quant Data comes as a platform for advanced, data-based alpha.
The company's core product portfolio includes the following products: real-time option order flow, alerts, and real-time news.
"We have everything including upgrades, downgrades, analyst ratings, and sentiment tracking," Hiesinger said. "In our order flow, you can also click on each contract to see different details about the trade, on what side it was filled, the volume, open interest, implied volatility, the greeks, and TradingView charts."
Innovation Outlook
Quant Data officially launched on Aug. 3, 2020.
In light of the launch, the company is working feverishly on expanding the depth and breadth of education and data available.
"Moving forward, we intend to implement historical flow, so you can analyze and learn from history," Hiesinger said.
"We're also working on market side statistics, an options profit calculator because most don't consider time decay, as well as the ability to see the call-to-put ratios, so you can see what side people are trading for that day."
To learn more about Quant Data's solutions, click here.
View Comments and Join the Discussion!
Posted-In: Andrew Hiesinger Quant DataFintech Best of Benzinga