Meet Trading Central, The One-Stop-Shop Behind The Investment Insights At Most Major Brokers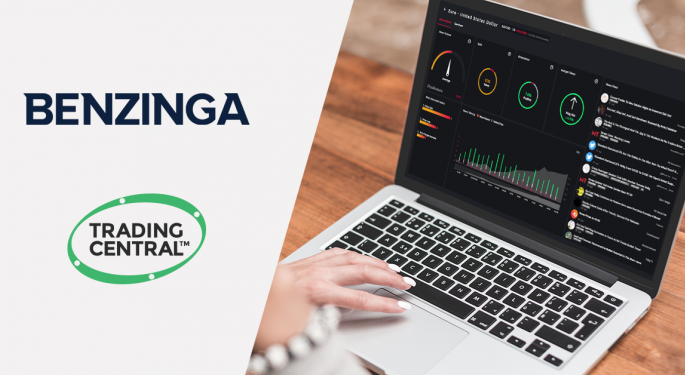 In today's cost-centric world of zero-commission investing, most retail brokers are looking to do more for less, delivering actionable insights at a fraction of the cost.
Helping brokers keep up with the massive wealth transfer and the younger generation of active investors is Trading Central, the fintech driving much of the analytics and data services at major online brokerages since 1999.
What To Know About Trading Central
Throughout the past two decades, Trading Central built a name for itself by offering unique solutions for self-directed investors and the online brokerages that serve them. This journey began after its founders Alain Pellier and Romain Gandon identified the unmet need for actionable investment research and left their positions on the trading floor to build one of the first digital research firms in Europe.
"We started as a technical analysis research house, but as the online investing space has grown, we've carefully evolved with it. Today, Trading Central offers a diverse line of human and AI-derived analytical tools spanning multiple types of analysis and global coverage to serve a broad range of investors of all skill levels," said Julien Heiderscheid, VP Global Solutions at Trading Central.
The firm's primarily B2B-driven model enables end-users access to a multi-lingual decision support system full of fundamental, technical, sentiment, and economic insights across multiple asset classes. The firm's acquisition of automated chartist pattern recognition giant Recognia in December 2014 helped refine its product suite for the modern, alpha-driven investor.
"Most North American online brokers use the Recognia pattern recognition software," Heiderscheid said. "Global Forex and CFD brokers also want to have access to the original U.S. patented automated chartist tools."
Expanding
In 2018, Trading Central expanded the depth and breadth of its product portfolio with the launch of TC Labs, an innovation unit focused on curating solutions for emerging trends in mobile, big data, sentiment, artificial intelligence, and ESG.
"Trading Central has already mastered research and pattern recognition, but we really want to expand their machine learning capabilities," said Jerome Favresse, managing director of TC Labs. "Our first hurdle was building our natural language processor Felix, which is now deployed in our first two products released, TC Market Buzz and TC Crowd Insight."
The first product, TC Market Buzz, is an award-winning, AI-driven disruptive news experience that uses Trading Central's Felix NLP to derive meaningful insights from millions of news articles, web harvested content, social media feeds, and online blog posts.
"It helps traders read less and know more," Favresse said. "For decades, there has been little evolution to how news is surfaced. Since they were first circulated online, newsfeeds have been formatted based on headlines and timestamps. We're completely changing that, showing investors the trending topics and instruments based on novel metrics like volume and general sentiment."
"You're going to read 3 articles that are extremely relevant, rather than, you know, skimming through headlines," Favresse added.
Paradigm Shift In News Presentation
In further expanding its offerings, Trading Central has partnered with Benzinga as well as other news providers and alternative players beyond the typical big-name distribution channels.
"Thanks to these partnerships, we're exposing our customers to specialized financial content relevant to a retail audience. Brokers are all looking to optimize their spending in order to increase news readership, to improve news analytics quality and the portal experience itself," Heiderscheid said.
Further, Trading Central sees a massive adoption of its newest tools with which users can quickly parse and trade on the emotion and sentiment driving markets.
"Our new award-winning tool TC Economic Insights overlays proprietary analytics on top of the traditional calendar view," Heiderscheid said.
"You can visually see what happens after the release. We can show you how many times the event has been bullish versus bearish and compare volatility. We can put in an order right from there, with profit targets and stop losses most suitable."
The new tools will help brokerage businesses disrupt and stay in tune with the wealth transfer for less.
"We started as a technical shop, but have become so much more. After successfully expanding into fundamentals, we're now incredibly excited to be making such a large splash in the news, sentiment, and economics space, bringing long-awaited innovation to today's investors."
To learn more about actionable insights with Trading Central, please click here.
View Comments and Join the Discussion!
Posted-In: Alain Pellier Jerome Favresse Julien Heiderscheid Recognia Romain GandonFintech Exclusives Interview Best of Benzinga