Compass Cannabis Clinic Gears Up For Expansion Into Global Markets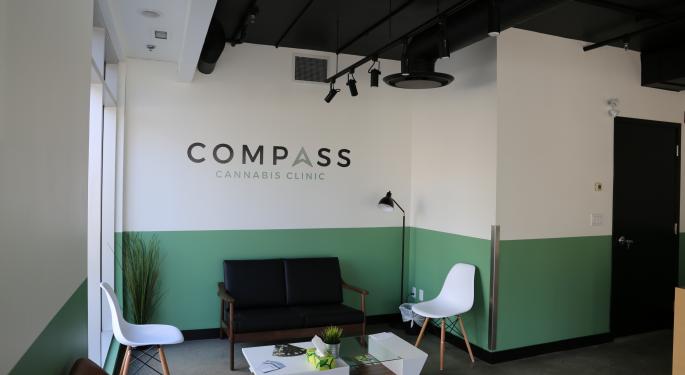 Cannabis investors can't afford to miss the Benzinga Cannabis Capital Conference, a premier gathering of investors and entrepreneurs painting an honest picture of the opportunities and challenges in cannabis investing. Space is limited—get your tickets before they sell out.
Ahead of the conference, we're interviewing the speakers who will deliver key insights on the cannabis space at the BZ Cannabis Capital Conference. This installment features the Compass Cannabis Clinic.
What is the elevator pitch for your company?
Compass Cannabis Clinic is a medical cannabis consultation company whose core business is focused on providing educational and consultation services to Canadians who are able to obtain cannabis from a licensed producer under Canada's ACMPR. Compass Cannabis has forty confirmed leases for locations across Canada, a mix of operational clinics that are now open, in development, or in preparation with the intended use of becoming a retail cannabis store. The company has been recently selected by the Saskatchewan Liquor and Gaming Authority as a cannabis retailer for Weyburn, SK, and as of this post have received 9 retail development permits across the province of Alberta. The retail license is through Compass's subsidiary company and in partnership with Starbuds Colorado, one of the leading multiple state cannabis retailers in the United States. With a rapidly growing patient base currently being served and an aggressive real estate acquisition strategy, the company is poised to be one of the largest marijuana organizations in Canada with ongoing development strategies to expand into Australia and the United States.
How is your firm capitalizing on the opportunities in cannabis?
We have been actively acquiring cannabis friendly retail and clinic leases, allowing for a rapid expansion of our footprint across western Canada. Internationally, we have leveraged our clinical and retail knowledge outside of Canada to grow our platforms within Australia and the USA, ultimately positioning Compass to become a leading facilitator of medical and retail services globally.
What is the biggest challenge the company faces?
Expanding our brands and quality of service in a sustainable way, across multiple markets and with evolving regulations. We strive to maintain operational and educational excellence while under rapid growth, while remaining compliant and competitive in this emerging industry.
What is your growth strategy? How do you plan to expand within your current vertical, and do you plan to expand to other products and markets?
Medically we intend to grow our exposure in international markets, particularly in Australia. There are significant opportunities for both vertical integration and physician education. On the retail front we expect to have 45-50 retail locations in Canada. Through our network of locations, we see many opportunities to expand our brands and revenue including white labeling, ancillary products, and vertical integrations. This revenue, along with leveraging the success and knowledge of our partners from Starbuds Colorado will help to drive our expansion into the American market.
Any other thoughts?
The global cannabis story is still in the first inning. The evolution of cannabis as medicine is going to drive a revolution in health care, anti-aging, and further access to natural products. Beyond medical, the growth of the retail cannabis market is going to be on par with the alcohol industry from the post prohibition era. There has not been a similarly historical moment in over 80 years, putting us in the midst of the next great global growth story.

Posted-In: Benzinga Cannabis Capital ConferenceCannabis Fintech Interview
View Comments and Join the Discussion!