Over 100 Million Identities Verified, And Counting With Jumio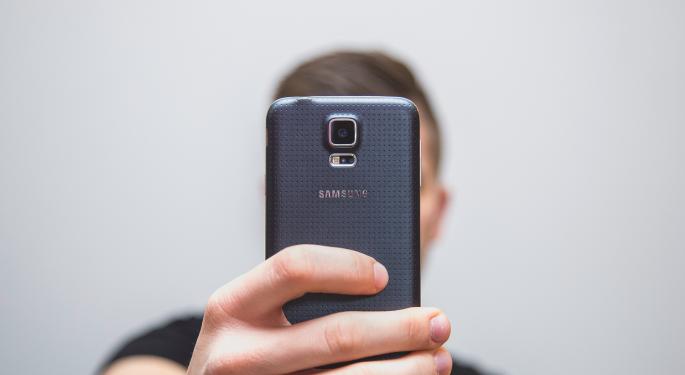 The Benzinga Global Fintech Awards are a yearly showcase of the greatest advents in fintech from leaders and visionaries in the worlds of finance and technology. This year, we have executives, developers and innovators from the likes of Facebook, Amazon, IBM, JP Morgan, Zelle, TD Ameritrade, TradeStation, Fidelity, and so many more.
The BZ Awards is an oscar-like event to showcase the companies with the most impressive technology, who are paving the future in financial services and capital markets. In preparation for its biggest installment yet this May, we're profiling the companies who have moved to the final round of judging for the BZ Awards. In this feature we focus in on Jumio.
What does your company do? What unique problem does it solve?
Whether in front of a webcam or a smartphone, Jumio can quickly verify the authenticity of an
ID, a document, or your user's real-world identity in seconds—not hours or days—helping
businesses optimize conversions, deter fraud, and meet compliance mandates (Anti-Money
Laundering/Know Your Customer/ GDPR) while providing a fast, seamless customer
experience. Jumio is used by leading companies in the financial services, cryptocurrency,
sharing economy, retail, travel, and online gaming sectors.
While other verification solutions rely on automation to check IDs, Jumio uses a hybrid approach
that is both unique and highly accurate. Jumio's AI-powered Netverify solution suite uses a
combination of computer vision technology, machine learning, biometrics, and human
verification experts to verify credentials issued by over 200 countries in real time web and
mobile transactions. Jumio's Trusted Identity as a Service platform is used by leading
companies in the financial services, sharing economy, cryptocurrency, retail, travel and online
gaming sectors – including Airbnb, Coinbase, United Airlines, easyJet and more.
Jumio serves a variety of use cases and customer pain points from employee verification, age
verification, as well as:
Fraud Detection: In an ever growing digital world, verifying your customer's real world identity

to their digital one can be daunting. But as cyber criminals become more and more savvy,

mitigating fraud risk is essential to a business' bottom line as well as a consumer's experience. Jumio gives our customer a definitive yes or no decision about whether to accept or reject an online verification transaction with the highest accuracy rates in the industry.

Knowledge Based Authentication Replacement: Knowledge-based authentication is an

authentication process in which the user is asked to answer at least one "secret" question.

Thanks to a steady stream of data breaches, chances are good that cyber criminals already

have access to the answers of a user's security questions. As a result, many enterprises are

abandoning KBA for biometric-based online identity verification for a more secure platform.

User Onboarding: Consumers want a seamless digital journey whether it be ordering coffee,

renting a car, checking their bank and investments or checking into their hotel. Tailoring and

streamlining the user experience is critical to that journey and reducing abandonment rates. With Jumio's online ID and identity verification, abandonment rates can dramatically reduced

with a more familiar and simple online verification process.
Who are your customers?
Jumio serves more than 500 global customers, including some of the largest players in the
financial services, cryptocurrency, sharing economy, online gambling, and travel/hospitality industries. Jumio serves mid-size to enterprise companies in a variety of industries, including
the global leaders in the sharing economy (AirBnB), financial services (HSBC), cryptocurrency
(Coinbase), and online gambling (888.com).
How long have you been in business?
Jumio has been verifying identities since 2010. Jumio's Netverify solution has been in market
since 2012.
Where are you located?
Jumio is located in the heart of Silicon Valley, Palo Alto, California.
Who is your company's leadership? What kind of experience do they have?
From the U.S. to the U.K.to Asia, Jumio's leadership team provides decades of experience in
technology, financial planning, sales, marketing, innovation, customer success and
entrepreneurship. This diverse, robust team of leaders ensures global coverage for Jumio's c
ustomer base.
Stephen Stuut, Chief Executive Officer, has fueled corporate growth in leading
technology businesses for more than 25 years. Before working at Jumio, Stephen was
the CEO of TruePosition, a location-based services technology company. Previously, he
was the President and CEO of Broadband Innovations, a company that delivers digital
interactivity services to cable TV providers.
Colby Moosman, Chief Financial Officer, is responsible for financial planning,
operations management and reporting. He has held leadership roles at both public and
private companies, including American Airlines during that company's notable
restructuring and Centex Homes, a $10 billion home builder acquired by Pulte. Colby
recently held financial and operating responsibilities at Tidemark, an enterprise
Software-as- a-Service startup acquired by a private equity firm.
Robert E. Prigge, Chief Revenue Officer, leads all customer-facing activities such as
sales, marketing and support. Before working at Jumio, Robert was the Chief Sales
Officer for Gartner Cool Vendor Infrascale as well as Chief Commercial Officer for
Kleiner-Perkins' finance platform CPF. Robert also served as VP of Global Sales and
Marketing for the Sterling Commerce Division of AT&T through it's $1.4 billion dollar
acquisition by IBM. In addition to being an expert in global business, he is fluent in J
apanese and has lived overseas for nearly 15 years.
James Cook, General Counsel and Company Secretary, has been practicing law at
technology companies in the U.S., Europe and Australia for over 15 year. He was
responsible for executing large transaction within the private and public sectors at
companies like Accenture and Hewlett-Packard. James recently served as general
counsel and company secretary of Aconex, culminating in a $140M IPO in December
2014.
Labhesh Patel, Chief Technology Officer and Chief Scientist, is responsible for
driving Jumio's innovation in the identity verification space with deep learning, computer
vision and augmented intelligence – an alternative conceptualization of artificial
intelligence that focuses on AI;s assistive role. He has more than 15 years of experience
in corporate and entrepreneurial setting. Labesh has experience in leading engineering
teams, launching new online services and developing ground breaking technologies.
Alexey Grubauer, Chief Information Officer, brings more than 15 years of innovative
software development experience to Jumio. He has deep roots in the payments world,
as he served as Head of Software Development as paysafecard which offers a safe and
convenient way for consumers to execute online payments. He honed in on his client
services skills at EOC/Frontworx, a consulting company where he managed multiple
development teams executing a wide range of projects in the payments and business
process arenas.
Philipp Pointner, Chief Product Officer, facilitates Jumio's product strategy. He turns
visions into products with his team of product managers and designers. Before working
at Jumio, Philipp was responsible for paysafecard, Europe's most popular prepaid
solution for online purchases. He played a prominent role in launching the KYC
compliant mypaysafecard wallet. Before that, he worked at e-commerce giant First Data,
where he took a deep dive into the classic payment industry.
Christian Schwaiger, Chief Security Officer, aims to ensure that Jumio adheres to the
most stringent levels of security and industry regulations and standards as they relate to
merchant and customer data security and privacy. He was involved in Common Criteria,
Visa/Mastercard, ISO 27001 and PCI certification efforts for different companies i
ncluding a smart card manufacturer.
Ervinna Lim, Head of Global Customer Success, is responsible for the team for all
onboarding, support and customer success. Ervinna manages a team of sales
engineers, support, and professional services representatives around the globe including
personnel in Palo Alto (HQ), London, Jaipur, and Vienna.
Dean Nicolls, Head of Global Marketing, brings 25 years of experience in B2B
marketing focusing on cloud services. These include roles at Starbucks, Microsoft and
variety of early stage cloud-based security companies including LiveOffice (acquired by
Symantec), TeleSign (acquired by BICS) and, most recently, Infrascale. At Jumio, Dean
is responsible for all branding, PR/analyst relations, product messaging, demand
generation and sales/channel enablement.
Karen Treiger, Head of People and Culture, is in charge of strategically leading
Jumio's global people and culture organization, building talent management and helping
drive its IDEAL culture. Karen brings more than 20 years of experience working with
startups and Fortune 500 companies. Karen has served in various HR leadership and
consultant roles with YouSendIt, Shazam, Hewlett Packard, Omnicell and Informatica.
Frederic Ho, Vice President, Asia Pacific, bring more than a decade of selling and
marketing information security solutions in the Asia Pacific. He leads Jumio's efforts to
launch and expand its online identity verification solutions in the region across a broad
range of verticals. Prior to Jumio, Frederic manager teams at Micro Focus, OpenText,
Autonomy Systems and Data Craft Asia.
Who are your investors, if any?
Jumio's investors are Millennium Technology Ventures and Centana Growth Partners.
Is there anything else Benzinga should know about your company?
With GDPR coming into effect at the end of the month, companies are scrambling to become
compliant. GDPR is a regulation that requires businesses to protect the personal data and
privacy of EU citizens for transactions that occur within EU member states.
Jumio is not only fully GDPR compliant as a data processor, with a robust and transparent
program for maintaining all standards laid out in GDPR, but also its identity verification solution
is a key GDPR enabler, offering customers the ability to maintain data protection and contribute
to their compliance with GDPR requirements.
Jumio enables its customers to become GDPR compliant because of 5 core must-haves that
are baked into our online identity solutions:
Data Encryption

Human Review

Compliant Machine Learning

Data Retention

Data Breach Notifications
While the GDPR is somewhat vague in terms of specifics, PCI DSS provides much better
granularity. That's why data processors, such as Jumio, that are already PCI DSS compliant
have a big head start on implementing the kinds of data security best practices and controls that
the GDPR requires. Plus, PCI DSS compliant organizations have the added advantage of
having their security practices, including data encryption, data retention, and data breach
notification processes vetted by independent regulators.
Posted-In: Benzinga Fintech Awards JumioFintech
View Comments and Join the Discussion!