SharingAlpha Employs A New Approach To Investment Management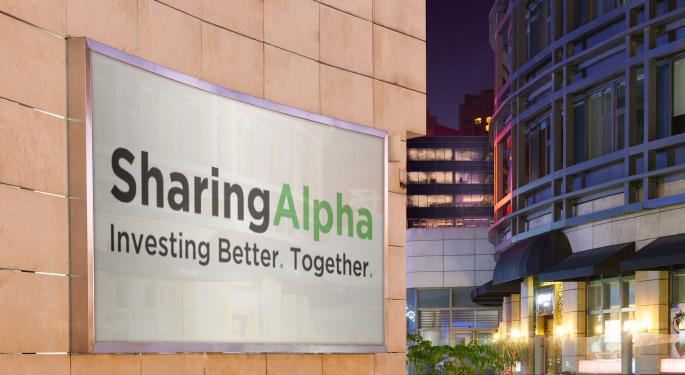 The Benzinga Global Fintech Awards are a yearly showcase of the greatest advents in fintech from leaders and visionaries in the worlds of finance and technology. This year, we have executives, developers and innovators from the likes of Facebook, Amazon, IBM, JP Morgan, Zelle, TD Ameritrade, TradeStation, Fidelity, and so many more.
The BZ Awards is an oscar-like event to showcase the companies with the most impressive technology, who are paving the future in financial services and capital markets. In preparation for its biggest installment yet this May, we're profiling the companies who have moved to the final round of judging for the BZ Awards. In this feature we focus in on SharingAlpha.
What does your company do?
SharingAlpha is a user generated fund ratings and model portfolios platform that has become the world's largest fund rating agency in terms of the number of fund analysts contributing to its ratings. SharingAlpha rates funds based on the average rating provided by Fund Selectors worldwide. Apart from being able to create a better fund rating, SharingAlpha is also able to rank the individual raters in terms of their talent in selecting funds. Their fund selection track record enables the raters to test their analysis, and if they choose the raters are able to present their proven track record to existing and potential clients.Based on the above, SharingAlpha is able to publish a list of both top rated funds and top ranked Fund Selectors. An additional feature enables Investment Advisors to build virtual Fund of Funds and in turn SharingAlpha ranks them based on their performance not only as Fund Selectors but also as Asset Allocators.
The use of the website is totally free and covers over 100,000 funds listed in 110 different countries.
What unique problem does it solve?
Over 100 trillion Dollars are managed globally by active managers. Most of the assets flow to managers that have performed well in the past and outflow from those that underperformed although research has proven time and time again that past performance isn't an indicator for future results. It's not just a disclaimer at the bottom of every fact sheet but actually the reality.
Most investors don't manage their own savings but relay on financial advisors. Naturally, those advisors need to have solid backing for the selections they make on behalf of their clients. Investing other people's money into a fund that has performed terribly or has yet to have gained significant track record would leave the advisor exposed in case post the investment things go south. In order to avoid such a situation, most advisors prefer to play it safe and relay on some kind of past performance analysis, although, once again, there is no proof that this strategy actually adds value to the end investors.
Furthermore, an investor that is faced with the dilemma of selecting an advisor that has a proven track record of adding value to his or her clients is left in the dark. An objective measurement is unavailable and as a result advisor selection is dependent solely on factors such as service and presentation capabilities rather than hard and indisputable numbers.
Our vision is to offer the investment community a better way to select winning funds and at the same time to offer Fund Selectors and Investment Advisors the option of building their own proven long term track record. It's about time that funds are rated on the basis of parameters that have been proven to work and Fund Selectors and Investment Advisors will be judged according to their ability to add value to investors.
Who are your customers?
Different investment professionals: Fund Selectors, Investment Advisors, Wealth Managers, Portfolio Managers, Private Bankers, Fund of Fund Managers, Fund Research Analysts and eventually also end investors. So far over 1,500 professional fund buyers from 59 countries joined our community.
How long have you been in business?
SharingAlpha was launched April 2016.
Where are you located?
SharingAlpha is an Israeli based FinTech company.
Who is your company's leadership? What kind of experience do they have?
SharingAlpha was founded by two brothers. Oren Kaplan has over 20 years of experience in the Financial Industry and he covers the 'Fin' part. Yuval Kaplan, now aged 46, has been writing code since the age of 13 and complements the 'Tech' part.
Our Advisory Board members are:
Avi Nachmany in the mid 1980's co-founded Strategic Insight (SI), a thought leadership and business intelligence firm for industry leaders. Today Strategic Insight's research and technologies are used by investment companies that collectively manage over 90% of assets entrusted to U.S. mutual funds, as well as by the SEC's Investment Management unit, the ICI, industry lawyers and service firms, leading consulting firms, and others. In December 2015 exited SI.
Jon Beckett ('JB') who holds over 16 years of experience in fund selection (currently at Scottish Widows); Author of the book 'New Fund Order'; UK Lead for the Association of Professional Fund Investors and Neville Vyas who holds over 24 years of experience with three leading asset management groups: Allianz Global Investors (Head of Marketing), AXA Framlington (Head of Marketing & Communication) and Fidelity Investments (Executive Marketing).
Anything else Benzinga should know about your company?
SharingAlpha is self-funded, however, we have partnered with 2 media companies:
Incisive Media is one of the world's leading B2B information providers, serving a wide range of financial, business technology and professional services markets globally. InvestmentWeek by Incisive Media is an investments magazine that covers news, fund performance and sector analysis for investment professionals. The magazine's first issue appeared in 1995.
Open Door Media was created from the MBO of InvestmentEurope from Incisive Media in 2013. InvestmentEurope is dedicated to being the 'go-to place for the fund selector community'.
Posted-In: Benzinga Fintech Awards Investing SharingAlphaFintech
View Comments and Join the Discussion!