InvestCloud Develops Financial Solutions For The New Era Of Data Management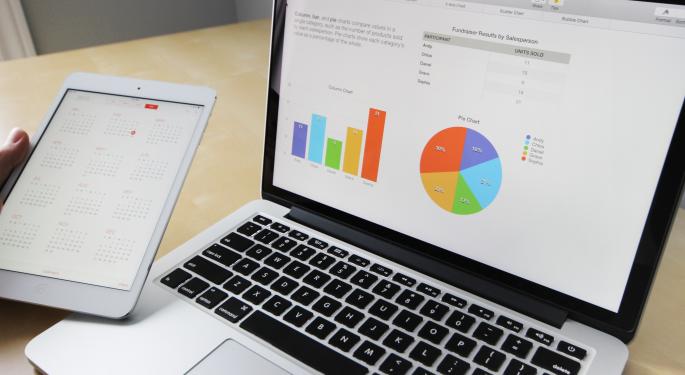 The Benzinga Global Fintech Awards are a yearly showcase of the greatest advents in fintech from leaders and visionaries in the worlds of finance and technology. This year, we have executives, developers and innovators from the likes of Facebook, Amazon, IBM, JP Morgan, Zelle, TD Ameritrade, TradeStation, Fidelity, and so many more.
The BZ Awards is an oscar-like event to showcase the companies with the most impressive technology, who are paving the future in financial services and capital markets. In preparation for its biggest installment yet this May, we're profiling the companies who have moved to the final round of judging for the BZ Awards. In this feature we focus in on InvestCloud.
What does your company do? What unique problem does it solve?
InvestCloud develops first-class, financial digital solutions, pre-integrated into the cloud. Empowering investors and managers with a single version of the integrated truth through our unique digital platform, we create beautifully designed digital experiences and intuitive operations solutions using an ever-expanding library of digital modular apps. Our platform enables wealth managers and other financial institutions to integrate and manage data seamlessly, deploy modular digital solutions, as well as configure and customize innovative and personalized digital experiences.
From inception, InvestCloud has sought to make a difference by offering businesses superior functional capability via the cloud – thus freeing them from the shackles of enterprise solutions, and making financial technology intuitive, involved and individualized. In doing so, we have been able to help investors and managers alike make better decisions based on better information.
With InvestCloud's unique Programs Writing Programs (PWP) technology, financial advisors, investors and a range of financial institutions can evolve their digital offerings with unmatched speed. PWP allows each advisor and manager to offer completely unique and personalized digital experiences to their clients, by tailoring each digital experience to each user's individual persona. InvestCloud PWP enables one designer or business analyst to do the work of more than 50 programmers. This means that financial advisors can deploy customized digital experiences to their investor clients – quickly and affordably – and can automate many manual workflows for their own employees by digitizing them.
Who are your customers?
The InvestCloud platform supports several of the world's largest banks with substantial assets. In addition, for managers under $40 billion, InvestCloud supports over $1.7 trillion of assets across more than 700 diverse clients – from wealth managers, institutional investors and institutional asset managers to family offices, asset services companies, digital platforms and even other fintechs.
How long have you been in business?
InvestCloud was founded in a Los Angeles garage in 2010 – we spent two years developing our digital platform before onboarding our first client in 2012.
Where are you located?
We're headquartered in Los Angeles, with additional locations in New York, London, San Francisco, Tampa, Toronto and Bengaluru.
Who is your company's leadership? What kind of experience do they have?
InvestCloud is led by our CEO, co-founder and chairman John Wise – a serial fintech entrepreneur who was responsible for the creation of several companies including Synergo Technology, which served 40 percent of the UK's agency stockbroking industry, and TCA Syntec, where he developed Open Hub, one of the first Enterprise Application Integration platforms. In 1997, John also founded Netik to enable internet accessibility to enterprise systems. Netik evolved into integrated internet data warehousing, providing online banking for 70 of the world's largest banks. After eight successful years in business, John sold Netik to the Bank of New York Mellon Corporation.
At InvestCloud, John is supported by a strong executive team, including his five co-founders.
Who are your investors, if any?
As a private company, InvestCloud does not discuss its investors publicly.
Is there anything else Benzinga should know about your company?
InvestCloud's mission is to democratize the digital financial experience and, unlike any other firm, we further support this through our innovation centers (currently located in Los Angeles and London, UK, with an additional location coming online soon in New York City). Operating as fintech incubators, our innovation centers offer new startups and established financial firms alike the ability to quickly develop digital solutions – all supported by the InvestCloud platform. Teams are afforded access to the 200+ InvestCloud financial apps, over 2,000 APIs, integrated market data, news, financial and accounting data, a digital warehouse for managing both structured and unstructured data, as well as access to InvestCloud's own technology toolkit (SDK).
Additionally, a team of InvestCloud mentors offer resident companies guidance on funding, design, configuration, customization, sales, marketing, distribution and production support. Firms working at the Innovation Centers can create sub-teams from their own organization, or use InvestCloud's staff and external partners. They are also able to use InvestCloud's PWP technology to generate code vs. write it by hand, all supported by a single version of the integrated truth (SVOTIT) leveraging InvestCloud's Digital Warehouse.
At its heart, InvestCloud is a platform for innovation - both innovation that InvestCloud offers to the market itself as well as innovation that is driven by our clients and partners using our technology toolkit to build new solutions.
Posted-In: Benzinga Fintech Awards InvestCloudFintech
View Comments and Join the Discussion!