Client Verification Service Instantor Looks To Find Validation At This Year's Fintech Awards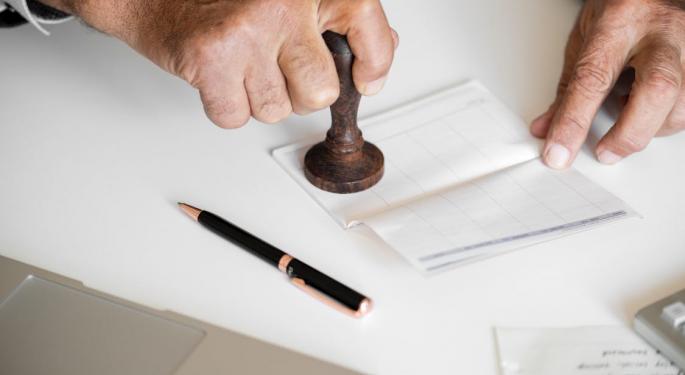 The Benzinga Global Fintech Awards are a yearly showcase of the greatest advents in fintech from leaders and visionaries in the worlds of finance and technology. This year, we have executives, developers and innovators from the likes of Facebook, Amazon, IBM, JP Morgan, Zelle, TD Ameritrade, TradeStation, Fidelity, and so many more.
The BZ Awards is an oscar-like event to showcase those companies creating technology that is paving the way for the future of financial services and capital markets. In preparation for its biggest installment yet this May, we're profiling the companies that have moved to the final round of judging for the BZ Awards.
In this feature we focus in on Instantor.
What does your company do?
Instantor's online tool make people's financial lives easier by helping financial companies (e.g. banks, e-commerce players) to understand their customers true financial capacity. Instantor provides a cutting-edge banking API that enables applications to connect with customers' bank accounts.
The solution realizes an easy access to valuable data that can be assessed for customer identification, verification, and risk profiling. With Instantor´s online tool, organizations are empowered to act fast and help more people at less risk. Basically make tough decisions easy.
What unique problem does it solve?
Instantor replaces old school forms and documents with a few clicks. The tool is used to verify ID and perform an income validation online in just a few seconds. Instantor enables organizations to increase acceptance, reduce risk, and cut down on administration.
Instantor contributes to a seamless customer experiences, a welcoming developer infrastructure and intelligent products that facilitate the creation of innovative applications that solve substantial problems.
Who are your customers?
Instantor appeals to broad spectra of different organizations as traditional banks, short term loan businesses, e-tailers and other fintech companies. Instantor has currently over 200 connected banks in 20 countries globally. Among our current client´s you´ll find Swedish online bank Northmill and 4Finance, Europe's largest online lending group to mention a few.
How long have you been in business?
Instantor was founded in 2010 and became profitable in 2014.
Where are you located?
We have three offices, one in Stockholm, Sweden, one office in Zagreb, Croatia and in one in Malaga, Spain.
Who is your company's leadership? What kind of experience do they have?
We are a very competent team, built on a strong foundation of industry experience from Seamless, Paypal, Monetize, Betsson, Bambora, iZettle, Spotify among others.
Simon Edström, CEO
Simon Edström has played a vital part in developing Instantor to what it is today. He has a unique understanding of both the technical side and the business side of Instantor.
Already at the age of 14, Simon started his first company. Within the first year of business, his company was acquired. He has later worked on different tech solutions and establishing the blog-format together with platforms for blog-hosting. Prior to becoming CEO at Instantor, Simon was a product owner at Betsson, responsible for their mobile offering.
Oskar Löthberg, Head of Legal
Prior to working at Instantor Oskar spent 7 years at Spotify´s head office where his focus was data protection. During Oskar´s time at Spotify he facilitated to move all of Spotify´s infrastructure from in-house data centres to a several billion dollar deal in the Google cloud. Oskar has worked for several law firms in Stockholm and has 12 years of experience within his field.
Helene Stafferöd Westerlund, CTO
Helene Westerlund previously worked at Betsson as head of product where she scaled the team from 7 developers with a platform for one brand to a team of 75 developers in multiple locations with a platform supporting 25 brands. Helene has 22 years of work experience from successful management positions.
Erik Jakobsson, Head of Strategic Initiatives
Prior to joining Instantor Erik worked for one of Sweden's largest banks Handelsbanken. There he worked in investment banking with M&A and IPOs. Prior to that he worked in London for the well known bank UBS.
Raiha Buchanan, CMO
Raiha Buchanan is a highly skilled marketer. She has substantial experience from the financial technology field with a background from Bambora and iZettle. Prior to joining Instantor Raiha worked as Global Head of Digital at Bambora. Bambora went from startup to Unicorn in 2017 when the company was acquired.
Who are your investors, if any?
Instantor has grown organically from day one. The US based Fintech fund, Fintech Ventures, together with founders and team members are the main owners.
Is there anything else Benzinga should know about your company?
Instantor has a very bright future ahead. We are certain that data-driven online services will be standard for all financial decision-making going forward globally. We want to play a major role in democratizing the financial system and making it accessible for a wider customer group . We support our customers and their customers too by opening up an otherwise secluded financial system.
To meet with the minds behind companies like Instantor and others testing the cutting edge of fintech, grab a ticket to the Benzinga Global Fintech Awards May 15-16 in New York.
Posted-In: Benzinga Global Fintech Awards InstantorFintech Interview
View Comments and Join the Discussion!