Micro Lender Oakam Makes The Fintech Awards Finals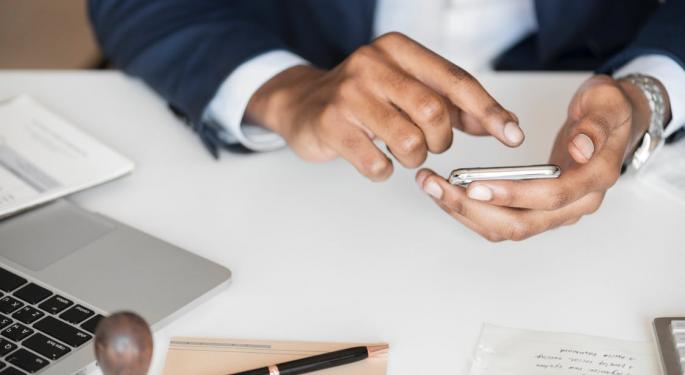 The Benzinga Global Fintech Awards are a yearly showcase of the greatest advents in fintech from leaders and visionaries in the worlds of finance and technology. This year, we have executives, developers and innovators from the likes of Facebook, Amazon, IBM, JP Morgan, Zelle, TD Ameritrade, TradeStation, Fidelity, and so many more.
The BZ Awards is an oscar-like event to showcase those companies creating technology that is paving the way for the future of financial services and capital markets. In preparation for its biggest installment yet this May, we're profiling the companies that have moved to the final round of judging for the BZ Awards.
In this feature we focus in on Oakam.
What does your company do? What unique problem does it solve?
Frederic Nze, Founder & CEO: Oakam is a digital micro-lender working to expand financial access to overlooked and underbanked consumers. Using the growing accessibility and computational power of smartphones, Oakam is overcoming the risk, last-mile delivery and design challenges of lending to 'credit invisible' consumers, even in the developing world. While 2 billion consumers don't have access to a bank account, 85 percent of the global population owns a mobile phone. The rich footprint of alternative data these devices generate has enabled Oakam to create a more inclusive credit scoring system, eliminating a significant barrier to broader financial access. Our fair, transparent credit products and gamified mobile experience provide consumers with the support they need to build lasting financial habits and prosperity. Oakam's diverse, globally-experienced team and agile, mobile-first model offers a scalable solution to financial inclusion on a global scale.
Who are your customers?
Nze: Our customers are individuals who have been excluded from traditional financial services; those classed as 'underbanked' or 'unscorable'. Today, we're focused on the UK, helping British-born and migrant consumers who have previously struggled to access credit. This is due to barriers such as their income levels; difficulties repaying loans in the past, status as a new resident of the UK; the absence of credit history or low credit scores. While traditional credit scoring and lending models have failed this segment of the population, Oakam uses alternative data, psychometrics, gamification and behavioural nudges to overcome the unique risk, delivery and design challenges of serving this market in a sustainable, scalable and socially-responsible way.
How long have you been in business?
Nze: Oakam was founded in 2006. Since then, Oakam has provided 460,000+ loans amounting to £350+ million to underserved consumers in the UK. Our loan application volume grew 300 percent in 2017 alone.
Where are you located?
Nze: Our HQ is in London, but we also have a network of 19 retail storefronts across the UK located within 'excluded' communities. While our focus today is on serving overlooked consumers in the UK, our sights are firmly set on the global opportunity to bring about a more inclusive financial ecosystem.
Who is your company's leadership? What kind of experience do they have?
Frederic Nze is the founder and CEO of Oakam. Prior to Oakam, Frederic spent his career in credit risk management and consumer finance at firms including American Express, Barclays and GE Capital. He first came across the UK's micro-lending opportunity while working on a pilot project at Barclays to evaluate product offerings for lower income customers, and realizing the potential of this market, decided to set-up Oakam in 2006. Raised in Central Africa, Frederic saw firsthand how informal community lending helped to jumpstart entrepreneurs and fledgling businesses. With global ambitions for Oakam, Frederic's ultimate goal is to bring the concept back to the developing world.
Since 2006, the Oakam team has grown to over 260 people representing 36 nationalities, and fluent in more than 20 languages. Oakam counts among its ranks several MBAs, PhDs, MScs, and alumni from world leaders in technology and financial including Skype, Barclays, CapitalOne, HSBC, Santander and Transferwise.
Key members of Oakam's leadership team include:
Julie Haugen, Chief Product and Marketing Officer
Pablo Uson, Chief Financial Officer
George Psonis, Chief Operating Officer
Rahim Nathwani, Product Management, Data Science and Machine Learning
Chris Greeno, Chief Information Officer
Who are your investors, if any?
Nze: Oakam has been backed by Cabot Square Capital, a UK-based private equity firm, since the beginning. Cabot Square's deep sector expertise and patient capital has enabled Oakam to focus on generating long-term value over short-term results. Other debt financing support has come from RBS and Victory Park Capital; the latter provided a £35 million investment in December last year.
Is there anything else Benzinga should know about your company?
Nze: Perhaps one of our proudest achievements is the success of Oakam Grow, our gamified mobile customer journey, which leverages theories from behavioural economics to encourage customers to to make financial decisions which are in their best interest, such as making timely repayments. App users receive nudges and incentives for paying on time and engaging with their finances, such as the potential to lower interest rates on future loans by up to 51 percent. Since launching Oakam Grow in April 2017, we have seen a number of positive outcomes for our customers:
25 percent improvement in on-time loan repayment since April 2017
50 percent increase in regular engagement with the app (2+ visits a month) since the launch of Oakam Grow
33,300 customers have registered on Oakam Grow and to date have earned more than 8.1 million points
Oakam is also underway with a project in partnership with City, University of London to digitize psychometric testing to replicate and enhance the decision-making skill of human underwriters. This project has the potential to reduce operating costs (and therefore borrowing costs) and scale expansion to address the accessibility and affordability of credit access around the world.
To meet with the minds behind companies like Oakam and others testing the cutting edge of fintech, grab a ticket to the Benzinga Global Fintech Awards May 15-16 in New York.
View Comments and Join the Discussion!
Posted-In: Benzinga Global Fintech Awards OakamFintech Interview