Trulioo Is An API Gateway To Digital Identity Verification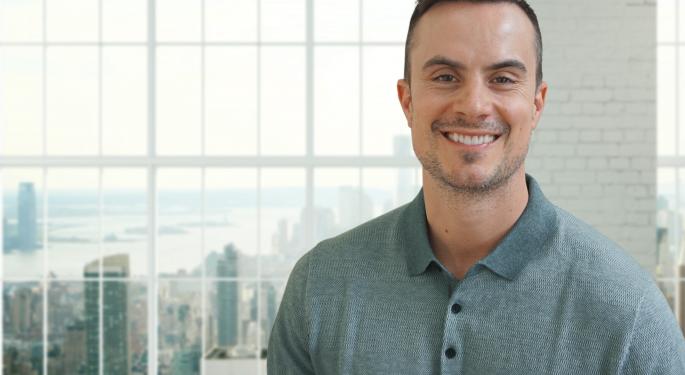 The Benzinga Global Fintech Awards are a yearly showcase of the best and brightest in fintech. In preparation for its biggest installment yet in May 2018, we're profiling the companies competing for the BZ Awards.
Our next feature is on Trulioo.
What does your company do? What unique problem does it solve?
Stephen Ufford, founder and CEO: Trulioo is the leading global identity verification provider, combining next-generation technologies to provide a framework of trust and safety online for over 500 clients worldwide. Through a single API, Trulioo powers compliance and fraud prevention systems, delivering instant access to reliable data and AI technology from traditional and alternative sources to verify over 4.5 billion people and 250 million businesses in over 100 countries. GlobalGateway, Trulioo's innovative bank-grade identity verification solution, helps reduce fraud, mitigate risk, and meet ever-changing domestic and international compliance requirements.
In today's increasingly digitized and interconnected world, the ability to authenticate and verify identities is becoming more and more important. The verification of identities helps to reduce fraudulent and nefarious activities such as money laundering, tax evasion, and cybercrime. We are living in a time where cybersecurity spend is set to exceed US$1 trillion and we're bearing witness to daily reports of identity theft. This is driving the demand for effective global solutions to identify and verify businesses and individuals faster and easier.
Offering global end-to-end identity and business verification solutions, Trulioo allows clients to offer a frictionless onboarding experience while also fulfilling Anti-Money Laundering (AML) and Know Your Customer (KYC) obligations, mitigating risk and reducing fraud.
Who are your customers?
Trulioo's clients include some of the world's top payments, eCommerce, online marketplaces, and financial services providers.
How long have you been in business?
Trulioo was founded in 2011.
Where are you located?
We are headquartered in Vancouver, B.C. and also have an office in San Francisco.
Who is your company's leadership? What kind of experience do they have?
Trulioo's senior executive team consists of: CEO and founder Stephen Ufford, CFO Anne Lawlor, General Manager Zac Cohen, VP of Marketing Kim Hong, VP of Product Rob Hartley, and VP of Growth, Anatoly Kvitnitsky.
Collectively, the team is driven to deliver an exceptional product and solve a set of major challenges – providing best-in-class identity and business verification services, building a framework of trust and safety online, and ensuring financial inclusion for consumers around the world. While Trulioo is truly a startup – and a growing one at that – it's guided by accomplished leaders who are influenced by data, experienced at growing and scaling products and companies, and well-versed in the dynamics of fintech and RegTech.That's reflected in the success of the company as a whole and in the performance of each team across Trulioo, with each member empowered and inspired to bring the best of their talents and strengths to the table.
Who are your investors, if any?
Our investors include American Express Ventures, Blumberg Capital, BDC Capital, and Tenfore Holdings.
Is there anything else Benzinga should know about your company?
With Trulioo's electronic identity verification (eIDV) platform, GlobalGateway, clients are able to automate ID checks and eliminate the need for manual compliance reviews, helping save time so they can focus on what's most important – their business. Technical integrations and contracting were two of the biggest challenges for our clients before integrating with our GlobalGateway API. It used to take clients anywhere from six months to a year to launch in new markets. They no longer have to spend time procuring, identifying and vetting data sources, integrating multiple times, or manually undertaking security and compliance checks. By providing a vendor and country-agnostic API/web portal, our clients – regardless of where they are in the world – can access a consistent set of customizable data fields quickly and easily.
To add another layer of authentication to our identity validation solution, Trulioo released the first international mobile KYC solution, utilizing data from 24 of the world's largest Mobile Network Operators (MNOs), providing the ability to verify 1.8 billion mobile users. Working with MNOs to access hard-to-reach consumers, Trulioo combines network carrier data with existing KYC-compliant sources. This is a real game-changer as it grants unbanked individuals access to traditional financial services with only a few swipes on their mobile device.
With the addition of Mobile ID, Trulioo is also the first global identity verification provider on the market to offer eIDV, ID Document Verification, mobile authentication, AML watch list screening, and Global Business Verification through a single integration.
Trulioo is a leader in its field and, in recent years, has received many prestigious global honors and accolades; Trulioo was recognized as a 2017 CNBC Disruptor 50 Company, won Best ID Verification Solution at the CNP Awards, and ranked #1 for Top Identity Verification Provider in the 2017 RegTech Supplier Report – two years running.
To check out companies like Trulioo for yourself, grab a ticket to the Benzinga Global Fintech Awards May 15-16 in New York.
Photo courtesy Trulioo
View Comments and Join the Discussion!
Posted-In: Benzinga Global Fintech Awards Stephen Ufford TruliooFintech Best of Benzinga