Video: One Click Home Buying and Beyond, The Future Of Real Estate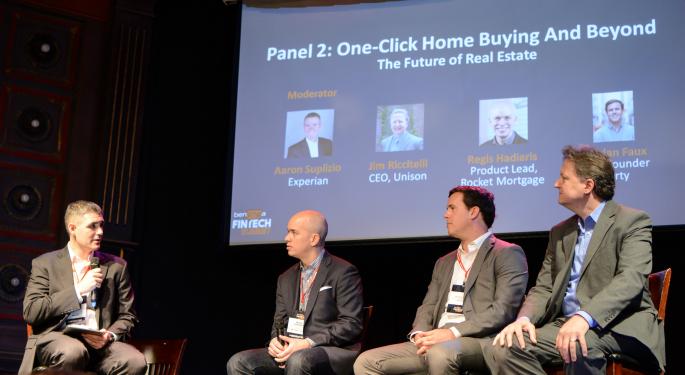 The fallout from the 2008 financial crisis still looms large in the contemporary home buying industry. While major regulatory changes have made lending policies more stringent, fintech companies are looking to make the process of home ownership more streamlined and appealing to both buyers and lenders.
A panel at this year's Benzinga Fintech Summit explored some of the ways leaders and agitators in the real estate lending space have positioned themselves to bring home buyers simpler, safer and more straightforward access to capital for their future or current home.
The panel included Regis Hadiaris, Product Lead for Quicken Loans' Rocket Mortgage, who explained how the company successfully emerged out of the post-crisis environment by supplying home buyers with more insight and control of their mortgage options.
"There really just wasn't good tools out there for people to make decisions on their own," Hadiaris said. "Because of that, they saw the mortgage experience as slow and scary and complicated and confusing, they just didn't want to deal with it."
Brian Faux, CEO and founder of mortgage marketplace Morty elaborated that, while speed improvements like those provided by Rocket Mortgage made the process from the consumer side, mortgage providers that his company deals with also benefit from the streamlining.
"Closing loans in eight days or 16 days is great, but the actual process of getting a mortgage is much more efficient," Faux said. "The actual endgame, the produced mortgage is 100x better than it was before."
Unison CEO Jim Riccitelli also felt his company, which matches homeowners' down payments in exchange for equity in the home, provided something to both consumers and the industry at large.
"We help lenders make more loans, we help more consumers buy homes, we help realtors sell more homes," Riccitelli said. "The technology that we bring is actually additive to the system. It's equity finance. We didn't invent equity finance, we're bringing it to a new audience, to residential consumers."
The panel, moderated by Experian plc (LON: EXPN) head of fintech Aaron Suplizio, delved into these topics as well as where each of the panel felt home buying was headed in the next decade and beyond.
You can watch the full panel in the video below:
Posted-In: Benzinga Fintech Summit Experian Fintech Morty Quicken Loans Rocket MortgageFintech Real Estate
View Comments and Join the Discussion!