How A Former Soybean Trader Invented A New Field Of Math To Predict Price Action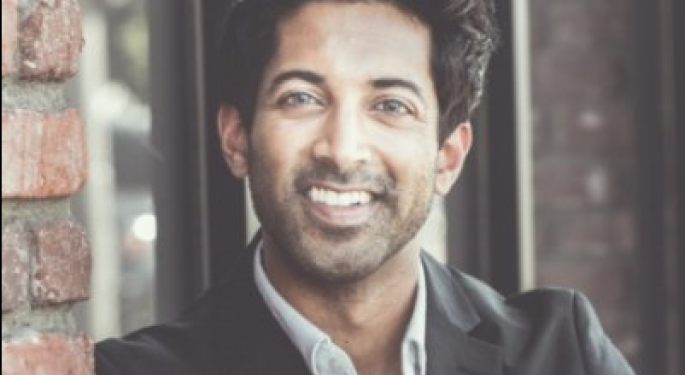 If you can believe it, math just got interesting.
To accurately predict short-term price action, a father-son duo invented a new form of math that appropriately considers the behavioral component of trades. After a decade of toiling, the resulting technology went live in 2016 to guide technical-heavy, quant-based hedge funds.
Benzinga caught up with CEO Nikhil Dhingra to discuss his journey from soybean trader to fintech/math entrepreneur.
Benzinga: What is the mission of Tradagon, and what exactly do you do?
Dhingra: [Our minimum viable trading product] models crowd behavior in the market, and it does it with a technology that we've coined "behavioral calculus." The reason we are calling it behavioral calculus is because it actually does fuse traditional calculus concepts with a lot of empirical approaches and behavioral finance approaches as well as deep learning and artificial intelligence approaches.
Benzinga: How did Tradagon get started?
Dhingra: This started out really back about a decade ago when we were trading soybean futures, and how we were trading back then, over a decade ago, was really just looking at price patterns and trying to get an intuitive sense of what the price was doing. We wanted to figure out what is really driving these intuitive markets that seem like they're not driven by any other market fundamentals and how can we capture that and model it so we can make it repeatable and scalable. So we had a thesis that this was all a function of crowd behavior, how the markets work in the short term, and if we could just model that, then we would be able to have a new level of predictive power when it came to predicting short-term price movements.
Benzinga: How do clients use behavioral calculus?
Dhingra: Our vision is for [firms and investors] to exclusively use Bcal because it really does apply to all asset classes across all timeframes, so you can use it for Forex, new currencies, and ETFs, any sectors, even commodities, and futures.
You can also use it on, let's say if you are an intraday trader, you can do it on one- or two-minute bars. If you are a longer-term player you can do it on daily, weekly or monthly charts. Some of that fundamental data that gives the broader long-term picture we can run through our models and have better predictive powers, and they can use that and say, "Well, I feel like the unemployment is going this direction and so this has a correlation to what I am trading today, so I want to use that just for that business data. But I don't want to use it for my core." So you can use it in different ways.
Benzinga: Tell me about your methodology and its accuracy.
Dhingra: So we do directional bets, not arbitrage or any relative investing approaches. Then we usually anticipate that position so our returns could be around 30 percent to 50 percent conservatively on that move. So we have really strong conviction when we get our signals. It's not obviously a perfect methodology. Nothing is. But it has a very high accuracy, so when we are right, you will be very right and you'll make, as I mentioned, 30 percent to 50 percent.
Benzinga: You currently target quant-based hedge funds, but when you expand to retail investors, who exactly are you targeting?
Dhingra: This would be basically on a spectrum, retail investors and institutional investors who are basically in the school of thought of technical analysis, but they're not satisfied with existing strategies they are using, whether it is their own or whether it is some other vendor, and they feel like there is something missing when it comes to how they are looking at price action.
It's really a kind of choose your own adventure approach, but they've got to have some pain when it comes to their technical analysis approaches. If there is somebody who is doing purely bottoms up primary research into company fundamentals and that is just how they trade and they are not interested in supplementing it with a new discipline, then obviously they probably won't be interested. I can tell you they should be.
Benzinga: What kind of innovations have you planned for the next five years?
Dhingra: There is a big demand out there just across the board for fully automated trading products, so what we are working on now, one of the things is to make a version of this that is fully automated.
Then there is obviously a big push into true AI. We are at the point where we are using deep learning and AI approaches, but we want to get to the point where we can say we truly are artificially intelligence and our models are learning automatically based on their past performance without any human intervention. So if we all died tomorrow, then this thing could just trade by itself in theory.
Benzinga: You invented a field of math. How is this changing academics?
Dhingra: I think that is way down the road before this gets accepted as a new discipline. Maybe in like 10 years we would love to see this being taught in schools to say this is how you can analyze behavioral science theories with a calculus based approach to get a new level of predictive power.
View Comments and Join the Discussion!
Posted-In: Fintech Entrepreneurship Movers & Shakers Success Stories Startups Interview General