Steve Cohen's Latest Investment Might Produce the Next Steve Cohen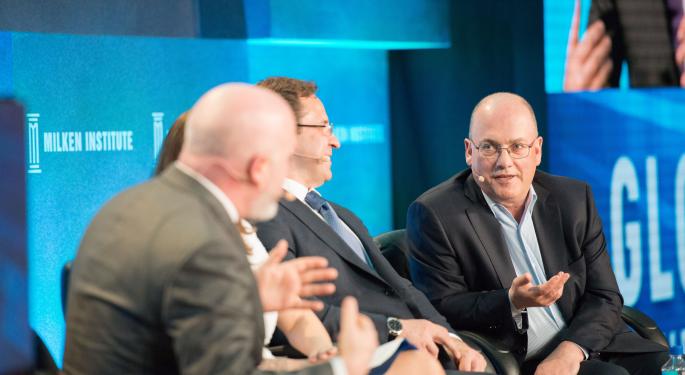 Point72 Ventures, the VC arm of Steve Cohen's Point72 Asset Management firm, invested $2 million in micro-investing fintech company Acorns as part of the company's Series D round earlier this year.
Point72 Ventures' previous investments have focused on quant trading technologies, so this investment in a company producing a consumer-facing fintech mobile app is a new turn.
Benzinga caught up with Point72 Chief Market Intelligence Officer Matthew Granade and Acorns CEO Noah Kerner to learn more about how the deal went down.
Initially, Pete Casella, head of fintech at Point72 Ventures, knew Kerner and introduced him to Steve Cohen, according to Granade. Granade said Cohen saw more similarities in their businesses than differences after getting to know Kerner, despite discrepancies in target audience and scale between the fund and Acorns.
"At a high level, we're both trying to help the people who invest with us do really well in life and do really well with their money," Granade said. "There was a strong, intuitive connection between us from the very beginning. We were very impressed by the cleverness and the creativity of the Acorns model and its ability to get people who aren't generally investing to invest, and to be thoughtful about investing."
Kerner sees Acorns' role as an educator—for many of its 1.3 million users, it is their introduction to investing. That's why he's built out a content division of the company based around a magazine called Grow Magazine. To that end, he recruited financial media talent like Jennifer Barrett, formerly CNBC's personal finance editor.
"We have this awesome opportunity and responsibility to educate the next generation at a large scale," Kerner said. "As a company that is getting what we call the 'up-and-coming' generation investing early in small amounts, we feel we aren't providing the total service if we aren't educating them along the way."
Kerner also pointed to Acorns' Found Money affiliate program, in which brands place money in users' Acorns accounts after users make purchases with those brands, as part of a more holistic Acorns experience. Current partners include Airbnb, Dollar Shave Club, and Blue Apron.
Creating a new generation of investors at a young age might have profound impact, said Granade, as many of Wall Street's top investors began at an early age—including Steve Cohen himself.
"We have a very strong interest in encouraging financial literacy and getting people interested in investing at an early age," Granade said. "Those people who get in early could potentially choose that as a career or just as a good way to responsibly approach life. We see Acorns playing a really key role in that."
Granade is taking the long view with the Acorns investment.
"A ton of our investment professionals here started investing when they were very, very young," he said. "Steve Cohen started investing when he was young and lots of other portfolio managers. We like things that encourage that and get people thinking about investing from a very early age."
Photo courtesy Point72 Ventures.
The preceding article is from one of our external contributors. It does not represent the opinion of Benzinga and has not been edited.
View Comments and Join the Discussion!
Posted-In: Acorns Matthew Granade Noah Kerner Pete Casella Point72 Asset ManagementFintech News Startups