How IGWT's Glyde Marketplace Works Like A Carfax For Your Phone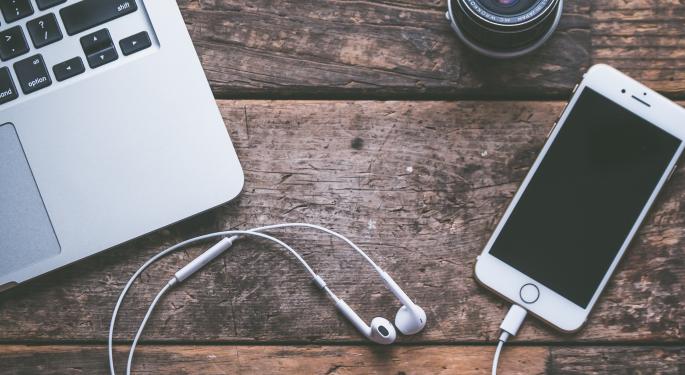 Benzinga will be holding its annual Benzinga Global Fintech Awards, a day of dealmaking, networking, and recognition in the financial technology space, on Nov. 10, 2020.
In recognition of those disruptive innovators creating positive and diverse change, Benzinga chatted with Ishai Reinfeld, COO at IGWT Block.
About IGWT Block
Founded by PCS Wireless, one of the largest phone distributors in North America, IGWT Block is a blockchain platform that disintermediates the ecosystem of mobile phone buyers, sellers and vendors. The company solves the problem of transparency and trust in mobile phone shopping.
In the simplest way possible: IGWT is a Carfax for mobile phones.
"A big problem in today's market is really the lack of transparency when you're buying a device from a major marketplace like Amazon or eBay," the COO said. "We combine a variety of emerging technologies -- between blockchain, artificial intelligence, machine learning, and mobile diagnostics -- to create the future of buying and selling mobile devices."
Core Product Portfolio
"The main focus of our business is to reduce a lot of the inefficiencies in transactions," he said.
The company's core solution is a downloadable mobile phone app that runs diagnostics and allows transacting parties to properly evaluate devices.
The process is comprised of three steps:
Buyer purchases a phone and places funds in escrow.
Seller ships the phone and the buyer runs the diagnostics.
A smart contract is executed and the funds are transferred.
Once the diagnostic is complete, the data is recorded in IGWT's blockchain which details a robust history for each individual device. The combination of the diagnostic technology and smart contract, according to the COO, is the innovation that mitigates fraud and increases transparency.
"The more devices we enter into our ecosystem, the more robust data set we have on the lifecycle of these devices," Reinfeld added.
If IGWT's technology finds deceit, the smart contract remains unexecuted and the money remains with the buyer.
Use Case, Recent Developments
In light of the COVID-19 coronavirus pandemic, the digital transformation highlighted the importance of having reliable mobile communication.
As a result, IGWT honed in on innovation with its Glyde Marketplace, a blockchain platform for buying and selling phones built on the Near Protocol. The solution builds off of Glyde.com, a proof of concept initially built to entice engagement from e-commerce sites, vendors, merchants and retailers.
"Our focus was always value and convenience," Reinfeld said in a discussion regarding increased pricing efficiency with the new Glyde platform. "By being able to provide our service in a time of need -- when it's difficult to shop in public places -- we're adhering to the promises we made to our customers."
Innovation Outlook
"We'll be working to launch the new Glyde Marketplace this holiday season, which will provide that additional level of transparency."
Apart from releasing the Marketplace, IGWT aims to improve the mechanisms that detect physical deficiencies in mobile devices, as well as develop partnerships to increase Glyde's market depth.
"We're beginning conversations with major carriers to see how we can work together to create moments where the diagnostics can be run earlier in the lifecycle of the device," Reinfeld said. "As more phones enter the ecosystem and get diagnosed, the wealth of objective truth that we'll have for these devices will allow for us to innovate even further with predictive pricing and other mechanisms such as staking."
To learn more about IGWT Block, click here.
Photo by Jessica Lewis from Pexels.
View Comments and Join the Discussion!
Posted-In: Glyde Marketplace IGWT Block Ishai Reinfeld PCS WirelessExclusives Tech Interview Best of Benzinga