#PreMarket Prep For The Week Of July 27: Representatives From Charles Schwab, Caeserstone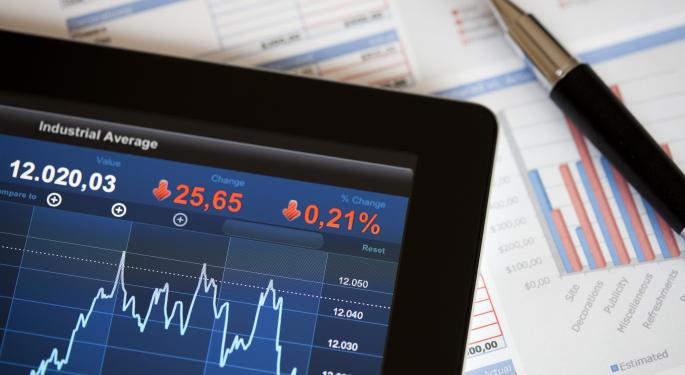 We're hosting a very diverse cast of guests on this week's #PreMarket Prep, including the CEO of a public company and representatives from Charles Schwab.
Be sure to tune in at 8:00 am EST Monday-Friday here to interact with our veteran traders, market technicians and money managers that come on the show.
Monday, July 27, 8:35 a.m.
Anne-Marie Baiynd (@AnneMarieTrades), Author and Financial Analyst
Anne-Marie Baiynd is a trader, author and financial analyst best known for her book, "The Trading Book Course: A Practical Guide to Profiting with Technical Analysis." Baiynd has a background as a neuroscience researcher.
9 a.m.
Scott Redler (@RedDogT3), Chief Strategist at T3 Live and T3 Trading Group
Scott Redler has been trading equities for more than 10 years and has more recently received widespread recognition from the financial community for his insightful, pragmatic approach. He began his career as a broker and venture capitalist where he was able to facilitate relationships that led him into trading. Beginning his trading career at Broadway Trading in 1999, Scott moved on with Marc Sperling to Sperling Enterprises, LLC after establishing himself as one of the best young traders in the firm. As a manager at Sperling Enterprises, he maintained his status as a top trader at the firm while working closely with all traders in the firm to dramatically increase performance.
9:20 a.m.
Serge Berger (@SteadyTrader), Head Trader & Investment Strategist at The Steady Trader
Serge Berger has been an active trader since 1998. During his career, he's been a financial analyst, dealt in fixed income instruments at JP Morgan, and was a proprietary trader in equities, equity options and futures.
Tuesday, July 28, 8:35 a.m.
Nic Chahine (@racernic), Options Expert
Nic Chahine joins the show every Tuesday to discuss the week's options outlook. He is also a Marketfy Maven and the author of Create Income With Options Spreads. Prior to trading full time, he climbed the ranks of the corporate finance world. Then in 2000, Chahine branched out with an internet venture as CFO/COO. The venture paid off well enough to allow him to start his own fund and pursue his passion: the stock market. Chahine also has a background in electrical engineering.
9 a.m.
Paul Johnson (@StkConfidential), Publisher of Stock Confidential
With a tagline of "Stock Picks with Home Run Potential" for his stock picking service, Paul Johnson is always on the lookout for those stocks that have the biggest upside potential. A technical analyst, he is the publisher of Stock Confidential (StockConfidential.com), a Sunday afternoon and Wednesday evening newsletter that features stocks with top fundamentals setting up in explosive breakout and reversal chart patterns.
9:20 a.m.
Yosef Shiran (@CaesarstoneUSA), CEO of Caesarstone (NASDAQ: CSTE)
Yosef Shiran joined Caesarstone in January 2009 as Chief Executive Officer (CEO). Shiran also serves as the Chairman of Caesarstone Australia Ltd. (incorporated in 2008), Caesarstone South East Asia Ltd. (incorporated in 2009), Caesarstone Canada Inc. (incorporated in 2011) and Caesarstone USA Inc. (fully acquired in 2011). Prior to joining the Caesarstone team, Shiran had over 14 years of management experience from his time as CEO at Tefron Ltd., CEO of Technoplast Industries Ltd., and established operations for a company wholly-owned by him in the textile industry. Shiran successfully led Caesarstone through the company's IPO in March 2012 and has seen much growth since. In 2013, Caesarstone's year-over-year growth rate accelerated to 59%. The largest and fastest growing market is the United States, where sales for 2013 were $123.4 million, an increase of 42% over 2012 earnings.
Wednesday, July 29, 8:35 a.m.
Fari Hamzei (@HamzeiAnalytics), Founder of Hamzei Analytics
Fari Hamzei joins the show every Wednesday, bringing his wealth of knowledge on aggressive equity options and index futures trends. Hamzei is frequently quoted by CNBC, Bloomberg and RealMoney. His book, "Master Traders: Strategies for Superior Returns from Today's Top Traders," published by John Wiley & Sons in October 2006, was a bestseller on Amazon trading books space.
9 a.m.
G. Thomas Lackey Jr. (@gtlackey), Founding Partner & CIO of Barber Lackey Financial Group
G. Thomas Lackey Jr. is a founding partner and Chief Investment Officer of Barber Lackey Financial Group, LLC. Over the last 21 years while working with clients and their investment portfolios, Tommy earned his Certified Financial Planner, Chartered Market Technician and Certified Fund Specialist among other industry designations. While a good portion of Tommy's career has been on the adviser side of the business, over the last decade Tommy has developed and utilizes various proprietary technical market tools to identify investment opportunities for the portfolios he manages. Using these technical tools to guide the portfolios helps build in objectivity and risk management to the investment process. In recent years, Tommy has brought much of this research to the public through GTLackey.com.
9:20 a.m.
Tim Melvin (@timmelvin), Marketfy Maven and author of the "Tim Melvin Deep Value Letter"
The Marketfy Maven will be on to talk about long-term investment and finding value in stocks. As a 27-year veteran of the financial services and investment industry Tim Melvin has served as a broker, advisor, and portfolio manager. I've combined this nearly three decades of
Thursday, July 30, 8:35 a.m.
JC Parets (@allstarcharts), Founder of Eagle Bay Capital
JC Parets is is a 10-year veteran and Market Technician who actively manages money incorporating Technical Analysis and Behavioral Finance into his practice. JC's work has been featured regularly on CNBC, Fox Business, Bloomberg, Business News Network, Wall Street Journal and Yahoo Finance among many other financial media outlets. JC Parets recently launched a research arm named Eagle Bay Solutions where market participants around the world can pay for access to his research.
9 a.m.
Randy Frederick (@RandyAFrederick), Managing Director of Trading and Derivatives, Charles Schwab Center for Fiscal Research
Randy Frederick is one of the early architects of Schwab's option trading platforms and analytics tools. While he focuses primarily on public relations, client education and market analysis, he is frequently involved on matters of business development, product development and risk management. He has served on various corporate and industry committees including the FISD Executive Committee, the ISE Allocation Committee and the ISE Board of Directors.
Frederick, a respected industry veteran with more than 25 years experience, writes blogs and educational articles for Schwab's website and client newsletters.
9:20 a.m.
Anmol Singh (@Live_Traders), Founder and Head Trader at LiveTraders.net
Anmol Singh is the Founder and Head Trader at LiveTraders.net. He has been successfully trading the markets since a very young age. His approach to trading stocks is a short term approach which utilizes day trades to generate income and swing trades and options to build wealth. At LiveTraders.net he has coached and trained several professional traders in the industry.
Friday, July 31, 8:35 a.m.
Jonathan Corpina (@JonathanCorpina), Senior Managing Partner at Meridian Equity Partners
Jonathan Corpina manages trading and sales on the Meridian NYSE trading desk. An NYSE member since 2001, Corpina is an elected Executive Floor Governor, President of the Organization of Independent Floor Brokers, and is a board member of the Floor Members Emergency Fund. Jonathan is currently an active member of the NYSE Stock Allocation, NYSE Broker Handheld, Broker Technology and Floor Facilities Committees.
9 a.m.
Todd Schoenberger (@AltsSpecialist), President of J. Streicher Asset Management LLC
Todd M. Schoenberger is the founder and Managing Partner of LandColt Capital LP, which is now affiliated with J. Streicher Asset Management LLC. Prior to establishing the firm, he served as the Executive Director of brokerage for USAA Brokerage in San Antonio, TX, a position for which he was credited with having returned the division to profitability. When Todd started with USAA in 2006, the division was considered a "loss leader" with $20 million in annual losses. By the time he left the company in 2009, his efforts not only reversed the deficits, but generated a pre-tax profit of $8.1 million, which elevated the company's brokerage products within the financial services sector; ranked #1 by Consumer Reports.
9:20 a.m.
Dr. Mikhail Melnik, Bloomberg Economist
Mikhail Melnik's economics research in online commerce and taxation is recognized internationally, and he has been interviewed in media outlets such as Forbes, Bloomberg News Radio, The Buffalo News, and CNBC. His research has been cited by policy makers, including the State of Florida Senate, and prominent think tanks, including American Enterprise Institute. He has over a decade of economic forecasting experience: 2007-2012, assisted the Buffalo-Western NY Chapter of the NAPM with monthly PMI releases, 2008 - present, has served as a member of the Bloomberg Survey of Economists, and since 2012 has participated in a BlackRock survey of economists.
In November of 2013, he correctly predicted the interest rate dynamics through the summer of 2014. He is also the author of a survey text, "The Basics of Economics for a Modern Manager"
Posted-In: Exclusives Pre-Market Outlook Trading Ideas Interview Best of Benzinga
View Comments and Join the Discussion!