Exclusive: Dish Network Exec Explains How Amazon Will Help It Dominate An Industry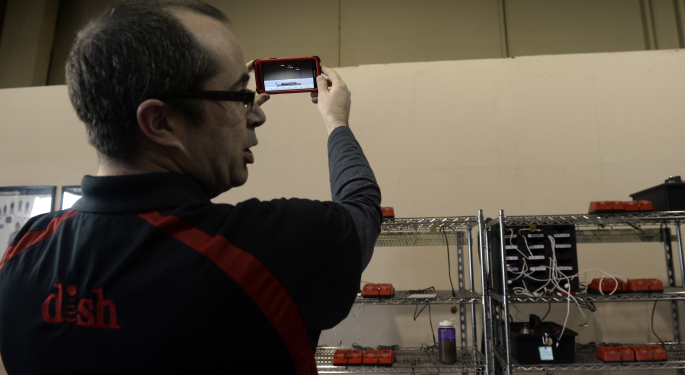 DISH Network Corp (NASDAQ: DISH) announced last week that it will use Amazon.com, Inc. (NASDAQ: AMZN)'s Amazon Home Services to sell in-home installations for large TVs, home audio systems and wireless networking. The announcement might have surprised investors who were unaware that DISH, a satellite TV provider with nearly 14 million subscribers, offers this secondary service.
"Our approach right now is really to wow them with the service we provide," Erik Carlson, executive vice president of operations at DISH, told Benzinga.
"Although we're not going on directly to pitch our product, we're really there to wow the customer with the service they have ordered. That's first and foremost our approach."
In other words, DISH employees and contractors won't come into consumers' homes with the hope of acquiring new subscribers. If a customer is intrigued by DISH's primary service, Carlson said that "our technicians are there to be an ambassador for company and the brand."
Related Link: Most Netflix Subscribers Still Pay For Cable, Satellite Service
Installation Options
Amazon promotes its new Home Services option with three points:
Handpicked Pros
Upfront Prices
Happiness Guarantee
When shoppers search for a 60-inch TV, such as this one from Vizio, they'll see an offer from Amazon that asks, "Want this installed?"
If one or more installation services are available, they can click the link and see what's available.
"When [a customer] is shopping on Amazon, he would select that particular television," said Carlson. "Once they pick that item, there's a set of services that [the customer] will be offered."
Driver Of Growth?
When asked if DISH's installation services could be a source of growth, Carlson said that he thinks there is a "real business to be had out there."
"Last year our technicians provided over 1.5 million solutions to customers beyond satellite," he said, adding that they set up hundreds of thousands of TVs, wireless networks and sound systems. "It really is more about providing an unbelievable experience for our customers. In addition, it's an incredible opportunity for our tech force."
Customer-Recommended
Carlson didn't say much about the potential competition from other Amazon Home Services providers. Instead, he focused on the success that DISH has already achieved, including a 4.7 star customer rating.
"At this point, I think we're really happy and proud of the star rating we have on Amazon," said Carlson. "We're not really looking at it from a competition perspective. There's not a lot of nationwide install networks that are 1) available or 2) participating in the Amazon platform."
Disclosure: At the time of this writing, Louis Bedigian had no position in the equities mentioned in this report.
Posted-In: Amazon Amazon Home Services Dish Network Erik CarlsonExclusives Tech Interview Best of Benzinga
View Comments and Join the Discussion!