#PreMarket Prep For The Week Of March 9: Gearing Up For Financial Journalist Nicole Lapin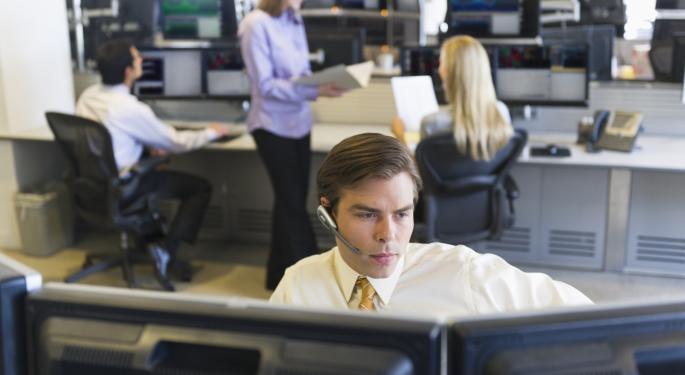 We're gearing up for another special segment of #PreMarket Prep: an exclusive Q&A with longtime financial journalist Nicole Lapin next Monday. Learn how you can have her answer your questions live on the show!
In the meantime, be sure to tune in at 8:00 a.m. ET Monday-Friday here interact with our veteran traders, market technicians and money managers that come on the show.
Monday, March 9, 8:35 a.m.
Anne-Marie Baiynd (@AnneMarieTrades), Author and Financial Analyst
Anne-Marie Baiynd is a trader, author and financial analyst best known for her book, "The Trading Book Course: A Practical Guide to Profiting with Technical Analysis."
9 a.m.
Scott Redler (@RedDogT3), Chief Strategist at T3 Live and T3 Trading Group
Scott Redler has been trading equities for more than 10 years and has more recently received widespread recognition from the financial community for his insightful, pragmatic approach. He began his career as a broker and venture capitalist where he was able to facilitate relationships that led him into trading. Beginning his trading career at Broadway Trading in 1999, Scott moved on with Marc Sperling to Sperling Enterprises, LLC after establishing himself as one of the best young traders in the firm.
9:20 a.m.
Tom Busby (@dtitrader), Founder and CEO of Diversified Trading institute
Tom Busby's trading career dates back to the late 1970's. Quoted and published in Futures magazine and Active Trader Magazine, he actively trades and invests in futures, stocks, options and currencies. Guest appearances include CNN, First Business News, MoneyShow.com and Steve Crowley's American Scene Radio. Recognized as one of the first educators to trade live in front of an audience, Tom authored "Winning the Day Trading Game," "The Markets Never Sleep," and "Trade to Win." Tom founded DTI in 1996 and with his more than 30 years of trading experience has helped thousands of students become better traders.
Tuesday, March 10, 8:35 a.m.
Nic Chahine (@racernic), Options Expert
Nic Chahine joins the show every Tuesday to discuss the week's options outlook. He's a Marketfy Maven and author of the Create Income with Options Spreads blog.
9 a.m.
Ethan Premock (@MockTrade), Stock Index Futures and Equity Options Strategist at Hamzei Analytics
Ethan Premock starting his day-trading and swing trading career back in early 2007 trading both individual stock option contracts and index futures contracts. Premock has developed a unique trading style in which he uses a very disciplined technical analysis structure of several components to ensure human emotions will not interfere with the potential for high absolute returns along with consistently applying clear rules for trade entries and exits, continual trend analysis through volume profile, and risk management for both long-term and short-term trading success.
9:20 a.m.
Frank Lortscher (@wealthofinfo), President CEO of Array Analytics
Frank Lortscher is the founder and CEO of Array Analytics, which licenses its patented "wisdom of crowds" systems to help businesses monetize their transaction data. He also currently manages a fund which uses signals based on social data processed through the Array Analytics platform. Frank has more than twenty years' experience using systems and analysis to find new approaches to old problems, including a decade at Capital One leveraging data to drive business strategy, marketing research and operational diagnostics. Frank holds degrees from the University of California, Berkeley and the University of Chicago.
Wednesday, March 11, 8:35 a.m.
Fari Hamzei (@HamzeiAnalytics), Founder of Hamzei Analytics
Fari Hamzei joins the show every Wednesday, bringing his wealth of knowledge on aggressive equity options and index futures trends.
9 a.m.
Greg Guenthner (@GregGuenthner), CMT & Author of The Rude Awakening
Greg Guenthner, CMT, is the writer & editor of The Rude Awakening, a daily e-letter focused on both short-term and long-term trading ideas that is published every weekday morning on DailyReckoning.com. Greg has been publishing his trading and investing advice for nearly a decade at Agora Financial. His analysis is also featured in Forbes, Yahoo! Finance, Bankrate, and MarketWatch, to name a few. He's also a Yahoo Finance contributor-- you can find this on his "Midnight Trader" tumblr.
9:20 a.m.
Dan Neiman (@dannyneiman), Portfolio Manager of the Neiman Large Cap Value Fund
Dan Neiman is also a partner of Neiman Funds Management LLC, an SEC Registered Investment Advisor. Prior to helping form Neiman Funds Management LLC, Nieman was co-partner of Neiman Capital Management LLC, which managed both individual client accounts and the Neiman Large Cap Value Fund.
Thursday, March 12, 8:35 a.m.
JC Parets (@allstarcharts), Founder of Eagle Bay Capital
JC Parets is a money manager, chartered market technician, technical analysis practitioner and blogger. He is also a Marketfy Maven and the author of Eagle Bay Solutions.
9 a.m.
Karl Snyder (@snyder_karl), Chief market Strategist with Garden State Securities
Karl Snyder is a member of the Market Technicians Association and holds the Chartered Market Technician designation. He is both series 66 and 7 licensed. Snyder is also a series 87 licensed research analyst. He specializes in inter-market analysis with an emphasis on sector rotation and the impact of the business cycle on the financial markets. Prior to starting his financial career, Snyder studied at Rutgers University and served in the United States Marine Corps as a non-commissioned officer.
9:20 a.m.
Phil Ash (@BatonInvesting), Co-Founder & CEO of Baton Investing
Phil Ash, is Co-Founder & CEO of Baton Investing, which is setting a new standard of transparency and performance for investing companies. Ash, a former CPA, financial analyst and investment research firm President, helped develop and launch Baton's proprietary, subscription-based stock picking system that has beaten the market by roughly 300% and bucked mediocrity since 2003.
Friday, March 13, 8:15 a.m.
Kevin McPartland (@kmcpartland), Principal of Market Structure and Technology at Greenwich Associates
Kevin McPartland leads the Firm's market structure and technology practice and has nearly 15 years of capital markets industry experience with a deep expertise in OTC derivatives and financial services technology. Prior to joining the Firm, Kevin was with BlackRock, where he was a Director in the Electronic Trading and Market Structure group.
9 a.m.
Jeff Yaede (@TraderMinute), Founder and Lead Trader of TraderMinute
A former hedge fund manager, Jeff Yaede started TraderMinute in 2012, recognizing an opportunity to combine three of his great loves—a love for the market, a love for teaching people how to make money using the market, and a love for The Challenge. TraderMinute has allowed him to do all three, making the market "game" even more exciting and rewarding every day. Since November of 2012, TraderMinute has been running challenges every four months or so with the goal of giving members the necessary tools to find success in the market despite their background, knowledge and current ability.
9:20 a.m.
Vlad Karpel (@tradespoon), Founder of Tradespoon
Tradespoon is the brainchild of CEO Vlad Karpel, formerly Head of Technology at OptionsXpress, and is driven by trading industry veterans with expertise in money management, trading technologies and quant models. For more than 15 years, Vlad has honed the underlying algorithm of the Tradespoon platform to power the most sophisticated trading system on the market.
View Comments and Join the Discussion!
Posted-In: Anne-Marie Baiynd Benzinga #PreMarket Prep Fari Hamzei JC Parets Nic ChahineExclusives Intraday Update Interview Best of Benzinga