When to Take Social Security Benefits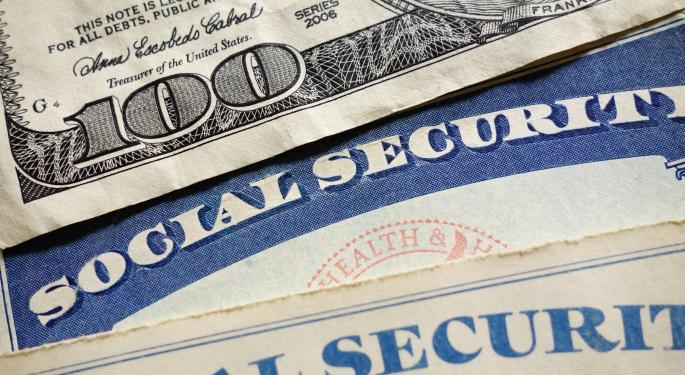 While Benzinga mostly covers actionable trading ideas and news stories, we've decided to delve a bit deeper into personal finance.
The team at Benzinga would like to assist readers with not just their investing endeavors, but their financial lives as a whole. And today, we continue this effort with information on when to take Social Security benefits.
Social Security benefits are available to eligible beneficiaries beginning at age 62. But, it's not always prudent to collect them immediately. Below is a discussion of how much retirees receive at various ages and when the optimal age to retire may be.
Retire Early, Receive Less per Month
Maximum benefits are only paid to those who wait until full retirement age. For most working Americans (those born during or after 1960), full retirement age is 67. According to the Social Security Administration, those in this age group will suffer the following permanent reductions in their monthly benefit at each early retirement age:
62: about 30 percent
63: about 25 percent
64: about 20 percent
65: about 13.3 percent
66: about 6.7 percent
Delay Past Full Retirement Age, Earn More per Month
For each year past full retirement age, the Social Security Administration offers a delayed retirement credit. For those born during or after 1943 (just about every worker), each additional year of delay past full retirement age (67) until age 70 is good for an eight percent increase in yearly benefits.
When Should You Take Social Security Payments?
Take two lifelong friends, Bill and Joe. Both have had identical career earnings and currently make $50,000 per year.
Bill plans to retire at age 62, while Joe plans to wait until age 67. Both expect to live the average male life expectancy of 76 years. At age 76, Bill would have collected a total of approximately $183,600 while Joe would have pulled in nearly $176,000 (in today's dollars). Call early retirement a narrow win for Bill.
Now, suppose each survives until age 85. With his lower monthly payment, Bill would collect a total of about $301,600 (in today's dollars). Meanwhile, the higher monthly benefit would add up for Joe, who would pull in a total of nearly $352,000.
In a nutshell, those who expect to live to or below their life expectancy should collect Social Security benefits as early as possible. Those who anticipate living longer should wait until full retirement age to collect.
The Bottom Line
Monthly Social Security payments increase with retirement age. With that in mind, those who intend to live longer will earn more by delaying retirement, as their higher monthly benefit amount will add up over time.
However, there are a plethora of variables to consider including health, personal assets, cost of living and career satisfaction in ultimately deciding when to begin collecting Social Security benefits. It is best to discuss this situation with a qualified financial professional to ensure you'll receive the maximum return on your investment into the Social Security system.
View Comments and Join the Discussion!
Posted-In: Social Security AdministrationEconomics Personal Finance General Best of Benzinga