JPMorgan Option Trader Bets $1.3M On Rebound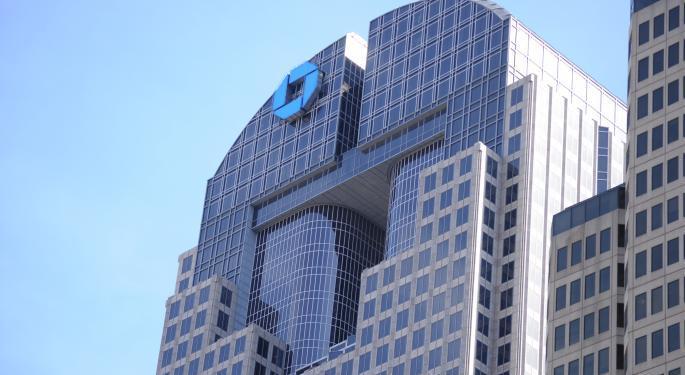 Shares of JPMorgan Chase & Co. (NYSE: JPM) traded lower Monday as traders grow increasingly concerned about the economic impact of a potential second wave of COVID-19 infections.
Bank stocks already have an uphill battle in 2020 to generate profits after the Federal Reserve cut interest rates essentially to zero in March to help support the economy. However, several options traders made large bets on Monday that the recent JPMorgan sell-off is a buying opportunity.
The JPMorgan Trades
On Monday, Benzinga Pro subscribers received nine option alerts related to unusually large JPMorgan option trades. Here are a handful of the largest:
At 11:02 a.m. ET, a trader sold 700 JPMorgan call options with a $115 strike price expiring on Jan. 15, 2021. The contracts were sold at the bid price of $5.401 and represented a $378,070 bearish bet.
At 11:09 a.m. ET, a trader bought 350 JPMorgan call options with a $115 strike price expiring on Sep. 18. The contracts were purchased near the ask price at $2.98 and represented a $104,300 bullish bet.
At 11:10 a.m. ET, a trader bought 4,496 JPMorgan call options with a $115 strike price expiring on Sep. 18. The contracts were purchased near the ask price at $3.047 and represented a $1.37 million bullish bet.
At 11:38 a.m. ET, a trader bought 322 JPMorgan call options with a $100 strike price expiring on Friday. The contracts were purchased near the ask price at $2.051 and represented a $66,042 bullish bet.
Of the nine total large JPMorgan option trades on Monday morning, six were calls purchased at or near the ask, trades typically seen as bullish. The other three were calls sold at the near the bid, trades typically seen as bearish. All four of the largest trades were bullish.
Why It's Important
Even traders who stick exclusively to stocks often monitor option market activity closely for unusually large trades. Given the relative complexity of the options market, large options traders are typically considered to be more sophisticated than the average stock trader. Many of these large options traders are wealthy individuals or institutions who may have unique information or theses related to the underlying stock.
Unfortunately, stock traders often use the options market to hedge against their larger stock positions, and there's no surefire way to determine if an options trade is a standalone position or a hedge. In this case, given the relatively large size of the largest JPMorgan option trades, there's certainly a possibility they could be a hedge on a large position in JPMorgan stock.
Are Bank Stocks A Bargain?
There was no specific major news out on JPMorgan on Monday, but a handful of experts have spoken out in favor of buying the recent dip in bank stocks.
Last Monday, Wells Fargo analyst Mike Mayo said big bank stocks are underpriced.
"They're still priced like the global financial crisis, and that's a complete disconnect to the stock market as a whole, and frankly it's a disconnect to what the bond market says about banks," Mayo told CNBC.
Last Thursday, Odeon Capital Group analyst Dick Bove pointed out that big bank earnings increased in five of the six years from 2010 to 2015, hitting new all-time highs during a prolonged period of 0% interest rates. In addition, Bove said the massive Federal Reserve stimulus has increased the money supply and created tremendous opportunities for increased trading revenue and debt underwriting for big banks.
Monday's call buyers seem to agree that the recent sell-off in bank stocks is overdone.
Benzinga's Take
U.S. banks navigated zero interest rates for years during the financial crisis recovery, and they are much more efficient today than a decade ago. The break-even price of the largest JPMorgan call purchase on Monday morning is $118.05, suggesting at least 18.9% upside for the stock over the next three months.
Do you agree with this take? Email feedback@benzinga.com with your thoughts.
Related Links:
Large Facebook Option Traders Dumping Calls Following Difficult Week
How To Read And Trade An Option Alert
Photo credit: Joe Mabel, Wikimedia
View Comments and Join the Discussion!
Posted-In: Dick Bove Mike MayoAnalyst Color Long Ideas Options Markets Analyst Ratings Trading Ideas Best of Benzinga