Did Whole Foods Lose 14 Million Customers To Kroger Last Quarter?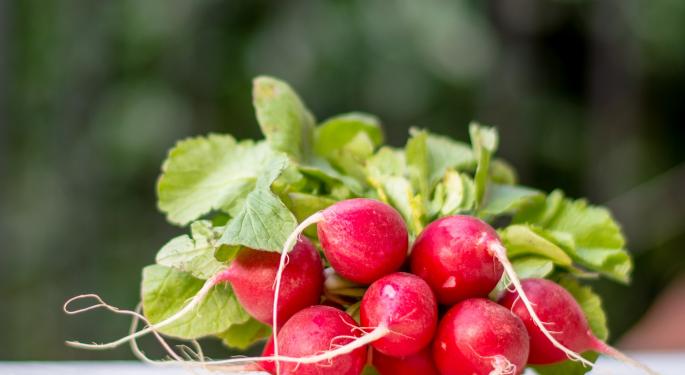 One man's loss is another man's gain — this idiom has rung true in the corporate world. Barclays' analysis of traffic trends at Whole Foods Market, Inc. (NASDAQ: WFM) has shown that the company's loss has translated to gains for Kroger Co (NYSE: KR).
Small Traffic Decline In Percent, But Huge Loss In Absolute Numbers
In a note published on Monday, Barclays said traffic at the organic food chain has fallen 3 percent, equating to 14 million customers.
And this is how Barclays arrived at the estimate. Assuming a range of baskets from $30–$50, the firm estimates that the company generated annual total comp transactions of 287 million to 479 million. A three percent decline equates to a loss of 9 million to 14 million transactions in the last six quarters, Barclays said.
"Said differently, on a per store basis, this equates to up to 105 lost/day, and 38,000 lost per year," the firm clarified.
Traffic Declines To Hurt
Barclays sees the traffic declines as having a profound impact, as it has been the wont with retailers, once traffic has been lost, it is tough to reverse patterns. According to the firm, Whole Foods might face significant challenges to reverse behavioral changes even if execution improves, because execution at competing retailers remains very strong.
Who's Gaining At Whole Foods' Expense?
Analysts Karen Short, Ryan Gilligan and Sean Kras believe Kroger is the beneficiary, as 47 percent of Whole Foods stores are within three miles of a Korger. As evidenced, the analysts noted that Kroger's natural and organic sales stood at $16 billion compared to $15.8 billion in the last twelve months for Whole Foods and that RS Metrics data showed both overlap with Kroger within various trade areas as well as traffic shifts since February 2016.
"We think it is likely KR's comps benefited from the WFM traffic loss tailwind, but believes losses at WFM will likely stabilize and this could present KR with some tough comp comparisons in FY17," the analyst added.
Barclays has an Equal Weight and $30 price target for the shares of Whole Foods.
At the time of writing, the shares of Whole Foods were down 1.38 percent at $28.53, while those of Kroger were down 0.72 percent at $28.89.
Related Links:
Here's Every Whole Foods Rumor Of 2016
Whole Foods' Strategic Shift Too Little Too Late?
View Comments and Join the Discussion!
Posted-In: Barclays Karen Short Ryan Gilligan Sean KrasAnalyst Color Analyst Ratings Best of Benzinga