Wall Street Reacts To Nike's Q3 Results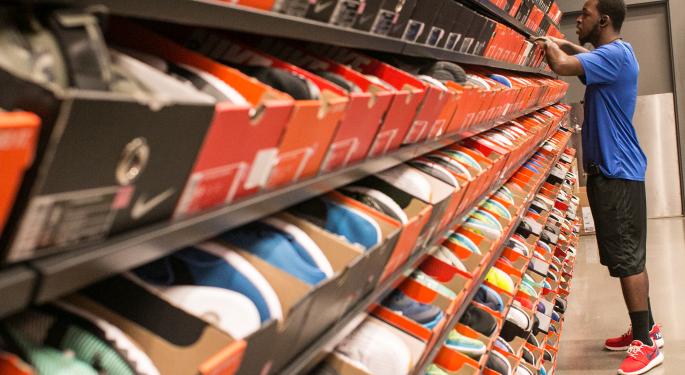 Nike Inc's (NYSE: NKE) revenue miss in its third quarter earnings report resulted in a more than 5 percent decline in the stock.
As investors sent a clear signal they aren't impressed with the report and the company's outlook, were Wall Street analysts equally as disappointed?
Don't Discount Nike's Track Record
Matthew McClintock of Barclays maintained an Overweight rating on Nike's stock with an unchanged $65 price target.
According to McClintock, Nike's futures were "surely disappointing" but that doesn't mean investors should be throwing in the towel as the company has a track record of robust innovation.
In fact, the analyst believes Nike is still in the early stages of a manufacturing revolution which makes its outlook even more attractive. Specifically, the company's "Triple-Double" strategy consists of: 1) innovation through performance and style, 2) supply chain improvements, and 3) greater consumer connections through digital and membership initiatives.
Exclusive: Adidas' Mark King Talks About The Company's Comeback, Turning The Corner In North America
Q3 Sounds The Alarm Bells
Paul Trussell of Deutsche Bank maintained a Buy rating on Nike's stock with a price target lowered to $64 from $66.
According to Trussell, Nike's earnings report "sounded alarm bells" for various reasons, including: 1) a weaker than expected Q4 revenue outlook, 2) a miss in its GPM plan and guiding Q4 lower given the highly promotional North American environment, 3) a lack of any specific fiscal 2018 guidance, and 4) futures slowed down for the fifth consecutive quarter to negative 1 percent from positive 2 percent in the prior period.
Trussell suggested Nike's earnings will "restart the debate" on how Nike should be valued. Nevertheless, the analyst's long-term outlook on Nike is favorable as the company is still a "traffic driving consumer brand with pricing power."
The analyst also believes Nike's new "Triple-Double" plan will result in top and bottom line acceleration in fiscal 2018 and beyond.
Low Quality EPS Beat
Camilo Lyon of Canaccord Genuity maintained a Hold rating on Nike's stock with an unchanged $51 price target.
According to Lyon, although Nike's third quarter report consisted of an earnings beat, it was of "low quality" as it was driven by lower SG&A, a lower tax rate and higher other income. Moreover, the reported gross margin contraction of 146 basis points was worse than expected by 33 basis points.
On the optimistic side, Lyon believes Nike now understands the changing dynamics in the market and it's implementing a new strategic initiative. As such, the aggressive steps management is taking should be commended but the fact is it will take time for Nike to turn its business.
Lyon also argued it's hard to justify a multiple expansion to Nike's stock at a time when its revenue is showing no signs of re-accelerating.
Nike Still A Top Pick
Randal Konik of Jefferies maintained a Buy rating on Nike's stock with an unchanged $75 price target.
According to Konik, Nike remains a top pick in 2017 for a few key reasons, including: 1) supply chain improvements and product innovations will yield long-term pricing power and improved margins, 2) athletic and sporting goods retailers are among the few sectors to see increasing traffic which bodes well for Nike, and 3) Adidas is now losing market share to Nike in the running category.
Konik did acknowledge Nike's gross margin story "will take a bit of a backseat" for the time being due to the promotional environment in North America, an ongoing digital expansion and foreign exchange headwinds. Nevertheless, the analyst sees a long-term gross margin improvement given the company's ability to manage its inventory and optimize the supply chain.
Elsewhere On The Street
Jonathan Komp of Baird maintained an Outperform rating on Nike's stock with a price target lowered to $62 from a previous $67.
Christian Buss of Credit Suisse maintained an Outperform rating on Nike's stock with an unchanged $67 price target.
See Also:
The Sell-Side Reaction To Nike's Q2
5 Upcoming Catalysts For Nike Bulls
View Comments and Join the Discussion!
Posted-In: BarlcaysAnalyst Color Earnings News Guidance Top Stories Analyst Ratings Trading Ideas Best of Benzinga