Apple Stays Steady Below Key Resistance Unmoved By News Flow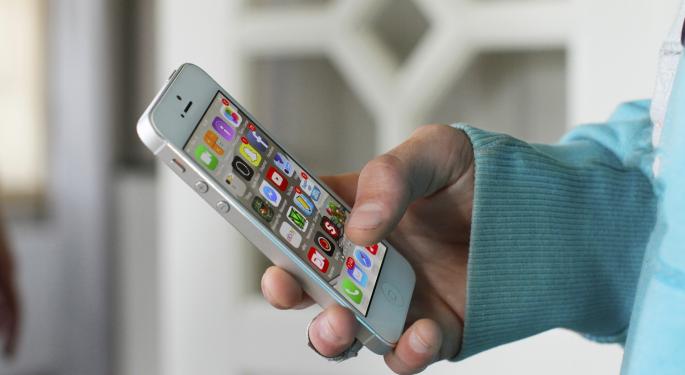 Apple Inc. (NASDAQ: AAPL) shares have been range-bound between $93 and $123 since the middle of 2015 after they pulled back from a consolidation zone.
Apple, with a market capitalization of $596 billion, has the potential to sway the markets one way or the other and every move this tech stalwart makes could be worth watching out for. The news flow on Apple was fairly heavy on Tuesday, although the nature of the news flow, at best, would be qualified as mixed.
After gap-opening lower (at $110.78 Vs. Monday's close of $111.57), the stock gradually recouped its loss, moving into positive territory by late morning and briefly going above the $112 level. Subsequently, the stock pulled back and has been holding barely above the unchanged line in a broad sideways movement.
Soft Outlook
UBS lowered its iPhone procurement estimates for December to 74 million from 75 million, down 1 percent year-over-year. This, according to the firm, places the current consensus estimate for the December and March quarter unit shipment growth at risk.
However, analyst Steven Milunovich feels mix shift will support ASPs. The analyst indicated his 76 million unit sales estimate is below the 78 million unit Street estimates. The analyst maintained his Buy rating and $127 price target for shares.
Apple's India Outperformance
A report from Economic Times showed that iPhone sales rose sharply in India in the three days that immediately following demonetization, with 100,000 iPhones or about 3/4th of its average monthly sales made these three days. Strong sales orchestrated by the intent to buy the gadget by offloading canceled currency notes helped Apple to earn the distinction of being the only phone maker to meet monthly sales target in November, the report added.
KGI Upbeat On iPhone 8 Sales
KGI Securities believes the new iPhone to be sold in 2017, dubbed iPhone 8, may see sales swell to 120-150 million units in the second half of 2017, according to a report in 9to5Mac. The report noted this would mean breaking the record set by iPhone 6 and iPhone 6 Plus sales. The radically designed iPhone 8 would have a large OLED display, with wireless feature expected to be part of it.
Apple's Medical Foray
A report filed by MobiHealthNews said that Apple had exchanged mails with the FDA concerning two possible products in the cardiac space.
IDC Forecast Weak Smartphone Shipment Forecast for 2016
Global smartphone shipments may just manage to stay afloat in 2016 after rising 10 percent in 2015, according to the IDC. Specifically, IDC estimates shipments of 1.45 billion in 2016, up 0.6 percent. IDC said Apple could see negative annual iPhone sales growth, given the global smartphone saturation.
Posted-In: iPhone UBSAnalyst Color News Tech Best of Benzinga
View Comments and Join the Discussion!