Abenomics: Japan's Second Recession In Three Years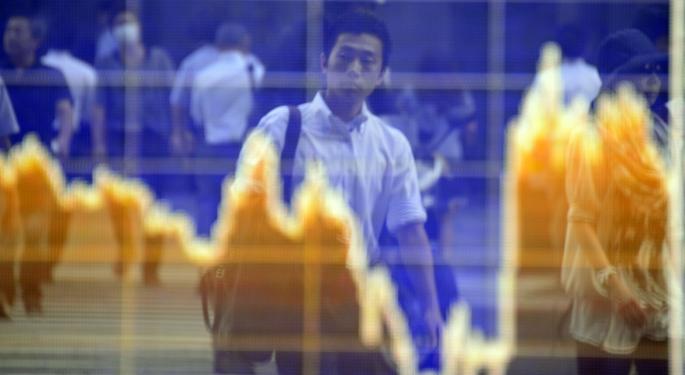 Japan's economy officially entered into a recession in the third quarter.
Japan said that its economy contracted 0.8 percent (on an annualized basis) in the third quarter after declining 0.7 percent in the second quarter.
Japan has now faced a recession four times since the global financial crisis and twice in the past three years alone.
Abenomics, the term used to refer to the economic policies of Japan's Prime Minister Shinzo Abe, is based upon the "three arrows" of monetary easing, fiscal stimulus and structural reform.
Abenomics policies were intended to jolt the Japanese economy out of stagnation. However, official data from the Japanese government showed that the economy shrank by an annualized 0.8 percent in its third quarter, marking the second consecutive quarter of negative growth as the world's third-largest economy shrank 0.7 percent in the second quarter.
The Nikkei 225 index closed its trading day lower by 1.04 percent as investors digested the fact that Japan has entered its second recession in the past three years, and fourth recession since the global financial crisis.
Reuters quoted Hiroshi Shiraishi, a senior economist at BNP Paribas who said "Abeonomics' first two arrows of monetary and fiscal stimulus were meant to buy time, but Japan failed to make progress with painful reforms needed to boost its growth potential." The analyst also said that "without reform [the third 'arrow'], the economy's growth potential remains low, making it vulnerable to shocks and to suffering recession more often."
Business spending in the third quarter fell 1.3 percent while private consumption (accounts for around 60 percent of gross domestic product) rose 0.5 percent from the prior quarter. Foreign demand for Japan's exports added 0.1 percent.
"While there are risks such as overseas developments, we expect the economy to head toward a moderate recovery thanks to the effect of various (stimulus) steps taken so far," economics minister Akira Amari said in a statement.
Posted-In: Abenomics Japan Japan RecessionAnalyst Color News Global Economics Markets Best of Benzinga
View Comments and Join the Discussion!