Cramer: Vantiv's Acquisition Of Worldplay Deserves More Attention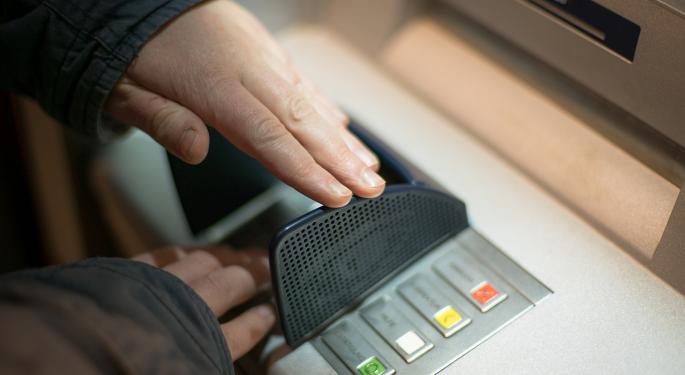 Vantiv Inc (NYSE: VNTV), a U.S.-based provider of payment processing services, acquired U.K-based Worldpay in a deal, which is being under-reported, despite the nearly $10 billion price tag on the acquisition, CNBC's Jim Cramer suggested.
Vantiv's proposed acquisition of Worldpay is completely flying under the radar, Cramer said during his daily "Mad Money" show Wednesday. In fact, the payment processor category is "red-hot" and both Vantiv and Worldpay are front and center in the category which makes the lack of coverage "crazy," even when factoring all the distracting news coming from Washington.
Why This Deal Matters
Before explaining why Vantiv is under-appreciated story, it is important to highlight what exactly the company does. Every time a consumer swipes their credit card at a store the retailer sends the transaction to a merchant acquirer, such as Vantiv. Then, Vantiv passes along the information to the credit card network provider, which is then sent over to the issuing bank for payment to the merchant.
Vantiv's cut of every transaction could be as much as 2–3 percent, a small amount when taken by itself but a huge amount when considering Vantiv was ranked number one in the space in 2016 having overseen $21.18 billion worth of transactions.
This explains why Vantiv would want to acquire its foreign peer, Cramer suggested. Vantiv is strictly U.S.-based while Worldpay is an international player in 146 countries.
Vantiv is about to go from a domestic-payments play to a worldwide titan overnight," Cramer said. "Thanks to the Worldpay acquisition they're going to get a huge international footprint, especially in Europe."
Bottom line, companies like Vantiv are "the least visible" member of the credit card space but the deal is without a doubt the biggest transaction within the payments space since the Great Recession.
Related Links:
Why Amazon's Purchase Of Whole Foods Will Be A Slight Negative For Vantiv
Ulta's Stock Threatened By One 'Destructive Force,' According To Cramer
View Comments and Join the Discussion!
Posted-In: credit card Mad Money payment processor Worldpay Jim CramerM&A News Media Best of Benzinga