Are We Stuck In A Currency War?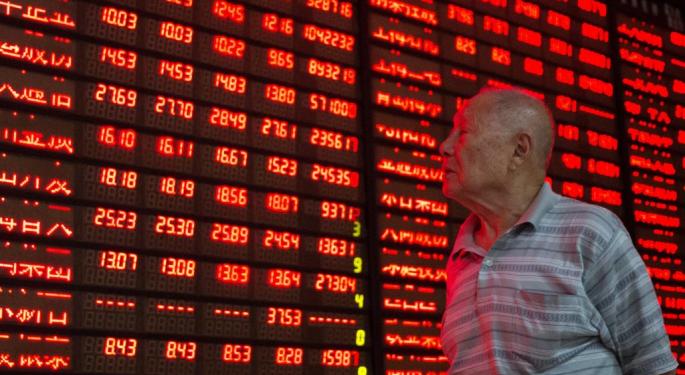 Last month, the People's Bank of China devalued the nation's currency after Beijing's efforts to kickstart the stalling economy appeared to be failing.
The yuan's slide caused market turmoil as investors worried about how a slowdown in China would affect the rest of the world and whether central banks around the world would follow suit in an all-out currency war.
Race To The Bottom
By devaluing its currency, China has put itself in a favorable position, as Chinese products will become much more competitive compared to foreign goods. The yuan's losses are likely to give Chinese manufacturers a boost, something that could help add strength to the nation's economy.
However, other nations could be tempted to follow in the PBOC's footsteps in order to give their own nations a leg up in the global marketplace.
Related Link: An ETF That Gains As China Loses
G20 Promises To Hold Back
Over the weekend, the Group of 20 largest economies pledged not to engage in a currency war despite the yuan's latest drop. The already fragile global market is unlikely to hold up if other central banks competitively devalue their currencies.
Global Growth
Worries have grown that China's economic troubles are deeper than expected and that the nation's government has been hiding problems from the rest of the world.
However, at the G-20 summit, Chinese officials reassured global leaders that their plans to sure up the economy will be enough to avoid a rapid deceleration that many are fearing.
Posted-In: China G20 Group of 20 People's Bank Of ChinaNews Emerging Markets Global Markets Best of Benzinga
View Comments and Join the Discussion!