Benzinga's Weekend M&A Chatter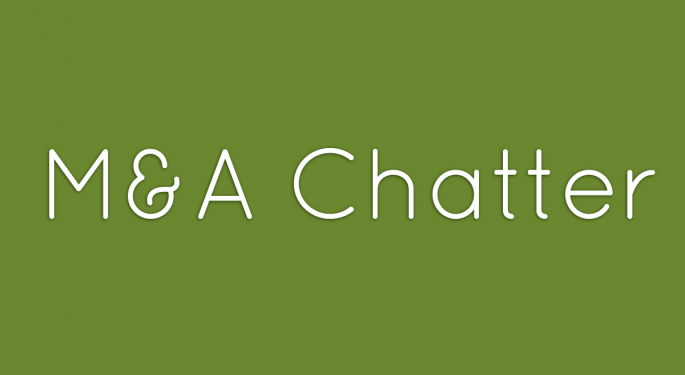 The following are the M&A deals, rumors and chatter circulating on Wall Street for Friday July 11 through Sunday July 13, 2014:
Whiting Petroleum to Acquire Kodiak Oil & Gas for $6B in All-Stock Deal
The Deal:
Whiting Petroleum (NYSE: WLL) and Kodiak Oil & Gas (NYSE: KOG) announced Sunday, that Whiting will acquire Kodiak in an all-stock transaction valued at $6.0 billion. Under the terms of the agreement, Kodiak shareholders will receive 0.177 shares of Whiting stock in exchange for each share of Kodiak common stock they hold ($13.90 per share based on the closing price of Whiting common stock on July 11, 2014). Following the transaction, Whiting shareholders are expected to own approximately 71% of the combined company and Kodiak shareholders 29%.
The deal is expected to close in Q4 2014.
Kodiak Oil & Gas shares fell more than 2% Friday, to close at $14.23.
AECOM to Acquire URS for $56.31/Share in Cash, Stock Deal
The Deal:
AECOM Technology (NYSE: ACM) and URS (NYSE: URS) announced Sunday, that AECOM will acquire all outstanding shares of URS for $4 billion or $56.31 per URS share, in a cash and stock deal. The total enterprise value of the deal, including assumption of URS debt, is about $6 billion. Reuters reported on Friday that URS had hired Citigroup and DBO Partners as advisors for a potential deal.
The deal is expected to close in October 2014.
URS shares closed Friday at $52.02, a gain of 2%.
Crumbs to be Acquired by Lemonis Fischer Acquisition Company as Part of Chapter 11 Filing
The Deal:
Crumbs Bake Shop (OTC: CRMB) announced Saturday that it has entered into an Asset Purchase Agreement with Lemonis Fischer Acquisition Company, a joint venture between Marcus Lemonis LLC and Fischer Enterprises, LLC. The joint venture will acquire the Crumbs' business as part of the Company's filing of voluntary Chapter 11 bankruptcy filing.
Crumbs shares soared 1200% Thursday, on a report of a potential deal.
Crumbs Bake Shop closed Friday at $0.64, a gain of 60%.
Report Shire Seeking Near £53/Share Offer from AbbVie
The Rumor:
Shire (NASDAQ: SHPG) is seeking approximately £53 per share from AbbVie (NYSE: ABBV), according to sources, as reported by Reuters. That's not far off from AbbVie's latest offer of £51.15 per share. AbbVie has until July 18 to present a firm offer for Shire, under UK takeover rules.
Shire confirmed on Friday that it has met with AbbVie to discuss a takeover deal.
Shire closed Friday at $249.06, a gain of more than 4%.
Lorillard Confirms Discussions Regarding Potential Acquisition by Reynolds American
The Talks:
Lorillard (NYSE: LO) and Reynolds American (NYSE: RAI) confirmed Friday that they are engaged in discussions regarding RAI's potential acquisition of Lorillard. Imperial Tobacco (OTC: ITYBY) also confirmed it is in talks, regarding the potential acquisition of certain assets and brands owned by RAI and Lorillard. Talks between the parties have been rumored since May.
Lorillard shares closed Friday at $66.01, a gain of 4.5%, While Reynolds American shares lost $0.51 to close at $61.75
View Comments and Join the Discussion!