Tesla Looks To China To Drive Growth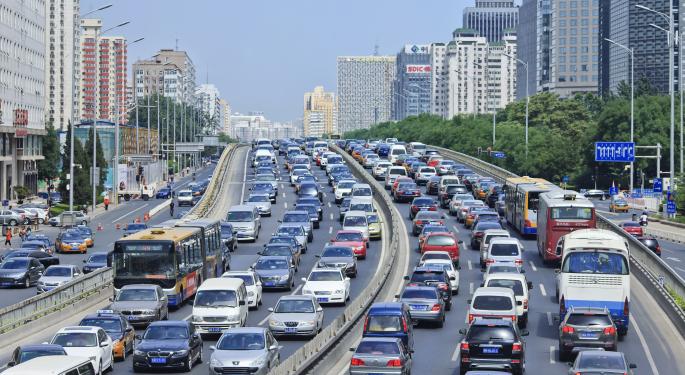 On Monday, investors woke up to news that the Chinese Finance Ministry will extend a program of subsidies for buyers of electric-powered cars.
The subsidy, originally set to be phased out by 2015, will be replaced with a new regime "to preserve policy continuity." The Chinese government has spear-headed an initiative of putting half a million hybrids on the road by 2015 and five million by 2020.
Pollution in many Chinese cities is a sensitive issue for China's government, which has already introduced several issues, including curbs on sales of petrol-engine vehicles.
Tesla (NASDAQ: TSLA) recently announced that it will begin delivering its Model S sedans in China in February or March. Tesla vehicles satisfy the eligibility requirements for a new owner to receive a subsidy from the government.
Related: Elon Musk: $35,000 Tesla Coming In Three Years
The current subsidies of up to 60,000 yuan (approximately $9,800) are available for the purchase of an all-electric battery car.
Tesla began taking pre-orders in August and according to Tesla China's vice president, the company has received several hundred reservations.
Part of the reason for the initial strong demand in Tesla is due to its price. The company announced that it will sell the Model S sedan for 734,000 yuan (approximately $121,000).
"If we were to follow standard industry practice, we could get away with charging twice as much for the Model S in China as we do in the United States. But we're doing things differently," Tesla said in a blog post on January 22. "The price of a Model S in China is the same as the price of a Model S in the U.S., adding only unavoidable taxes, customs duties and transportation costs."
The blog post drew overwhelming support from mainland China car enthusiasts.
With a price subsidy on Tesla vehicles set to continue over the next few years, Tesla's pricing strategy is a bold step to win customers. Tesla will be selling its vehicles for half of what some of its rivals can easily command in a country where higher prices automatically mean prestige.
View Comments and Join the Discussion!
Posted-In: electric vehicles Smog China Tesla Tesla ChinaNews Global Best of Benzinga