Stand Alone Google Glass App Store Will Arrive in 2014 (GOOG)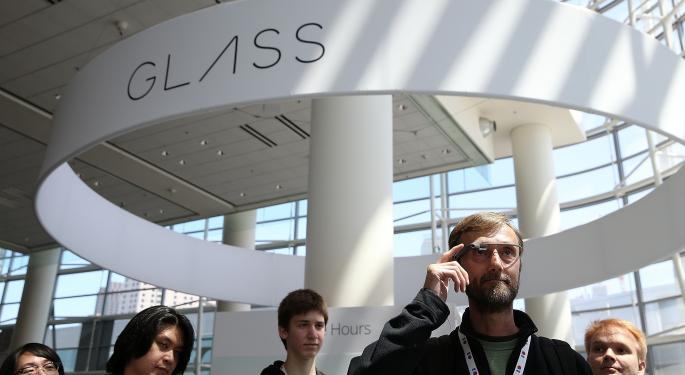 With just about every aspect of Google (NASDAQ: GOOG) Glass covered in anticipation of a public launch next year, one important area – apps - has received only modest coverage. That's about to change.
The New York Times mentioned over the weekend and Marketing Land confirmed Tuesday, the 2014 launch of a dedicated Google Glass app store.
According to the Marketing Land report, Google declined to share additional details including whether the store would be part of Google Play or separate and whether developers would be able to charge for apps.
Marketing Land noted that the current Glass API terms of service mandate that developers offer apps free, a requirement that is not likely to continue for too long.
On August 21, Google's Timothy Jordan, in a post on Google+ said, "I know you'll ask: how can you get your Glassware on MyGlass? We're working on a process for you to submit your Glassware to get quota and be listed so that everyone can do more with Glass." Jordan promised details "soon.
Meanwhile, clues continue to accumulate. Digital Trends reported the recent discovery of a reference to "Boutique" in a recent Google Glass software update. With no official word from Google, it's only speculation whether the term refers to the name of the dedicated app store or not.
Given the fact that Glass is such a unique product, the creation of a standalone app store only makes sense. While few apps exist currently, this will almost certainly change once the device is widely available – especially if it arrives at a price point of $200-$500 as has been widely reported, including by Design & Trend.
Related: Could Google Glass Be The Death Of Facebook?
Until an official app source arrives from Google, Glass Almanac provided links to several websites that feature apps for the device, including Glass Appz, Google Glass APPS, and Stained Glass Labs. Glass Almanac pointed out that none of these sites is official or sanctioned by Google.
Among the more interesting apps expected to be available on the new Glass app store are two Glass versions of apps currently available on smartphones.
News-streaming service, Zite, announced, Aug. 28, both Zite 2.0 for Android as well as a version for Glass. Zite for Glass will allow users to scroll through their personal top 10 news stories in front of them without having to go to all the trouble to pull their smartphone out of their pocket.
Another is called Field Trip, an app that tracks the user's whereabouts and automatically delivers alerts and snapshots of nearby sites, restaurants, and more, according to Design & Trend.
At the time of this writing, Jim Probasco had no position in any mentioned securities.
Posted-In: and Stained Glass Labs Android Apps BoutiqueNews Events Tech Media Best of Benzinga
View Comments and Join the Discussion!