Benzinga Money is a reader-supported publication. We may earn a commission when you click on links in this article.
Learn more.
If you're new to options trading, it's normal to be overwhelmed at the sheer number of new terms, strategies and concepts that you must master before you start to trade. Our beginner's guide to stock options will help you enter the market more efficiently and see more profit potential. Here's what you need to know about options trading if you have no prior experience. 
What is an Option?
Options are contracts that give the buyer the right to execute a buy or sell order at a specific price at some point in the future if they choose to. As the owner of the option contract, you can choose to exercise it or you can choose to allow it to expire.
Although you can purchase an option for virtually any type of traded asset, stock options are popular among many investors. However, unlike stocks, stock options don't represent actual shares of the company — they are instead contracts that allow you the choice to invest or divest a stock at a specific price point within a given future time frame.
Options can allow you to hedge against a declining market, protect your portfolio value and even generate income. Long option positions are considered to be a lower risk investment when compared to individual shares of stock because you can choose not to exercise the contract if doing so would mean financial loss.
Types of Options
Although there are only two basic types of options — puts and calls — several different option styles exist, and the style that you choose can influence when the contract can be exercised. Let's take a look at a few of the most common options styles that you'll encounter when trading options.
Binary: When a binary option expires in a way that is profitable for its holder, they receive a fixed amount of money rather than a relative profit based on the movement of the underlying asset. The term "binary" refers to 2 possible outcomes from the option trade — either you make a profit or you don't. Some investors refer to binary options as "all-or-nothing" options or "fixed-return" options. Binaries can be up (call) or down (put), depending on which way the holder is expecting the market to move.
American: American-style options can be exercised at any point in their lives up to the expiration date, although they are typically sold back instead in order to capture any existing time value.
Asian: An Asian-style options contract has a final payoff that's determined by the average price of the asset taken in specific intervals over a given period of time rather than by the final price on the expiration date.
Exotic: As the name suggests, exotic options are contracts that differ from the plain vanilla puts and calls most option traders are familiar with. You'll typically see exotic options traded in the over-the-counter (OTC) markets rather than on major stock or futures exchanges. Thanks to their growing popularity, some exotic options (like binary options) are now available on major exchanges and from specialized online brokers.
European: European-style options don't include the same level of flexibility as American-style options, so they are often marginally cheaper. With a European style options contract, you can only exercise the contract on the expiration date and not before.
Calls vs. Put Options
Let's now go over how the 2 main types of options differ from each other.
Call: When you buy a call, it gives you the right to buy a specific asset at a specific price before (for American-style options) or on (for European-style options) the option's expiration date. As the buyer, you may choose not to execute the contract if it would mean a loss for you. If you sell a call, you must sell the underlying asset at the price outlined in the contract, and only the buyer can choose to allow the contract to expire.
Put: When you buy a put, it gives you the right to sell a specific asset at a specific price before (for American-style options) or on (for European-style options) the option's expiration date. Like buying a call, you may choose to execute the contract or allow it to expire, depending on which choice is most beneficial for you. If you sell a put, you must sell the asset at the specific price outlined in the contract if the buyer decides to exercise it.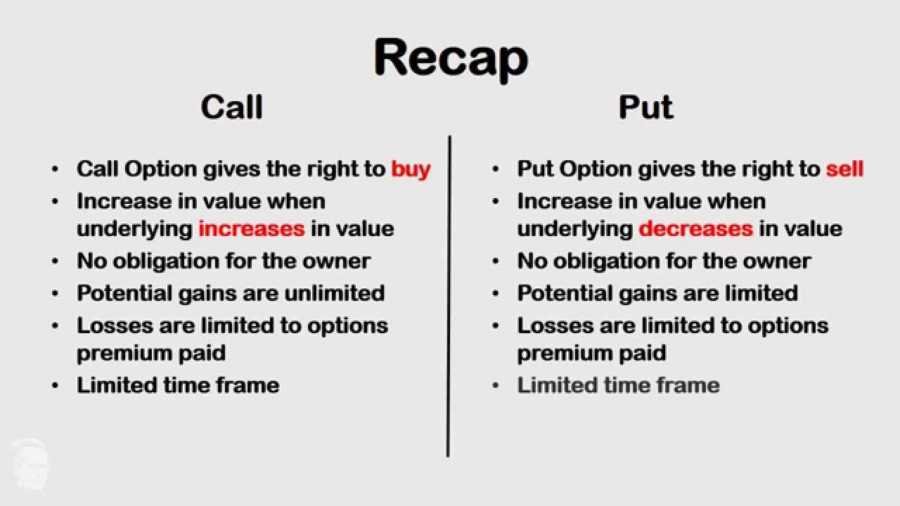 Examples of Options
Let's look at an example of a call option and an example of a put option to illustrate exactly how options contracts work.
Call Option
Imagine that there's a new pharmaceutical company that is developing a novel treatment for arthritis. Shares of Company X are currently trading at $5 a share, but you believe that the price could be much higher 1 year from now if the company's experimental drug is successful. You aren't sure whether you'd like to purchase the shares or not, so you instead buy 10 one-year call options on 100 shares each of Company X's stock with a strike price of $5 a share. You'll need to pay a total premium of $1,500 when you purchase the call options that have a combined notional value of 1000 shares.
A year later, you see that the clinical trials were successful, and Company X's shares have doubled in value to $10 a share. Despite the fact that each share is now worth $10, you still retain the right to buy 1,000 shares at a price of $5 a share thanks to your long call options. You can exercise that call and then sell the stock at the market for a profit of $5,000 less the $1,500 you paid for the options, or $3,500.
Now, imagine an alternate scenario — Company X's experimental drug is found to be dangerous and development is canceled. This causes the share price to plummet to $2 a share. In this instance, you will not exercise your options to purchase 1,000 shares at $5 each, so you allow your options contract to expire. The call seller keeps your premium and you walk away with 0 shares and a loss of only $1,500.
Put Option
Imagine that you own 5,000 shares of Company X's stock, which is currently trading at $5 a share. Company X is doing well right now, but you're afraid that its most recent clinical trial will be a failure and cause the stock value to decrease. You don't want to sell right away in the event that it's a success, but you aren't willing to lose more than 10% of your investment.
As a form of insurance or hedge, you purchase a put option. Your put option gives you the right to sell each of the 5,000 shares of Company X's stock you own at $4.50 a share over the next 6 months. Like when you purchase a call, you'll pay a premium for the right to hold the put option, which could be $4,000 in this case.
If, in 6 months' time, the share price of Company X's stock falls to $4 or lower, you have the right to sell each of your shares at $4.50 a share, protecting your investment after taking the initial $0.50 loss and the loss of your premium. If the price of the stock actually goes up, you can allow the option to expire and enjoy the gains on your stock less your initial premium paid.
Options Tables
Though an options table might look intimidating, the truth is that they're relatively easy to read once you know what each abbreviation means. Here are a few of the most common sections you'll see on an options table:
Symbol: The ticker symbol for the underlying asset the option represents.
Last: The most recent posted trade price for each share of stock.
Change: Shows how much the last trade varied from the previous day's closing price.
Bid: The latest price at which you can sell an option.
Ask: The latest price at which you can buy an option.
Volume: Tells you how many contracts of an option were traded during the current session.
Open interest: Indicates the total number of contracts for a particular option that have been opened. This number decreases as open options are closed out.
Strike price: The strike price is the price at which you can buy or sell the stock if you choose to exercise the contract after purchase.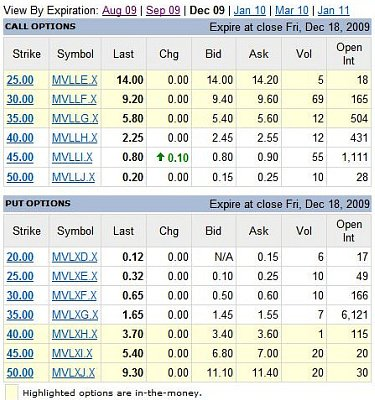 Best Options Brokers
Like when you purchase individual shares of stock, you'll probably need to buy options contracts through a licensed broker. Not sure where to begin? Consider a few of our top brokers below.
1 Minute Review
This publicly listed discount broker, which is in existence for over four decades, is service-intensive, offering intuitive and powerful investment tools. Especially, with equity investing, a flat fee is charged, with the firm claiming that it charges no trade minimum, no data fees, and no platform fees. Though it is pricier than many other discount brokers, what tilts the scales in its favor is its well-rounded service offerings and the quality and value it offers its clients.
Best For
Novice investors
Retirement savers
Day traders
Pros
World-class trading platforms
Detailed research reports and Education Center
Assets ranging from stocks and ETFs to derivatives like futures and options
Cons
Thinkorswim can be overwhelming to inexperienced traders
Derivatives trading more costly than some competitors
Expensive margin rates
Commissions
$0
flat rate, includes closing costs
Commissions
$0
flat rate, includes closing costs
1 Minute Review
Tastyworks is a sophisticated options and futures broker aimed toward experienced traders. The platform was designed by the founders of thinkorswim with functionality and precision for complicated options trades and strategies. Tastyworks offers stocks and ETFs to trade too, but the main focus is options. 
Options on tastyworks are only charged a 1-way, $1 commission —  far cheaper than almost all competitors. Commissions on futures and micro futures are also affordable, and there's no minimum required to open a cash account. It's $2,000 if you want to use margin.
Best For
Options traders
Futures traders
Advanced traders
Pros
Powerful platform inspired by thinkorswim
Multiple order types and strategies
Cheap options commissions
Cons
Advanced platform could intimidate new traders
No demo or paper trading
1 Minute Review
Webull, founded in 2017, is a mobile app-based brokerage that features commission-free stock and exchange-traded fund (ETF) trading. It's regulated by the Securities and Exchange Commission (SEC) and the Financial Industry Regulatory Authority (FINRA).
Webull offers active traders technical indicators, economic calendars, ratings from research agencies, margin trading and short-selling. Webull's trading platform is designed for intermediate and experienced traders, although beginning traders can also benefit.
Webull is widely considered one of the best Robinhood alternatives.
Best For
Active traders
Intermediate traders
Advanced traders
Pros
Commission-free trading in over 5,000 different stocks and ETFs
No account maintenance fees or software platform fees
No charges to open and maintain an account
Leverage of 4:1 on margin trades made the same day and leverage of 2:1 on trades held overnight
Intuitive trading platform with technical and fundamental analysis tools
Cons
Does not support trading in options, mutual funds, bonds or OTC stocks
Most Profitable Option Strategy
There are many different options trading strategies, and the strategy that will be best for you may vary depending on your position and the stocks you're trading. One of the most popular strategies is the "covered call."
When you structure a covered call, you sell a call option against shares of stock that you already own. For example, you might sell one call option for every 100 shares of stock that you own. You may even use the premium from your sold calls to accumulate more shares of stock.
This is a very popular strategy because it allows you to receive income from your investment portfolio. If the price of the stock increases beyond the call option's strike price, your long stock position covers the losses from the short option position. If the price of the stock falls, then your losses are buffered somewhat by the premium you received for selling the call.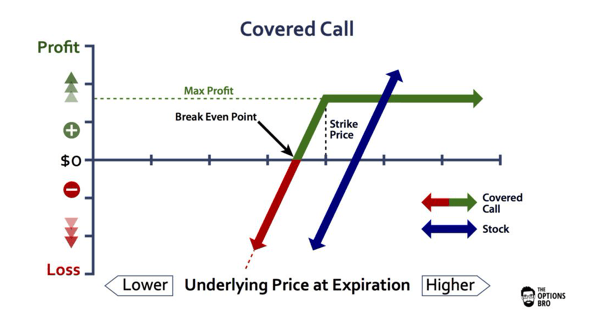 Options Pros and Cons
Trading options comes with its own unique set of risks and benefits. Be sure you understand both the benefits and drawbacks before you trade.
Pros
Less financial commitment: Options with no intrinsic value have a lower upfront cost when compared to purchasing individual shares of stocks. All you need to purchase an option contract is the premium.
Enhanced flexibility: If the value of the asset decreases after you buy a call option, you don't need to exercise the contract.
Allow you to "freeze" the price of an asset: Options differ from purchasing stocks because you can choose the right to to buy or sell the stock at a level you're comfortable with.
Cons
Time factor: Very few stocks reach a value of $0. Even if a stock's value decreases, it's very unlikely that you'll lose 100% of your investment. However, because options contracts have a set window during which they're valid, you can lose 100% of your premium if the market does not end up where it would benefit you to exercise the contract.
Can be very risky for sellers: If you sell a put or call, you must honor the buyer's right to choose to exercise it up until its expiration date. This can mean significant risks for a relatively small premium.
Benzinga Options Newsletter
The most important tools that an options trader can have at his or her disposal? Up-to-the-minute price data and professional, hand-picked recommendations. Benzinga's options newsletter is your one-stop shop for the day's top stocks and options you need to be watching. Don't spend hours guessing which stocks to buy — let the professionals deliver their picks straight to your inbox with Benzinga's Stocks to Watch.
Entering the Options Market
Like any other type of trading, options trading requires a strategy and plenty of practice. After getting a handle on the basics of the market, you may want to test out your strategy on a virtual or paper trading account. This allows you to get a feel for the market and put your new skills to the test without risking any of your own money.   
Benzinga's #1 Breakout Stock Every Month
Looking for stocks that are about to breakout for gains of 10%, 15%, even 20% potentially or more? The only problem is finding these stocks takes hours per day. Fortunately, Benzinga's Breakout Opportunity Newsletter that could potentially break out each and every month. You can today with this special offer: