1 Minute Review
OANDA offers commercial and standard access to the forex market, with over 70 currency pairs to trade. OANDA's platform is comprehensive, offering a wide range of indicators and charting tools for experts as well as a simple and intuitive layout that's perfect for beginners. 
You won't find retirement savings or stock trading on OANDA — the platform doesn't offer any type of trading beyond the forex market. However, the broker does forex trading especially well — though it could stand to offer more in the way of customer service and lower fees.
Best For
New forex traders looking for an easy-to-use platform
Mobile traders who need a comprehensive on-the-go offering
Experienced forex traders who seek a wide selection of charting tools, indicators and currency pairs
Pros
Over 70 unique currency pairs to trade
Comprehensive and easy-to-understand platform
Mobile platform improves upon the desktop version
Cons
Only forex trading available
No retirement accounts available
Why OANDA Over Others?
Why should you use OANDA for your forex trading? Let's take a look at a few of our favorite features OANDA offers forex traders.
Easy-to-use platform. OANDA's trading platform offers 10 chart types, a variety of indicators and 32 overlays, making it an excellent choice for both beginner and experienced traders.

Full-service mobile app. OANDA's mobile app doesn't cut any charting or trading functionality from its desktop version. There's even a special app for tablet users.

Educational materials available in multiple languages. If your native language is German or Mandarin, you'll love the fact that OANDA's webinars and instructional videos are available in both those options in addition to American English.
OANDA Quick Summary
| | |
| --- | --- |
| Tradable assets | Forex |
| Platform | Comprehensive; wide range of trading tools and indicators |
| Mobile app | Fully-operational, mirrors desktop web-trading platform |
| Account minimum | $0 for standard accounts, $20,000 for premium accounts |
| Available account types | Commercial and standard forex |
As a forex broker, OANDA charges a commission on a varying spread model instead of a flat-rate commission. When you compare currency prices on OANDA, you'll generally see 2 prices listed — a "buy" price and a "sell" price. These indicators correspond to other forex brokers' "bid" and "ask" prices, respectively.
The "buy" price is the highest possible price a buyer is currently willing to pay for a unit of currency, while the "sell" price is the lowest price a currency holder is willing to sell a unit of held currency for. The difference between the buy and sell prices is called the spread, which goes to your broker in exchange for executing your trade. Spreads may vary depending on current market climates and the specific currencies you're exchanging.
Like most other brokers that offer forex trading, OANDA's spreads change over time. However, the broker does an excellent job of keeping traders up to date on current spreads and how they're changing. Unlike other brokers that force traders to set up a trade before viewing what they'll pay in a spread (or worse, calculate the difference by hand), OANDA shows you directly how much you'll pay in a spread per trade.
The broker also includes a percentage calculator that tells you whether spreads are increasing or decreasing — a feature that can be a massive asset if you trade more than 1 currency pair on a regular basis.
OANDA also offers up to 50:1 margin trading on U.S.-based accounts. Margin requirements vary depending on which currency pair you're trading but generally hover between 2% and 10%. You may incur a fee when you wire money from your OANDA account to your bank account, depending on your base currency and the number of times you initiate a withdrawal. 
OANDA also charges a monthly inactivity fee of 10 units of your base currency per month after you go 12 months without a trade. For example, if you incur a fee and your base currency is the USD, you'll pay $10 a month for every month you don't execute a trade after 12 months.
These charges end after 1 of 3 things happens:
You make a trade.
You close your account.
Your pre-funded account balance reaches 0.
OANDA will not continue to charge inactivity fees to your bank account if your forex trading balance reaches 0. This inactivity fee is stricter than competing brokers. For example, IG only begins charging inactivity fees after 24 months.
There's no minimum deposit required to begin trading with a standard account from OANDA. You'll need to deposit $20,000 to open a premium commercial account. Premium account holders receive access to a wider range of trading tools, as well as a personal account assistant to handle any errors or questions.
OANDA's desktop platform is comprehensive and accommodating, even for beginner forex traders. Let's take a look at 3 features that make OANDA a comprehensive and inviting platform.
Simple onboarding and navigation: Signing up for an OANDA account is easy and intuitive. The site guides you through the process of documentation and linking your bank details. Most traders will be able to open their accounts in less than 10 minutes.

Native trading: With OANDA, you won't need to flip back and forth between multiple charts and order screens when you trade. View spreads and prices, chart your currency pairs of choice and trade all from the same screens.

Traders who are just gaining their footing in forex will appreciate the platform's simple layout and intuitive candlestick and line graphing features. More experienced traders will appreciate advanced charting options, including Renki and Kagi charts.

With a total of 10 different charting options, there's a suitable choice for every trading style and investor out there.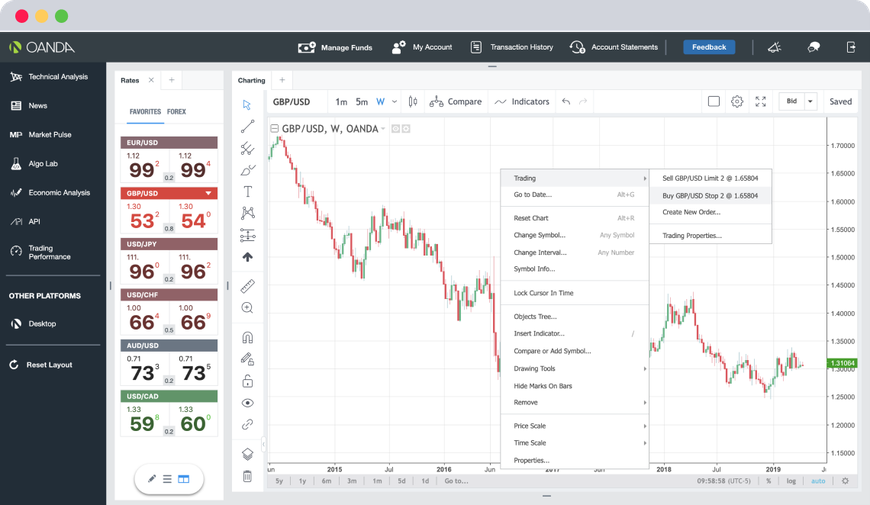 Personalized layouts. In addition to a wide range of charting tools, OANDA also offers traders a high level of personalization that's still useful for new and novice traders.

Open multiple windows to follow currency pairs, create varying workspaces and add or remove tools to match your level of skill with just a few clicks. You can even drag and drop windows into other windows to directly compare multiple currency charts with a single view.

OANDA's Trade Performance analytics tool can help you create an ideal workspace by analyzing and remembering your trading patterns and preferences.
We'd love to see more alert features from OANDA. The platform is comprehensive, easily customized and perfectly usable for a novice forex trader.
OANDA offers a few unique education and trading tools you can use to both learn more about the platform's many features, as well as the forex market as a whole. Let's take a look at a few of OANDA's education materials for new traders.
MarketPulse: MarketPulse is OANDA's 1-stop shop for currency market news and happenings. MarketPulse offers a wide range of articles and news written by an in-house team of experts. You can find information on everything from current political and economic events to patterns in price movements and more.

MarketPulse also features a variety of articles on technical and fundamental analysis strategies, though these articles are aimed at an audience with a firmer grasp on forex jargon.

Prefer to do your learning on the go? MarketPulse even offers its Business Breakfast podcast that's updated on a near-daily basis. MarketPulse could do more to appeal to beginners and organize its content but there are plenty of gems to be found when learning how to master the forex market.

OANDA Classroom: The OANDA Classroom is packed with information for new forex traders. Informative articles cover the basics of how forex trading works, how to interpret different types of candlesticks, the many types of orders you can place on OANDA's platform, and much more.

Educational articles are a bit basic and aimed at beginners, but new forex traders will appreciate the clear guides, conversational tone and helpful visual guides and charts.

Live webinars and video lessons: If you prefer to do your learning with the classroom experience, OANDA has you covered with live webinars and video lessons.

Live video webinars are available covering market trading sessions as they're occurring, the principles of risk management, and some of OANDA's most useful technical indicators and charting tools. Video lessons are available in English, German and even Mandarin.
All trading educational tools are free, but you'll need to be signed into your OANDA account to view webinars and select premium video lessons.
OANDA offers 3 methods you can use to get in touch with its customer service team.
Phone: Customer service is available at 877-626-3239 from Sunday at 1 p.m. to Friday at 6 p.m. EST.
Email: To contact OANDA's customer service team by email, send a message to frontdesk@oanda.com. Email support is available 24 hours a day, 7 days a week.
Live chat. You can contact a member of OANDA's customer service team through the broker's native live chat feature by clicking here and filling out a form about your specific problem. Live chat is available from Sunday at 1 to Friday at 6 p.m. EST.
OANDA doesn't currently offer any specific customer service line for people with hearing limitations.
OANDA offers traders a comprehensive, easily-accessible way to enter the forex market. OANDA currently supports 70 unique currency pairs with tight spreads and 10 unique types of charts. OANDA's desktop trading platform is powerful and welcoming for beginners, with over 50 indicators available. Margin trading is also available, and you can use up to 50:1 leverage depending on the currency pair.
OANDA doesn't offer any access to the stock, option, futures or cryptocurrency markets right now. If you're looking for a 1-stop shop for all of your investing needs, you won't be satisfied with OANDA. However, if you're looking for an entry into the forex market, you're likely to be impressed with OANDA's suite of tools.
OANDA's mobile offering is an extension of its intuitive desktop platform. The OANDA mobile app has the same full trading capabilities of the desktop platform, as well as a few additional features. Let's take a look at a few of our favorite features of the mobile app.
Full charting capabilities. OANDA doesn't cut charting capabilities from its mobile offering — it mirrors the full services of the desktop platform. Choose from 9 chart types, access more than 50 technical indicators and charting tools, easily edit multiple orders and use over 32 overlays to enhance your trading.

Track performance analytics. OANDA's performance analytics allow you to track your forex trading progress, gains and losses over time. See a breakdown of trading performance by instrument, overall and average per-trade profits and losses and more statistics to enhance and tweak your strategy over time.

Instant market news updates. OANDA's market news feed offers instant, up-to-the-minute updates and analyst commentary. Refresh your news feed and see how many minutes ago each article was published. An economic calendar with upcoming market events is also available on the mobile app.
OANDA's mobile app is available as a free download for Android and Apple smartphones and tablets. 
OANDA is a powerful trading platform for beginners and expert forex traders alike. A wide range of charting tools and indicators are available, and no functionality is cut from the mobile platform.

Margin rates are reasonable, and with over 70 forex pairs to trade and a comprehensive set of educational resources for beginners, you're bound to discover something new. Experts will love the hidden gems in the desktop and mobile apps, including advanced charting tools and free overlays.
OANDA doesn't attempt to be everything for all of your investing needs. If you're a more casual investor looking to save for retirement, you won't find much on OANDA's platform. However, if you've ever been interested in forex trading and the forex market, OANDA's easy-to-use platform is a great place to get started and dip your toes into currency trading.