Want to claim 6 FREE stocks? Head over to Webull to get started.
If you're trying to learn how to buy Walmart stock, you probably know that only truly global retailer that dominates both the brick-and-mortar and online space is none other than Walmart (NYSE:WMT).
Publicly traded since 1970, Walmart stock has long held a prominent position as a solid, long-term blue-chip investment in millions of investors' portfolios. Today the company has annual revenues in excess of $500 billion and employs 2.3 million associates around the globe, via Walmart U.S., Walmart International and Sam's Club. If you invested $10,000 in WMT stock back in 1998 and reinvested dividends, that investment would be worth $45,015.27 today. Just in the last year alone, a $10,000 investment would have gained 23.27%, to $12,295, beating the S&P 500 in what was a very good year.
Walmart at a glance
Walmart is the leading value retailer (indeed, the largest retailer, period) and today has over 270 million customers. The brand is known for its 11,700 big-box stores that offer everything from clothing, household goods, and groceries to electronics, sporting goods and toys to tires and hardware. Recently, the company made a major push toward integrating e-commerce with brick-and-mortar operations, and today its websites contribute significantly to top-line growth.
You can easily make purchases online, pick up items at the store or enjoy free two-day shipping and enjoy the convenience of in-store returns if necessary. Walmart employs a mind-boggling 2.3 million associates and invests heavily in compensation to strengthen loyalty and the customer service experience.
History of Walmart stock
Walmart debuted on the New York Stock Exchange in 1970, declared its first dividend in 1974, and has increased the dividend annually ever since. If you invested $10,000 in WMT stock back in 1998 and reinvested dividends each time, that investment would now be worth $45,015.27 (as of 8/31/18) – a total return of roughly 350% and an average annual return of 7.81%. Just in the last year alone, a $10,000 investment would have gained 23.27%, to $12,295, beating the S&P 500.
Over the last 12 months (ending 8/31/18), WMT has traded in a range between $77.50 and $109.98.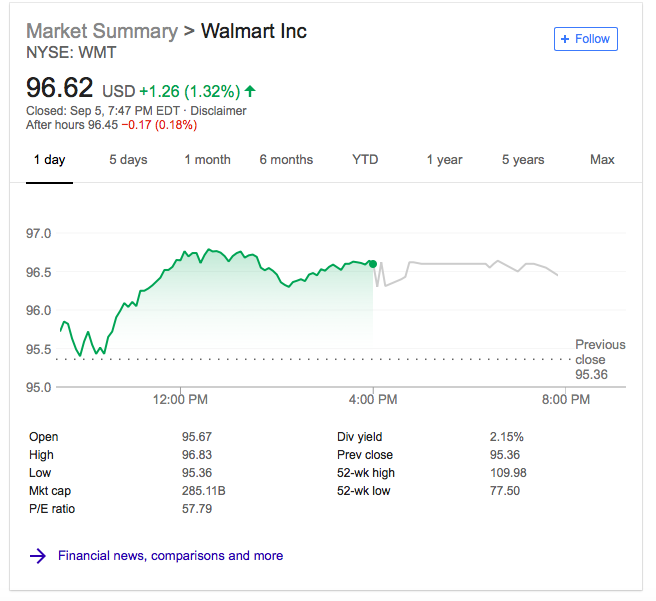 Quick snapshot of WMT
Source: Google
Why purchase Walmart stock?
Pros of purchasing Walmart stock:
Walmart's brand name is synonymous with value and with $500 billion in annual revenue, the company is incredibly stable.

Walmart is twice as large as Amazon.

The dividend is remarkably reliable, having increased annually every year since 1974.

In the event of an economic downturn, Walmart is well-positioned as the on-the-ground, value retailer of choice for price-conscious shoppers around the globe.

Walmart is leveraging its unmatched on-the-ground retail presence to augment a superior online shopping experience
Cons of purchasing Walmart stock:
The battle with Amazon for online retail supremacy has yet to play out.

As with any retailer, Walmart would be impacted to some extent by an economic downturn. This could lead to a pullback in consumer spending, here in the U.S. and, potentially, around the globe.

A movement in the U.S. toward significantly higher minimum wage could also impact margins and bottom-line growth.
How to purchase WMT
As a member of the Dow 30, Walmart is considered blue-chip and its stock is available for purchase through all major brokerage firms that trade in securities. Some basic ideas on how to acquire the stock are as follows:
Size your investment. 

Determine the total amount of money you wish to allocate to Walmart's stock and then figure out the number of shares by dividing the total amount by the current share price.

Select a broker. 

Most brokers that allow for individual trading of stocks will be able to purchase Walmart's stock.  You can review brokers based on costs, service, and tools they offer.

Purchase shares of Walmart.

When you're ready to execute your order, go online to your brokerage of choice and purchase the shares through a purchase order. You can practice with a demo account to get a feel for how to do so before doing it the first time.
Best Online Stock Brokers
Future outlook for Walmart
In some ways, Walmart is exceptionally predictable, especially given its size and scale. Yet there are no sure bets when it comes to investing. Still, analysts generally acknowledge that the company is uniquely positioned to square off against Amazon, its reputation for providing a high-quality customer experience is steadily improving and the company seems to be making significant progress in growing the online side of the business.
Time will ultimately tell whether Walmart lives up to long-term expectations, but currently, WMT stock appears to be a reasonable value.
Final thoughts
Purchasing stock can seem like a complex process, especially when managing multiple companies. Couple that with the extensive amount of research that may be needed to analyze an investment, and many investors opt for mutual funds or exchange-traded funds (ETFs) instead.
Take the time to do your homework, and be sure you have a solid understanding of, and appreciation for, risk. For those would-be investors who want to enter the market in a relatively safe manner, blue-chips like Walmart — with decades-long, reliable performance — can be a great starting point.
Looking to build your portfolio with companies similar to Walmart? Check out Benzinga's guide on investing in Target stock and Costco stock.