Want to claim 6 FREE stocks? Head over to Webull to get started.
Verizon Communications
(NYSE:VZ)
50.32 – 51
45.5489 – 56.85
50.48
4.20B
13.90M/23.64M
213.72B
4.20B
2.56/5.07%
49.560
4.20B
Verizon Communications is one of the world's largest telecommunications conglomerates and the largest telecom company in the United States with a market capitalization of $240.74 billion and yearly revenue of $128.29 billion (2020).
In addition to its vast telecommunications and mass media businesses, its wholly owned subsidiary, Verizon Wireless, is the second largest wireless communications service provider in the United States, with 153 million mobile customers.
Naturally, you might wonder whether it's beneficial to buy Verizon stock because it's such a leader in its field. Here's a how-to guide if you're interested in nabbing on to what Verizon Communications has to offer.
Quick Look: How to Buy Verizon Stock
Pick a broker. Deciding on a way to invest in stocks is essential to begin building your portfolio. Do your research and decide what resources you need from your online broker.
Start trading with a demo account. To ensure that you work well with your broker, open a demo account and practice trading. This will give you experience before using your own, hard-earned money.
Fund your account. After you have practiced trading, you can fund your account and buy Verizon stock.
VZ: Company and Stock History
Verizon was originally one of the Baby Bells or companies that were part of the American Telephone and Telegraph (AT&T) monopoly before its breakup. Bell Atlantic, which merged with NYNEX in 1996, officially changed its name to Verizon Communications in June 2000.
The company had just merged operations with GTE in a $64.7 billion deal, which made Verizon the largest local telephone company in the United States, with 63 million phone lines in 40 states.
Verizon Wireless was the product of a joint venture with British telecom company Vodafone in April 2000, in which 55% was owned by Bell Atlantic and 45% by Vodafone. The deal was valued at $70 billion and created a mobile phone carrier that served 23 million customers.
More recently, Verizon has expanded considerably through mergers and acquisitions, buying a slew of companies such as MCI Communications, Hughes Telematics, Alltel, Fleetmatics and Sensity Systems, to name just a few.
In May 2015, Verizon announced the acquisition of AOL for $4.4 billion, and it bought Yahoo's core internet business for $4.83 billion in 2016. In 2017, the company began its rollout for the new 5G wireless data transmission system, which has already been implemented in several large U.S. cities.
In May 2021, Yahoo and AOL were sold to private equity firm Apollo Global Management for $4.25 billion. Under terms of the agreement Verizon will retain a 10% stake and $750 million of preferred stock in the new the company. The transaction is expected to close in the second half of 2021.
Future Outlook for Verizon
Verizon stock was first traded on the New York Stock Exchange (NYSE) after Bell Atlantic and GTE merged and began trading under the symbol VZ on July 3, 2000. It started trading on the NASDAQ exchange under the same symbol on March 10, 2010. The stock began trading at the $45 – $47 level, which was the aggregate price of Bell Atlantic and GTE stock before the companies merged.
VZ stock then declined to under $28 per share in September of 2002 and again in May of 2010. Since then, VZ stock has gained overall, although erratically, over the last 10 years. It currently trades at the $58 per share level, which is roughly the center point of a triangular consolidation pattern the stock has traded in since late 2018.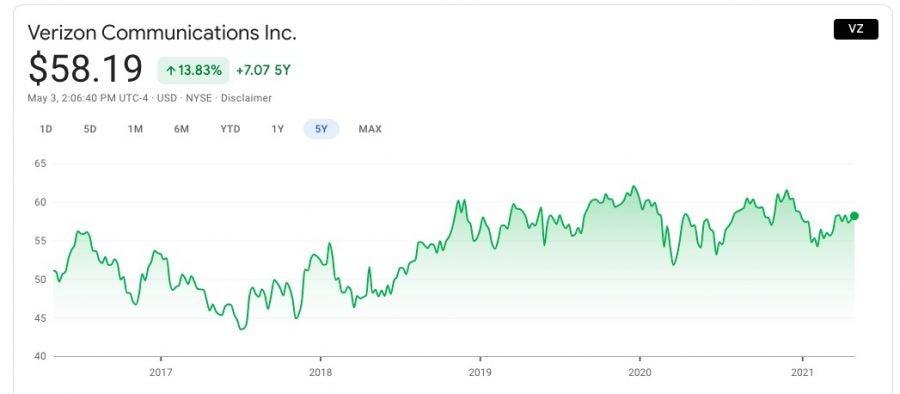 The fundamental outlook for Verizon depends on a number of factors, of which the future of its G5 rollout plays a central part. While the rollout has already begun, considerable resistance from local communities may slow down Verizon's distribution efforts in low population areas throughout the United States.
Despite the company's exposure with its 5G investment, Verizon recently posted impressive first-quarter earnings on April 21, 2021, beating analyst expectations. For Q1, Verizon reported earnings per share (EPS) of $1.31 on revenue of $32.87 billion, showing an increase of +4.0% over 2020's Q1.
This result improved upon the analyst consensus of $1.29 on $32.47 billion in revenue. The company also had 47,000 net additions to its retail postpaid wireless business that included 79,000 tablet net additions.
VZ stock's gains have been limited and erratic over the past 5 years, despite a notably rising general market. Verizon stock has paid a consistently rising dividend, which might attract some dividend income investors. With Verizon stock at current levels, its trailing 12 month (TTM) dividend payout is $2.51 and the annual dividend yield for the stock is 4.30%.
While VZ's dividend yield may seem high, Verizon's largest direct competitor, AT&T (NYSE:T) stock pays a TTM dividend of $2 per share. This yields 6.6%, given AT&T's $32 share price, which is roughly $25 lower than the current VZ stock price. This makes AT&T a more attractive investment than Verizon for income investors.
Due to strong investor interest in other stocks in the tech world, telecom stocks like VZ have had limited upside and trade at rather low multiples, with VZ's price-to-earnings (P/E) ratio currently at only 12.64.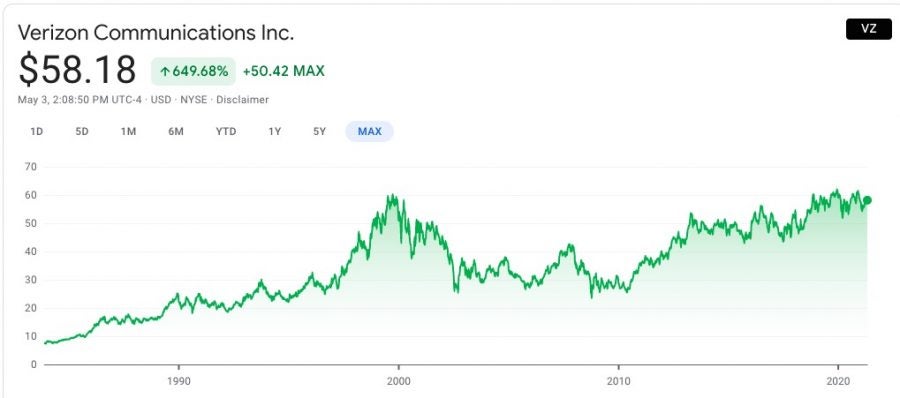 Why You Might Want to Buy It
Here is a look at a few reasons why you might want to add Verizon to your portfolio.
A leader in its field
Verizon has been at the forefront of wireless service providers, with wireless service the source of 70% of its revenues. This compares to 40% of AT&T's, which is Verizon's closest competitor.
Verizon recently began operating under a new business model that focuses on 2 customer-directed reportable sectors: Consumer and business. This is intended to further address evolving customer needs, while simultaneously driving its leadership in 4G and 5G technology.
Dividends
While Verizon's 4.30% annual dividend yield may seem low compared to other stocks in the telecom sector, like AT&T, for example, the yield remains high enough to interest some dividend income-minded investors, especially if they have the patience to wait for a significant downward move in the stock.
Buying the stock at a lower level will increase its dividend yield.
Few competitors
Because of the expense of building and maintaining Verizon's massive national mobile infrastructure already set up for 4G, the company will probably have relatively few competitors after its 5G network is in place.
The company glowingly reports how 5G will revolutionize the "internet of things," which is how driverless cars and other automated devices will interact with the future implementation of artificial intelligence.
Considerations Before You Buy
Before you make the decision to add Verizon, here are a few things to note.
Stock market, economic downturn
While Americans would have to be pretty hard-pressed to give up their wireless subscriptions, a major economic downturn or stock market decline could adversely affect Verizon and communication services stocks in general. Lower income or unemployed consumers may also switch to wireless services like those offered by Tracfone, which do not require an extended subscription.
5G and its potential risks
Verizon is still in the process of rolling out the new 5G technology, though there is major concern about its potential health and environmental impacts, so it's anyone's guess what may happen.
In addition to the large amount of money Verizon has already spent on its 5G network, the company expects additional expenditures of $17 to $18 billion for the rest of 2019, including the expanded commercial launch of 5G. This will add to the company's $114 billion in unsecured debt it has already incurred.
Many studies have now found that exposure to microwaves emitted by cell tower antennas (including 5G) and cellphones can be harmful to the environment and public health. The company could risk its entire 5G network if the effects of 5G's higher frequency radiation levels significantly affect the populace and the environment and could lead to substantial public outcry, lawsuits and regulation.
Saturated market
Smartphone subscriptions have probably reached peak penetration in the United States, which would put a cap on any top-line growth for the industry. The market for wireless service has also been largely saturated at this point, with any growth for Verizon typically coming at the expense of another major telecom company, like AT&T, T-Mobile (NASDAQ: TMUS) or Sprint (NYSE:S).
How You Can Buy Verizon Stock Right Now
You can buy Verizon stock right now if you already have a funded brokerage account open with a reputable stock broker that has access to stocks listed on the New York Stock Exchange (NYSE) and/or the NASDAQ exchange since Verizon has a dual listing on both exchanges.
You can either buy the stock as a short term trader or as a long-term investor, depending on your objectives.
You might want to open an account with a discount broker if you decide on the investing route. Since you just want to hold the stock in an account, you can pay a low commission when you buy it, but you probably wouldn't be able to access the premium features you would get with a full-service broker. Keep in mind that how you buy Verizon stock is just as important as where you trade.
Pick a broker.


Your needs are the most important consideration when deciding on a broker. For example, if you have substantial trading experience and plan to be active in other asset markets, you might want to open an account with Interactive Brokers.

Interactive Brokers gives its traders access to over 120 world markets. On the other hand, if you have little experience in the market, a broker with educational resources such as TD Ameritrade or E*TRADE might suit you.

Check out Benzinga's guide on how to choose a broker; here are a few highlights from that list.

Open demo accounts to assess trading platforms.


Many online brokers offer a free virtual or demo account where you can practice trading without risking any money. You might want to open several of these accounts with different brokers to help you decide which one to use before you begin trading in a funded account. 

Fund an account.


While you can open an account without funds with many brokers, you will still need to fund an account with enough money to buy your Verizon stock. Each broker may have different minimum deposits and funding methods, so make sure you check with your preferred broker to meet its requirements. 

Start buying Verizon stock.


Determine the amount of stock you want to purchase and the price you wish to pay for it. You might want to get a handle on how the stock trades by watching it move over a couple of trading sessions to determine the best price level for buying.

Once you know at what level you want to buy, you can enter a limit order at that price or you can simply wait until it reaches that level and place a market order.  
Best Online Brokers
Is Verizon Stock for You?
Telecommunications stocks have been trading for a long time, and the market for the wireless sector has matured and fallen out of favor with many investors looking for new and more exciting opportunities elsewhere in the tech industries.
The reason for this is that, barring some new innovation, growth in the telecom sector has virtually reached its limit. Telecom stocks also generally fall into the cyclical category, although some of the larger companies like Verizon have defensive qualities during an economic downturn.
Also, the long-term effects of exposing humans, animals and the environment to 5G technology have yet to be determined, which makes Verizon's huge investment in the technology a potentially costly gamble amounting to hundreds of billions of dollars.
Furthermore, while Verizon's dividend might make the stock an attractive investment to investors looking for high dividend yield, the company's competitors like AT&T offer a better yield due to its less pricy stock.
Want to learn more about adding stocks to your portfolio? Check out Benzinga's guide on how to create an investment strategy.