Looking to grow your portfolio in a bear market? Check out PennyWorks to earn high yields through low-risk digital asset lending.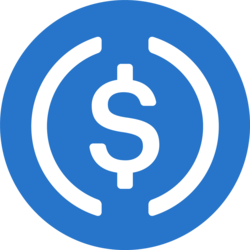 USD Coin
JOIN THE MOON OR BUST EMAIL LIST
Our team is diligently working to keep up with trends in the crypto markets. Keep up to date on the latest news and up-and-coming coins.
Stablecoins are a critical part of the decentralized finance ecosystem. USD Coin (USDC) is a stablecoin pegged to the value of 1 U.S. dollar, so it makes it easy to sell your crypto assets for virtual fiat currency. But, who provides the collateral for USDC, and is it safe? Learn how to buy USD Coin (USDC) now.
What is USD Coin?
There are several uses for USD Coin. Visa recently announced its plans to settle transactions in USDC on Ethereum's blockchain, which is huge news for Ethereum's network becoming more practical.
Today the most common use case for USDC is to hedge against volatility in the crypto market without leaving the crypto ecosystem. Stablecoins can also interact with decentralized finance (DeFi) programs and earn interest. Since USDC uses Ethereum's network, the stablecoin can be used on decentralized exchanges (dApps) like Uniswap, yearn.finance and SushiSwap – something fiat cannot do.
These dApps allow investors to earn interest, take out loans and even settle insurance claims directly on the blockchain. Being able to do so with a cryptocurrency pegged to the dollar eliminates the risk associated with volatile cryptocurrencies, allowing risk-tolerant investors to stake USDC for interest rates north of 10%.
Brief History of USD Coin
USDC was created by Centre Consortium, a joint venture between Coinbase and Circle – aimed at increasing mainstream adoption of fiat stablecoins. USDC operates by minting new coins when a user buys them with the USD from an exchange like Coinbase. Centre Consortium then puts this cash into its reserve, ensuring that $1 of USDC can be exchanged for $1 at any time.
Created in 2018, USDC's market capitalization has risen from around $200 million to more than $14 billion. While the price of USDC doesn't fluctuate more than a percentage point in either direction, the number of USDC has increased significantly.
USD Coin is U.S-based and completely audited by a 3rd party. Unlike Tether (USDT), there's no question that USDC has each and every token backed by $1 of collateral in its reserves. It should be noted that this collateral does not have to be in the form of US Dollars, certain other types of debt are deemed valid by regulators. With increased skepticism about Tether's USDT backing, USDC may be a more secure alternative.
How to Buy USD Coin (USDC)
Open an online account.

The best way to buy USDC is through Coinbase. If you already have an account, you can easily convert USDC or other cryptocurrencies into USDC. Search for USD and choose the buy option. After the USDC is credited to your account, you can transfer the tokens to any Ethereum wallet. 

If you don't already have an account with Coinbase, creating one is easy. Enter your email, create a password, and you'll have your very own Coinbase account. Because of  the Securities and Exchange Commission (SEC) Know Your Consumer (KYC) regulations, you'll need to provide Coinbase with personal identification information before you can begin trading cryptocurrencies.

If you already own crypto, you can buy USDC with Ether tokens on a decentralized exchange. You'll need a compatible Ethereum wallet — MetaMask is the best option for Uniswap because it has an easy-to-use Google Chrome extension. After sending your Ether tokens to MetaMask, you can swap them for USDC on Uniswap.org.

Buy a wallet (optional).

You shouldn't store your cryptocurrency –– including your USDC –– on an exchange. Centralized exchanges are large targets for hackers because the exchanges have access to all their investors' funds. Many exchanges have been hacked in the past, leaving users without their cryptocurrencies.

Instead, you should store your crypto in a dedicated cryptocurrency wallet. Cryptocurrency wallets generate a set of public and private keys that encrypt your cryptocurrency, making it truly yours. Software wallets do this through a computer program, while hardware wallets are physical devices that store your crypto offline. 

Make your purchase.

You'll need to fund your account to make purchases. Connecting your bank account on Coinbase is easy, and you can choose to fund your account via ACH transfer or debit card. 

Because USDC is almost always equal to $1, you don't have to time the market to buy your USD Coins. If you're lucky, you may be able to snag your USDC at a discount, but don't expect the price to drop below $0.99.
Best Exchange for USD Coin
Disclosure
T&C: After your photo ID is verified, $10 in BTC will be added to your portfolio. Limited time offer. Offer available to new users who have not previously verified their identification. Offer not available to new users who were referred to Coinbase through the Referral Program or who have previously opened an account using different contact information. Coinbase may update the conditions for eligibility at any time, in its sole discretion.
Best Wallets for USD Coin
Hardware Wallet: Ledger Nano S
Ledger is a trusted hardware wallet brand among many cryptocurrency investors. The company has been selling cryptocurrency wallets since 2014, and their wallets have never been hacked.
The Ledger Nano S is a multicurrency wallet, so you can store all your cryptocurrencies in one place. It's also an affordable choice for most investors, coming in at just over $50 on Amazon.
Software Wallet: Coinbase Wallet
Coinbase has a dedicated wallet application that's great for storing your cryptocurrency. You can store Bitcoin, Ethereum, USDC and several other assets on the wallet's mobile app. It's free to download, so the only cost to you will be transaction fees to send your crypto to your wallet on the blockchain.
Trade, Sell or Convert your USDC
Trading and converting your USDC is much easier than onboarding actual U.S dollars into the cryptocurrency market. Since USDC operates on Ethereum, you can swap between USDC and any Ethereum-based token on decentralized exchanges like Uniswap or Sushiswap. If you use a DEX, beware of high gas fees –– due to high demand for network space, it may cost over $100 to transact on Ethereum.
You also can use USDC on Coinbase to easily convert to other cryptocurrencies without needing to access funds from your bank account. This is a better option for most retail investors, as there are much lower fees.
Current Crypto Prices
Cryptocurrency prices have been surging lately. Bitcoin's price has risen almost 100% since the beginning of the year, while Ethereum has roughly quadrupled in value. Other tokens have had even higher returns, namely DeFi tokens and meme currencies (i.e., DOGE, SHIBA).
To get an idea of where the cryptocurrency market is headed, watch the price movements of major cryptos like Bitcoin and Ethereum.
Is USDC Better than USD?
For most cryptocurrency traders, it makes sense to use USDC instead of USD. It's much easier to transfer to decentralized finance protocols, as it's tokenized on the same blockchain as Ethereum.
There are plenty of opportunities to earn interest with USDC that don't exist in traditional markets, as blockchain innovations cut out the banks that capitalize on your assets. So yes, USDC is better than USD in almost every way.