Binance is the largest cryptocurrency exchange in the world by trading volume. In fact, it tops the ranks of cryptocurrency exchanges maintained by CoinMarketCap, which are ranked based on 24-hour trading volumes, exchange score and average liquidity. Binance triumphs over exchanges like Huobi Global and Coinbase, which follow closely in 2nd and 3rd places, respectively. 
Previously based in Malta, the Binance Group is now based in the Cayman Islands. Binance has several locations and entities registered across the globe. In the United States, it's known as Binance.US. The exchange in the U.S. uses the same cutting-edge technology and trading services as its global counterparts with the difference being U.S. regulatory compliance. It is operated by San Francisco-based BAM Trading Services.
Binance.US ranks 9th on CoinMarketCap's list of the top 10 exchanges based on metrics like 24-hour trading volume, exchange score and average liquidity. Binance could be a good platform for you to invest in cryptocurrencies if you are a U.S.-based trader who trades frequently, doesn't intend to pay high trading fees and needs access to a large number of cryptocurrencies. 
Leave Your Own 1 Minute Review!
US Citizens
Frequent day traders
Users interested in Binance Smart Chain (BSC) and Binance Coin (BNB)
Low trading fees
Easy-to-use platform
Wide selection of altcoins — it offers 51 cryptocurrencies apart from Bitcoin (BTC)
Good customer service
High liquidity because of large trading volumes
Only residents of 43 states in the U.S. can trade on Binance.US. You cannot trade on this platform in New York, Connecticut, Hawaii, Texas, Vermont, Idaho and Louisiana
Despite the wide selection of altcoins, the number of tokens offered on the U.S. platform is not comparable to the hundreds of choices available on the Binance global platform
There is no option for telephonic customer support
Binance US Ratings at a Glance
Considering Binance as your cryptocurrency exchange of choice? Binance offers many unique services, but its U.S based exchange, Binance.US, is greatly limited compared to its global counterpart. One great aspect of Binance is that the exchange has lower fees compared to its prime U.S. competitors such as Coinbase.
The spot trading fee is 0.1%, and the instant buy/sell fee is 0.5%. Because BNB is the native token of the Binance ecosystem, the platform incentivizes you to hold BNB and pay trading fees in BNB. If you choose to use BNB to pay fees, you'll receive a 25% discount. The minimum account balance is $10 with wire transfers. ACH deposits and debit cards are the most common payment methods used for converting fiat currency to crypto.
The platform assigns you a trading fee level categorized into different VIP levels depending on your 30-day trading volume and the number of BNB tokens in your account as shown below:

However, the withdrawal limits are decided by the degree of verification you complete on the platform.
Up to $5,000 every day after basic verification is complete
Up to $1 million every day after advance verification is complete
Up to $5,000 with ACH or $10 million wired after fiat account is verified
A breakdown of the deposit and withdrawal fees in fiat currency (USD) is shown below:

The platform also has a set of trading rules that apply to various trading pairs with U.S. dollar (USD), tether (USDT) and BUSD, Binance's own USD-pegged stablecoin, which define the minimum order size and maximum market order amount for each of these pairs.
The referral program allows you to earn up to 20% of the fee on each of your referral's trades, and this percentage goes up to 40% if you hold 500 BNB or more in your Binance account.
Binance is one of the most easy-to-use, transparent and convenient cryptocurrency exchanges in the world. The Binance.US desktop and web apps are similar to the global website, but it doesn't offer all of the features of the global exchange, as crypto regulation in the U.S restricts certain features and offerings. Here are the top 3 features that make Binance.US an easy-to-use platform for both novice and experienced traders:
Quick and easy onboarding: The platform enables a quick onboarding process that allows you to sign up and buy crypto in less than 10 minutes. There is a basic sliding verification used while signing up to ensure you are not a robot or a computing system trying to register.
Security: While onboarding, the platform asks you to verify the email ID you entered while signing up. This verification requires you to enter a code you receive through your email to ensure there are no accidental signups with your email ID. You then complete the basic verification, which includes entering your U.S.-registered cellphone number on which you receive another verification code. This enables your 2-factor authentication (2FA) that you need to log in to your account. This process ensures your account is well secured and can only be accessed by you.
Visibility and access: The platform has different levels of trading screens available to investors looking for various levels of service. These are listed under the "Trade" section of the website as Markets, Basic, Advanced and Over-the-Counter (OTC), which appear as a drop-down while hovering on the Trade section.
The "Markets" section provides a holistic look at the entire range of trading pairs and prices that the platform offers. These are segregated into sections that show the trading pair against that particular currency. There are USD markets, BTC markets and USD Stablecoin markets.
The Basic section is designed for novice users who don't want or need access to extensive technical analysis to make their investment decisions. Thus, this section has a basic chart for each trading pair you choose and enables you to buy or sell crypto and even set stop limits for both these types of transactions.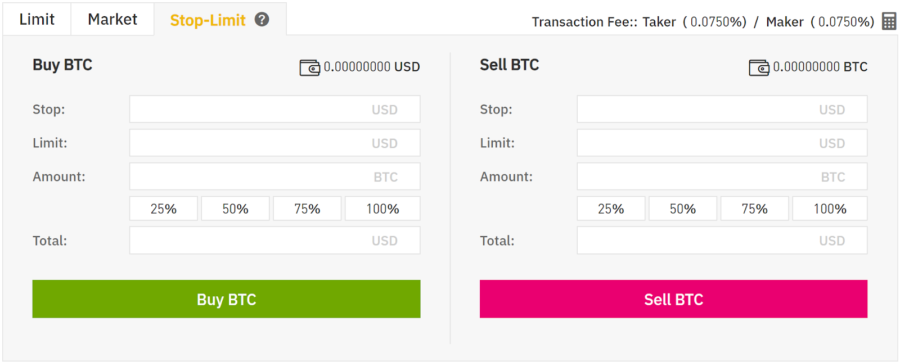 The Advanced section is designed for experienced traders looking to do a certain level of technical analysis before making their decision so the platform provides them with an advanced trading screen that enables that and allows them to place orders simultaneously.
The OTC section allows you to trade over the counter peer to peer which other OTC users at a price you can define. Institutional investors can use this section to minimize the impact of large volumes in the market.
Binance.US also educates its users about its platform and the cryptocurrency markets in general under the Blog section of its website.
Binance.US educates users with articles like How to Trade on Binance.US, which is a step-by-step guide describing how you can purchase and trade crypto on the platform and highlighting all the important dos and don'ts using the BNB-BTC as an example.
This method can be replicated for any other trading pair available on the platform. Similar guides posted on the platform help users understand the offering and the nuances of trading on the platform. These can be used both by novices and by experienced traders to understand the ins and outs of the trading platform.
In addition to educating the consumer about Binance's trading platform, the Resource section provides insights for novice cryptocurrency investors that highlights and explains the important subjects at hand. Binance currently has a set of 46 articles that educate investors on various aspects of the financial markets. It is also important to note these educational articles are not limited to cryptocurrencies; they also offer insights into the trading domain as a whole. A few examples of the articles listed under the Blog section of the website are:
Bitcoin versus Ethereum
What are Stablecoins?
Tokenized Bitcoin in Ethereum explained
Education 101 Series: Technical analysis
A Beginner's Guide to Candlestick Charts
Education 101 Series: The Bitcoin Halving
What is Money?
Binance.US offers customer support through 1 channel — ticketing. A section of the website called "Submit a request" under the "Resources" tab in the top panel of the website's homepage allows you to raise a ticket for any issue you have on the platform by answering a series of predesigned questions that confirm your identity as a Binance.US customer and define the issue in detail.
There is a lack of telephonic customer support, which has been highlighted by many consumers in the United States. This leads to long resolution times for issues and makes it a time-consuming process for the consumer to file any complaint only through the ticketing service.
The Binance.US exchange offers the best in industry trading services along with options for different types of investors. This ensures fast, secure transactions with high liquidity for both retail and institutional investors. Trading services are split into 3 major categories as discussed earlier:
The platform also allows you to put stop losses on your trades and even enables recurring buys on predetermined dates and for predetermined prices.
In addition to trading services, Binance also offers a staking service where you can choose from 7 different cryptocurrencies for staking: QTUM, EOS, ONE, VECHAIN, XTZ, ATOM and ALGO. Each of these tokens is staked at a different annual percentage rate (APR) or estimated annual rewards as the site refers to it. As it is common in staking, you will need to have a certain minimum holding for the coin to be able to stake it. This number might vary from coin to coin as shown below.
Since only U.S. citizens are allowed to trade on the Binance.US platform, it only makes sense to compare it to one of the prominent and oldest cryptocurrency exchanges that operate in the U.S. — Coinbase. Even though Binance is usually known for its wide range of altcoins on the exchange, Binance.US offers 52 cryptocurrencies comparable only to the 51 coins Coinbase offers on its regulator platform and 57 it offers on the Coinbase Pro platform.
While Coinbase is heavily used by institutional investors for over-the-counter transactions, Binance.US seems to be the choice for retail investors. Coinbase supports 3 fiat currencies, USD, the British pound and the euro, but Binance.US only supports USD payments and deposits.
The important differentiator is the trading fee charged by each platform. while Binance.US charges a fee starting at 0.1%, Coinbase has a flat fee of 0.5%, which is nearly 5 times that of Binance.US. Both retail and experienced investors looking to trade in a convenient manner with lesser trading fees will be inclined to trade on Binance.US instead of Coinbase.
Related content: CELSIUS NETWORK REVIEW, BINANCE ALTERNATIVES
User Reviews
How do you use this product to boost your finances?
I was led to believe I could purchase THETA on Binance and the site says it is not available.
How do you use this product to boost your finances?
How do you use this product to boost your finances?
The first few weeks are okay so that you get some money into binance. Then you try to login and suddenly sms text notification is required too. But they do NOT send you an sms text notification. So you click re-send, again and again .... and again and aga
Submit Your One Minute Opinion
The Crypto Rocketship: Weekly Newsletter
Exclusive Crypto Airdrops
Altcoin of the Week
Insider Interviews
News & Show Highlights
Completely FREE