Want to jump straight to the answer? You can buy Filecoin on SoFi.
If you run out of storage space on your computer, you'll probably use a cloud storage service like iCloud or Google Cloud to increase your data storage capacity. However, you'll need to trust these services to not only secure your data but also to allow you to use their service. Filecoin aims to solve this problem through blockchain technology.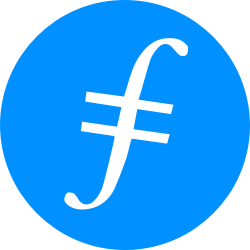 Filecoin
JOIN THE MOON OR BUST EMAIL LIST
Our team is diligently working to keep up with trends in the crypto markets. Keep up to date on the latest news and up-and-coming coins.
With Filecoin, anyone can buy or provide data storage on the network. The data you store on Filecoin is not only uncensorable but also immutable. The project has undergone significant development since its initial coin offering (ICO), making it an attractive investment to many crypto enthusiasts.
What is Filecoin?
Filecoin is a decentralized file storage system that uses blockchain technology to solve the problems associated with centralized cloud storage services. The Interplanetary File System (IPFS) blockchain that Filecoin uses makes it possible to host decentralized data storage, unlike most other cryptos. The platform has a current network capacity of over 2.5 billion gigabytes, making it the largest decentralized storage solution in the industry.
In an attempt to increase the network's ecosystem, Filecoin offers grants to developers who use its network. So far, Filecoin has given out 45 grants to developers. Also, Grayscale announced its Filecoin Trust this year and has already invested $1.5 million into the project. With a quickly growing ecosystem, Filecoin is set up to succeed through this cryptocurrency bull market.
The coin on Filecoin's platform is used by both storage providers and storage buyers. Buyers need to pay the providers in Filecoin to store their data, and data providers must stake Filecoin to join the network. By requiring storage providers to stake FIL, the network has the ability to financially punish bad actors on the network.
Brief History of Filecoin
Juan Benet founded Filecoin in 2014. He also invented the IPFS blockchain that made Filecoin's network possible. While the cryptocurrency had its ICO in 2017, the Filecoin mainnet didn't launch until October 2020.
Filecoin has a maximum supply of 2 billion coins, but there are only 73 million coins currently in circulation. While this is often a sign that the cryptocurrency could be devalued through inflation, Filecoin has a plan to distribute these coins over the long term. Looking at the shortest time frame, it will take 30 years for the network to reach its maximum supply.
Since the 2017 ICO, the project raised over $200 million. Filecoin's initial price was $5 per coin, and it's shown more than 14,000% returns since its ICO. Arguably more impressive, however, is that Filecoin has outperformed both Bitcoin and Ethereum in this time frame. Currently, Filecoin is trading for about $70 per coin, valuing the project at about $5 billion.
How to Buy Filecoin
Open an online account.

Because Filecoin is an established cryptocurrency project with a strong backing, the coin is relatively accessible on major cryptocurrency exchanges. You can buy Filecoin on Coinbase, Gemini, Crypto.com and Binance. Coinbase is our personal favorite, as it's simple to use and offers many unique features. Also, the exchange lets you swap between cryptocurrencies free of charge, making it easy to trade cryptocurrencies quickly.

To make an account with Coinbase, you'll need to enter your email and create a password. You should also set up 2-factor authentication to improve your account's security. Depending on where you live, you may need to complete identity verification before you can begin trading crypto. Some information to have ready includes your Social Security number, driver's license and home address.

Buy a wallet (optional). 

No matter which trading platform you choose, you shouldn't store your crypto on an exchange. Cryptocurrency exchanges hold custody of their investors' funds, making them large targets for cryptocurrency hackers. Many cryptocurrency trading platforms have been hacked in the past, presenting a real risk to crypto investors.

The two most common and secure ways to store cryptocurrency are with a hardware or software cryptocurrency wallet. Software wallets can be downloaded on your computer or smartphone for free, and these applications will keep your crypto securely encrypted. 

If you want to store your crypto assets in the safest way possible, then you should consider a hardware wallet. Hardware wallets are physical devices that store cryptocurrency offline, making it impossible for online hackers to steal your cryptocurrency.

Make your purchase.

Once you've chosen where to store your crypto, you're ready to make your investment. Most cryptocurrency exchanges let you buy cryptocurrencies as either limit or market orders. Market orders will purchase your investment instantly at market price, whereas limit orders will only make your investment if the asset dips to a price you specify. 

Because crypto is so volatile, it's a good idea to average into your investment. To do so, all you need to do is set aside part of your capital to invest later. If Filecoin goes down, then you'll have more money to lower your buy-in price. Conversely, if Filecoin increases, then you'll increase your buy-in price. Although your buy-in price will be higher if Filecoin increases, it'll limit your risk as an investor.

Bonus section: Because storage providers on Filecoin's network need to stake Filecoin to provide data storage services to consumers, there will be increasing demand for the coin over time so long as the Filecoin network continues to grow.
Best Crypto Exchanges for Filecoin
Best Crypto Wallets for Filecoin
Best Hardware Wallet: Ledger Nano S
Ledger is an industry leader that has been selling cryptocurrency wallets since 2014. The company offers two products: the Ledger Nano S and the Ledger Nano X. Both wallets serve the same function, but the Ledger Nano X has Bluetooth connectivity, making it much easier to connect to your laptop or smartphone.
However, the Ledger Nano X comes in at a premium over the Nano S. The Ledger Nano S is less than half the price of the Nano X, making it an affordable option for most cryptocurrency investors. If Bluetooth connectivity is a must for you, then it may be worth it to fork over the extra cash for the Ledger Nano X.
Best Software Wallet: Coinbase Wallet
Coinbase Wallet is among the most technologically advanced software wallets available. It's free to download on iOS and Android, and it's a separate application from Coinbase's exchange. The application lets you swap cryptocurrencies directly from your wallet, adding a level of security you otherwise wouldn't have.
Trade, Sell or Convert your Filecoin
The easiest way to convert your Filecoin into other cryptocurrencies is through Coinbase. Coinbase lets investors swap their cryptocurrency for any altcoin available on its platform, free of charge. However, converting your cryptocurrency constitutes a taxable event, so make sure to keep track of your trades.
When you want to sell your Filecoin, you'll need to send your coins from your cryptocurrency wallet to your exchange of choice. As long as your bank account is connected to your crypto exchange, you'll be able to transfer your funds to and from your bank as you choose.
Current Crypto Prices
The cryptocurrency market as a whole has been extremely volatile. With Tesla CEO Elon Musk suspending Bitcoin transactions for Tesla's electric vehicles, many speculators sold their cryptocurrencies. This of course led to lower cryptocurrency prices. However, crypto has recovered more than 20% to the upside since its lows, enticing new investors to buy in at a lower price.
Is Filecoin a Good Investment?
Even after plummeting over 50% in value, Filecoin still outperformed almost any other asset you could have invested in over the last year. With the cryptocurrency's market cap valued at about $5 billion, some investors think it's too late to buy the digital asset. However, if Filecoin can succeed in its goals to decentralize data, it's likely the cryptocurrency's market capitalization will continue to increase.