Want to claim 6 FREE stocks? Head over to Webull to get started.
Aurora Cannabis Inc. (TSX: ACB) (NYSE: ACB) is the 2nd largest cannabis company by market capitalization.
Aurora Cannabis
(NASDAQ:ACB)
1.36 – 1.481
1.21 – 9.54
1.47
297.75M
9.23M/10.39M
407.91M
297.75M
/0%
0.000
0.00K
Getting in on the ground floor of an entire industry doesn't happen every day, so learning how to invest in marijuana stocks could be extremely profitable due to the ongoing legalization process. Be discerning when you invest in any newly established industry since you typically want to select the best stocks for trading and investment purposes.
How to Buy Aurora Stock:
Step 1: Select an online broker that fits your trading style and educational needs.
Step 2: Use a practice or demo account to gain experience before using your own money.
Step 3: Put funds into your account to execute trades when you're prepared to.
Step 4: Purchase the stock at the right entry point.
History of Aurora and Stock Performance
Aurora Cannabis Inc. was founded in 2006 in Edmonton, Canada. Aurora received its first license for growing cannabis in Alberta in 2014. Later the same year, Aurora obtained its license to sell medical cannabis from Health Canada and expanded its operations to Europe.
Aurora has operations in 24 countries and leads the industry in the production of cannabis, with 15 production facilities and an estimated annual production of 500,000 kilograms. The company is expected to produce as much as 700,000 kilograms in the next 2 years.
The company has grown through major acquisitions in the industry, including Cannimed in 2017 and MedReleaf in 2018. This growth has come at the cost of significant stock dilution and additional debt. Aurora's outstanding stock was 16.2 million shares in 2014, but by the end of 2018, its outstanding stock was 471 million.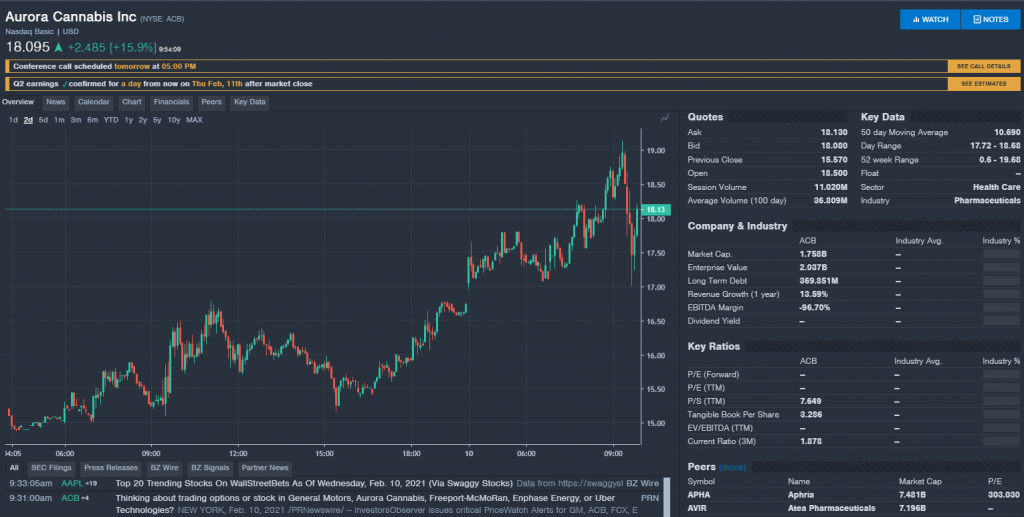 Future Outlook for Aurora
ACB stock first debuted on the Toronto Stock Exchange's Venture Exchange in October of 2016. The stock had previously traded under $1 per share before being listed and then traded as high as $1.79 on October 25, 2016. On July 24, 2017, the stock graduated to a fully listed TSE stock and traded up to $2.25 on a volume of over 1 million shares.
ACB stock made its all-time high of $12.53 on October 1, 2018. On October 23, 2018, ACB stock was listed on the NYSE and promptly lost -25% of its value, trading down from over $10 per share to close its first day of trading on the NYSE at $7.51 per share. The stock has since sold off even further to its current level of $6.25 per share, although it now appears to be consolidating, some further downside yet to come may provide a buying opportunity.
Aurora produces a number of increasingly popular cannabis-derived products in addition to the production of dried marijuana flowers. These include a line of soft gel cannabis oil capsules, edible products, concentrates, vapes and cannabis-infused beverages, which have yet to be legalized in Canada.
Despite its enormous foothold in the cannabis industry, Aurora hasn't found a major business partner, a major priority for the firm. Aurora's biggest competitor and the largest cannabis company by market capitalization, Canopy Growth (NYSE: CGC) secured a $4 billion equity investment from Constellation Brands (NYSE: STZ).
Tilray (NASDAQ: TLRY) secured 2 partnerships, one with Anheuser-Busch InBev (NYSE: BUD) and one with the Sandoz subsidiary of Swiss pharmaceutical company, Novartis AG.
Aurora has expanded by issuing stock, warrants, convertible notes and options, which has made the stock's number of outstanding shares explode to over a billion shares versus the roughly 16 million shares that the company had outstanding in 2014.
Aurora's outstanding debt also rose sharply to $315 million in just the first quarter of 2019. This compared to its debt of $158 million in its 2018 fiscal year and just $48 million in 2017.
Because the company's value has been spread over so many shares, a determination of per share profits and an accurate valuation of its shares becomes more difficult for analysts. As you can see from the price chart above, the rapid growth of the company and the dilution of shares has resulted in sharp price changes, pushing its historical volatility to 93, which might be too high for more conservative investors.
Despite the dilution issue and the past year's selloff in the stock, Aurora's "buy everything" strategy has potentially positioned the company for explosive global growth. As you can see in the graphic below, the dilution of shares was not without the acquisition of tangible assets.
After snapping up a slew of marijuana-related companies, added to the company's other investments, Aurora now sits on $4.17 billion in assets with only $315 million in debt.
One billion shares are currently outstanding at a price of $6.25 per share for a market capitalization of $6.25 billion, so the company's net asset value of $3.855 billion accounts for almost 62% of Aurora's total market cap. That impressive asset base gives its stock significant value.
Aurora has an impressive market share and already produces 20% of all commercially grown marijuana in Canada. Analysts seem divided on the stock for a variety of reasons. While the stock could go either way in the near-term due to its high volatility, a significant selloff might present a buying opportunity due to Aurora's strong asset base.
Why You Might Want to Buy it
Here are some reasons for wanting to add ACB to your portfolio.
Industry leader: With the number of assets, research, patents and other investments already made in the cannabis industry, Aurora is in an excellent position versus its competition. Already one of Canada's top producers, the company has expanded operations to 24 other countries and continues to grow.
Variety of products and markets: Demand for these products has increased on a global scale during the ongoing legalization process, so Aurora is well-positioned to take advantage of this highly lucrative opening market.
The stock has intrinsic value: Due to the high number of acquisitions Aurora has completed in the last few years, the company now has more than $4 billion in assets, which could make it attractive to a partnering company. This asset base also makes Aurora intrinsically valuable.
Possible long-term takeover target: In addition to its firm foothold in the cannabis industry, the company's current market capitalization of $6.25 billion versus assets of $4.15 billion already make Aurora a possible takeover asset play. As the industry matures and enters into a consolidation phase, Aurora could be bought by a large biotech company or merge with some other large producer in the industry, which would probably push up the price of ACB stock.
Considerations Before You Buy
Before buying, here are a few things to think about concerning ACB and its stock performance.
Economic and/or stock market downturn: As with most businesses, a sharp downturn in the stock market or the economy could adversely impact the cannabis industry since it may impact the demand from those who use the herb as a luxury item. The price of Aurora stock has been notably volatile and could sell off sharply during a major stock market rout.
No major business partner: While Aurora has not yet found a suitable business partner, the company retained the services of billionaire investor Nelson Peltz as a strategic advisor in March 2019. Peltz has advised the company to remain independent and not hand over control to a larger corporation. The lack of a major partner may seem like a disadvantage at this time, investors could see significantly greater returns if Aurora succeeds as a standalone company or gets taken over.
Failure to produce recurring profit: Aurora's strategy of expanding through the purchase of other firms means the company has yet to report a solid path for profits. Furthermore, the dilution in the stock from the purchases makes a per share profit difficult to assess. This issue could be addressed once the company fully consolidates its operations.
No traditional dividend: Aurora hasn't paid traditional dividends to investors but paid a 1% dividend to shareholders when it spun off its Australis Capital unit in November 2018.
How You Can Buy Aurora Stock Right Now
You can buy Aurora stock right now if you've already opened an account with a stockbroker that can access stocks on the Toronto or New York Stock Exchanges. You have a wide range of choices for an online stock brokerage account if you don't currently have an open account.
Keep in mind that how you buy Aurora stock is just as important as where you trade, so make sure you pick the right broker.
Pick a Broker

Knowledge of what you need in a stockbroker will make your choice a lot easier since online brokers vary considerably with respect to services, commissions and resources. A broker like Interactive Brokers might suit your needs if you have a background in the markets and would like to trade in a wide range of assets other than stocks.

On the other hand, an easy-to-use trading platform like TD Ameritrade might be a good fit for you if you need educational and research materials. You might choose E*TRADE if you need banking services along with your trading account. 

Check out a few of our top picks for the best online brokers to start with.

Assess Trading Platforms through Demo Accounts

The majority of online brokers offer clients and prospective clients a free demo or virtual account. This type of account lets you practice trading under real market conditions without risking any money. You could open several of these accounts to assess the trading platforms and services of various brokers before you commit funds to a live account. 

Fund an Account

Once you've assessed trading platforms and chosen a broker, you're now ready to fund a live trading account. Some brokers let you open accounts with no minimum deposit but you'll still need money in an account to buy your ACB stock.

Each broker has its own account funding methods, so check to make sure it offers your preferred way of making deposits. 

Buy ACB Stock

You might want to watch Aurora and perform some technical analysis to assess the best price level for your purchase. Once you've determined your optimum price, you can either enter a day order or a Good 'til Canceled (GTC) order at that level or you can watch the stock until it reaches that level and buy your shares at the market. 
Best Online Brokers
Is ACB Stock for You?
Aurora Cannabis Inc. could be a great long-term investment for patient investors who believe in the cannabis industry's future. The United States is also considering legalization at the federal level so the entire marijuana industry seems poised to go to the next level very soon as the world becomes increasingly conscious of the benefits of this medicinal herb, fiber and food source.
Even though Aurora's stock price has had its ups and downs, the company is still new and should eventually consolidate and streamline its operations. At current price levels, ACB stock has already attracted interest from large institutional investors and it could even become a takeover target given its significant asset base that should also limit sell-offs in the stock.
Looking to begin growing your stock portfolio? Check out every online stock broker with free stock trading or free options trading. Also, take a look at our guides on how to begin investing in stocks and how to make an investment strategy.