Most of our users get purchase loans and refinance from New American Funding.
Refinancing your home can save you money, and there are a number of situations when it makes perfect sense to make a change but hold on to your mortgage. The chance to lower your interest rate, reduce your monthly payment or switch to a fixed-rate mortgage can all save you money. Plus, you can use a refinance to pull out cash, change the terms of your loan or even prepare for a sale.
A home equity line of credit (HELOC) is another option you can tap into instead of a home equity loan or cash-out refinance. Check out Benzinga's overview of HELOCs and refinances so you can map out a plan for your home that makes perfect sense for you.
What is a HELOC?
A HELOC is a credit line secured by your home. In other words, it's a second mortgage. You will retain your first mortgage and add on the HELOC, meaning that you must make two separate payments. It's kind of like using your house as a credit card — your home serves as the collateral for this loan. Collateral means that your home can be taken from you if you're unable to make your payments.
(This is why it is important to always communicate with your lender. If not, there is no way you can work out a solution when you fall on hard times.)
One big difference between a HELOC and a home equity loan is the fact that you don't get a lump sum, but access to a predetermined amount of money for a specific period of time. Ten years is a common draw period. The credit limit you can borrow up to is established by your lender, and you can typically borrow up to 85% of your home value minus what you owe. Most HELOCs have an adjustable-rate, interest-only payment.
After the draw period, you must begin repayment on the line of credit. A typical repayment period is 20 years. You pay interest and principal on the amount you borrowed. If you feel it necessary, you can always refinance your HELOC or roll it into your mortgage at a later time.
HELOC Requirements
Most lenders require you to have a credit score of 620 or higher. If you have a 700 or more, you'll qualify for better interest rates. Most lenders require 20% equity in your home and a debt-to-income ratio of 43 to 50%. Like any loan, you'll also need to provide income documentation to prove you'll be able to repay the loan.
HELOC Pros and Cons
Most experts recommend you approach credit with caution, and a HELOC is no exception. A HELOC can help you consolidate debt or tackle an expensive project, but there are also cons to consider. Let's weigh the pros and cons:
Pros
HELOCs are flexible — you can borrow as much (or as little) as you need over a decade.
Fixed-rate options are available.
You make the cash invested in your home work for you — use it to make home improvements, buy investment properties, consolidate other debt and more.
You can refinance the HELOC if needed.
Cons
The line of credit stays open for a decade, so continued spending can be tempting.
Many HELOCs are adjustable-rate or variable-rate so the interest rate may change.
Some HELOCs include application fees, annual fees, cancellation or early closure fees.
The bank could foreclose on your home if you fail to make your payments.
You may need a personal loan instead of accessing your home's equity.
Best Mortgage Lenders for a HELOC
Here are Benzinga's top picks for companies to help you with a HELOC.
1. Best for Military Families: PenFed Credit Union
Like Veterans United, PenFed Credit Union aims to serve military or government-employee borrowers. It provides a number of HELOC choices, including an interest-only line of credit. PenFed's 5/5 HELOC lets you lock in a low rate for 5 years.
The catch is that you've got to be a member because it's a credit union. But membership is now easier to gain than in the past. You're likely to find a branch to work with if you live near a major military base.
2. Best for Online Service: Citi
Citi offers a streamlined online experience. The bank's Citi Mortgage Selector tool will give you an idea of what your loan will cost. You can then apply online, sign up for a free consultation and get preapproved.
Citibank is flexible — it will look at alternative financial documents like rental history or child support payments as a part of your approval. And if you're already a Citibank customer, you're eligible for a discount. Discounts are also available if you elect to pay closing costs, which isn't required.
The bank offers multiple ways to access a HELOC, but your initial draw has to be at least $25,000.
What is a Refinance?
A refinance is an entirely new mortgage that replaces your original mortgage, and it doesn't work like a line of credit. You can choose a new lender to work with, and your new loan will pay off your first loan.
When you choose to refinance, you've got 2 basic options — a rate and term refinance or a cash-out refinance.
Rate and term changes your interest rate and the length of the term over which you'll repay your loan. This could be the way to go if you need to ditch your adjustable-rate mortgage (ARM) for a fixed-rate option. A refinance can also be the way to go if interest rates are much lower than when you secured your first loan.
A cash-out refinance allows you to take out the equity in your home, and it adds that amount to the principal balance of your loan. Unlike a HELOC, you'll receive this cash as a lump sum. Cash-out refinance is a good choice for a large investment like home improvements, starting a college fund or a boost to retirement savings. While this is a popular financial tool that you will see quite a lot of advertising for, there is no way to know for sure if this is the right choice until you do your research.
If all else fails, don't do a cash-out refinance unless you have a plan on how to manage every dollar you receive.
Refinance Requirements
Just having equity in your home isn't enough to secure a refinance. Most lenders will require your equity than you want to access, and your credit score will come into play. While FHA loans once required a minimum 580 credit score, many lenders are using 620 as a baseline due to the run on the real estate market and how the COVID-19 pandemic has changed the way homes are bought and sold. 
Your current debts are considered in your debt-to-income ratio as lenders decide whether you're prepared to take on a new mortgage. Again, income documentation will be required. At times, you may have the chance to obtain a bank statement-only loan that does not require additional documentation.
Refinance Pros and Cons
Check out the pros and cons of a refinance mortgage.
Pros
A chance to your interest rate.
You can switch from an ARM to fixed-rate mortgage.
Your home equity can grant you the cash you need.
Cons
A refinance starts the loan application process again.
You'll probably pay closing costs — usually 3% to 6% of the loan balance.
A lowball appraisal on your home can affect your borrowing power.
Best Mortgage Lenders for Refinancing
Your success and satisfaction with a refinance will boil down to who you work with. Take a look at our best refinance mortgage companies to find your perfect fit.
1. Best Overall: Rocket Mortgage®
Take a look at Rocket Mortgage® by Quicken Loans® as the best mortgage company to refinance with and meet your goals. Rocket Mortgage® has moved the entire mortgage approval process online, and customers rate their satisfaction 4.9 out of 5 on the App Store.
The best part of its mobile-friendly process is the company's document and asset retrieval capabilities, which save you a ton of time by tracking down your personal information for you.
You can chat with a Quicken Loans® expert and access your loan 24/7. It's no wonder Rocket Mortgage® is America's No. 1 lender — it's one of the only lenders to do business at the pace the world moves.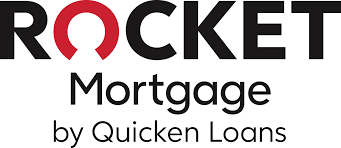 Avg. Days to Close Loan
30
1 Minute Review
Rocket Mortgage is one of the best mortgage lenders on the market, making it easy to apply for a home loan entirely online. Its streamlined preapproval process and quick access to customer service set it apart from other online lenders. Rocket Mortgage offers a large variety of mortgages and is backed by the largest mortgage lender, Quicken Loans. Whether you need help or know exactly what you're looking for, Rocket Mortgage matches you with the right mortgage type and helps you quickly complete your online application.
Best For
Homebuyers who are looking to complete the mortgage application process on their own
Homebuyers who have found their dream home and are looking to move through the approval process quickly
Homebuyers with good credit scores looking to review their mortgage options
Current homeowners looking to refinance within the next few months
Pros
Rocket Mortgage allows you to move at your own pace, guiding you through each step of the process. After you answer all the application questions, Rocket Mortgage lets you know if you're approved and show your personalized mortgage recommendations
You can submit checking and savings account information, tax returns and other financial documents online — a feature that sets Rocket Mortgage apart from online competitors
RateShield allows you to lock in your Rocket Mortgage approved rate for up to 90 days
The home loan application process can be completed in minutes, allowing you to find out if you qualify for a mortgage right away
The online software allows you to navigate through the entire home buying process, from approval to home closing. Once you're approved and you make an offer on your home, Rocket Mortgage offers online tools that will help you move through the rest of the closing process
Cons
While Rocket Mortgage has customer specialists ready to answer your questions and provide guidance, if you prefer sitting across from a person when filling out financial forms, this lender might not be right for you
You can't easily view all of Rocket Mortgage's home loan options prior to applying. It offers conventional, FHA, USDA and VA loans, but you'll need to apply to find out more about the mortgage types within these offerings and which ones you're eligible for
2. Best for Customer Experience: Better.com
Better.com was founded to cut through the red tape of traditional mortgage processes. The online mortgage company doesn't work on commission. There are no origination fees. And they offer on-demand rate lock — you decide when you're ready to set your interest rate, not the bank.
The process is 100% online, and you can receive an instant loan estimate. Because the process and loan are housed online, you have access 24/7 instead of just during banking hours. Better.com could be your best place to refinance a mortgage.
Make the Decision to Save
When you consider accessing your home's equity, weigh the pros and cons of each option. Try to make a decision that will save you money in the end.
You can refinance your mortgage to reduce your payments or secure a lower interest rate, but a HELOC is also a way to save — even if you're borrowing cash in the process. Use your HELOC to reduce debt or invest for a long-term payout.
Consider the most appropriate option for your household and your future.
Get Ready for Take Off
Rocket Mortgage® is an online mortgage experience developed by Quicken Loans®, America's largest mortgage lender. Rocket Mortgage® makes it easy to get a mortgage — you just tell the company about yourself, your home, your finances and Rocket Mortgage® gives you real interest rates and numbers. You can use Rocket Mortgage® to get approved, ask questions about your mortgage, manage your payments and more.
You can work at your own pace and someone is always there to answer your questions — 24 hours a day, 7 days a week. Want a fast, convenient way to get a mortgage? Give Rocket Mortgage® a try.