Did you know most of our readers prefer DentalInsurance.com for their dental insurance needs?
Keeping your dental health up to par is an important aspect of staying healthy overall. If you're in The Mitten State and looking for the best dental insurance in Michigan, you're in the right place. Use our guide to learn the ins-and-outs of dental insurance and get quotes from our favorite providers.
Find plans that are available in your area
Find Dental Insurance
Quick Look: The Best Michigan Dental Insurance
The Best Michigan Dental Insurance
Even if you're timid about going to the dentist, finding the best dental plan can make it a little less intimidating. We've reviewed some of the best dental insurance plans in Michigan to help you feel a bit more comfortable about finally making an appointment.
1. Best for Side-by-Side Comparison: DentalInsurance.com
If you want the easiest possible experience buying dental insurance, DentalInsurance.com is the way to go. With over 2 decades of selling dental insurance online under their belt, DentalInsurance.com provides a seamless dental plan shopping experience from start to finish.
DentalInsurance.com is a great place to find the cheapest dental insurance in Michigan because it allows you to compare the most popular plans from trusted providers side-by-side. Get dental (and vision!) rates quotes for individual and family plans. You can even search for the best discount dental plans or shop by carrier if you've already chosen a provider but want to see all their available plan options in one place.

1 Minute Review
Dental care is an integral part of your overall health, and paying for dental care can be a challenge. Dental insurance can help, but finding the right dental insurance plan can be time-consuming. You need to look at plans from different insurance providers and compare the plan costs and benefits. 
DentalInsurance.com makes the process easy. Input your ZIP code and some other basic information, and the site presents you with plans in your area. You can sort them by provider and plan type to compare up to 3 plans at once. 
DentalInsurance.com offers plans from top dental providers like Delta Dental, Ameritas and MetLife. You can view each plan's details and apply right from the DentalInsurance.com website. It offers a variety of plan types, including HMOs, PPOs and dental discount plans. 
If you need assistance with choosing a dental plan, you can contact DentalInsurance.com by phone or email. It has an A+ rating from the Better Business Bureau. 
Learn more about your options in this DentalInsurance.com review. 
Best For
Busy families who want to buy dental insurance quickly
People who want to compare multiple plans
Pros
A+ rated by the Better Business Bureau
Plans from multiple dental providers
Cons
No mobile app
Some providers not available
2. Best for Dental Savings Plans: DentalPlans.com
DentalPlans.com isn't traditional dental insurance. Rather, it's a membership-based dental savings service that works with your standard dental insurance to offer you deep discounts. In Michigan, you'll find dental savings plans from popular providers like Cigna, Delta Dental and Aetna.
Membership fees start at $79.95 yearly, saving you anywhere from 10-60% on your dental costs. And these plans can cover anything from your regular preventative care to emergency dental procedures.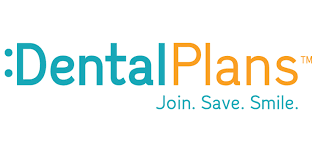 Best For
Saving money on dental expenses
1 Minute Review
It can be time-consuming to find the best dental plan. You need to visit the websites of insurance companies, review the plans and determine which one fits into your budget while giving you the benefits you need. 
DentalPlans.com takes the stress out of finding a dental plan. It focuses on dental savings plans, also known as dental discount plans. 
These plans aren't insurance, but they can still save you a significant amount of money on your dental costs. They also have some advantages over dental insurance. For example, while traditional insurance typically has waiting periods, dental savings plans do not. And you can typically use a dental savings plan for cosmetic procedures. 
DentalPlans.com has been in business for over 20 years and it has excellent reviews from its customers. You can choose among 30+ dental savings plans, and if you prefer dental insurance, DentalPlans.com offers that as well. Its customer service team is available to help you choose the best plan, and you can switch plans at any time. You can also buy a plan online. 
DentalPlans.com is best for people who need dental services immediately or who need extensive dental care. It has a wide range of plans and extensive customer service availability. The website can be challenging to navigate, though, and your options are limited if you prefer dental insurance. 
Learn more in this DentalPlans review. 
Best For
Those who need cosmetic dental services
Those who need dental care immediately
Pros
Wide variety of dental savings plans
Extensive customer service availability
Cons
Website can be difficult to navigate
Limited dental insurance options
3. Best Overall: Delta Dental
You can't go wrong with Delta Dental in Michigan. It's financially strong, and offers a plan that costs only $123 a year. It only costs $15 to enroll in the plan, and it has no deductible or waiting period for services.
So if you enroll and have a major dental issue, you can get treated right away without paying extra. This plan has no annual cap, so you can get all the services you need in a year without having to wait for a new coverage year.
Best For
Cleaning + exams
1 Minute Review
Delta Dental is a dental insurance company with over 80 million members and a network of nearly 339,000 dentists nationwide. As the largest dental insurer in the U.S., Delta Dental offers coverage for individuals and families and small businesses and retirees. With over 60 years of experience, Delta Dental offers some of America's best dental insurance plans.
Best For
Orthodontic procedures
Cleaning and exams
Pros
Nationwide coverage available
Multiple dental insurance options
Price matches discount providers
No waiting period for preventative treatments
Cons
Availability varies by state
4. Cheapest Dental Insurance in Michigan: Humana
Humana's Preventive Plus might be the bargain you need. The monthly premium is only $21.99 per month and $263.88 a year. This plan probably isn't good for people who are commitment-phobic because you have to hold on to it for at least the first 12 months.
You probably also will have to pay the cost of the entire premium year upfront. For this DPPO, you won't have to pay any coinsurance for preventive care but you will have to pay a 50% after deductible for basic care. For individuals, the deductible is $50 for individuals and $150 for families up to 3 members.
You don't have any annual out-of-pocket limit, and you won't have to pay anything for a cleaning. You will be required to wait 6 months after you enroll in the plan to get a tooth extracted and other services.
1 Minute Review
As one of the largest and most popular dental insurance providers in the United States, Humana offers customers a wide network of dentists, with approximately 270,000 current dental care providers. Humana dental insurance lets you save money on costs without traveling far for care. Rates for basic plans are low and include 100% coverage for preventive services. Humana can help you get the most out of your money for dental benefits. 
Best For
Families
Early retirees
Entrepreneurs
Pros
Preventive care at 100% coverage
Can be used with more than 270,000 dentists nationwide
Cons
Annual maximum benefits as low as $1,000
Can be used with more than 270,000 dentists nationwide
5. Best for Value: Renaissance Dental Insurance
Renaissance Dental Insurance offers several plans, but The Renaissance Dental Plan III will give you 100% coverage for diagnostic and preventive services when you see an in-network dentist, and covers half the cost of crowns, bridges, fillings, root canals and dentures.
The carrier with no waiting plans, offers strong plans for people with generally good oral health but need more than just cleanings and other basic preventive dental care.The plan costs $41.62 a month with a $50 deductible and $1,000 annual maximum. You can visit any licensed dentist, but you'll save more if you visit a dentist in the carrier's network.
The plan covers 80% of fillings and simple extractions.
6. Best for Seniors: AARP
When you're older, your teeth and gums may need more care. When it comes to dental care beyond basic services like cleanings and fillings, costs can quickly rise.
That's why AARP's dental insurance through Delta Dental may be a good bargain because it offers a broad range of coverage focused on the needs of older people. Instead of only the 2 standard cleanings per year, for example, it covers 3 annual cleanings. It also offers good comprehensive coverage for services such as crowns, dental implants, bridges and dentures. It has a 1-year waiting period before you're covered for many of those services, though.
It has a 1-year waiting period before you're covered for many of those services, though.
Although its premiums tend to be higher than average, it could be worth it, especially if you know your dental needs are extensive and more complex. If you're an AARP member, the organization's dental plans certainly are worth checking out. And by the way, you can join AARP before you're age 50.
What is Dental Insurance?
Dental insurance is coverage for basic preventive care for your teeth and gums, including cleanings, fillings and oral surgeries such as a tooth extraction. It doesn't always cover cosmetic or emergency dentistry.
You pay a monthly premium or payment that allows you to get services to keep your mouth healthy. Much like medical insurance, you can expect deductibles, co-payments and reimbursements as part of your policy.
Dental Insurance Explained
For the price you pay monthly, you generally get 2 checkups per year. Your treatments will include cleanings, X-rays and other services depending on your health. Like your medical plan, your premium depends on your age, health status and other factors. Some dental insurance policies cost more than others and vary by plans each carrier offers.
Some plans also may provide coverage for some types of oral surgery, orthodontia like braces, and advanced procedures like dental implants, while other plans may not. Your policy will specify what is and isn't covered.
Most dental plans cover all preventive care costs for annual or semi-annual office visits for cleaning, X-rays, and sealants. Basic procedures are extractions, fillings, root canals and treatments for gum disease. Those procedures usually have copays and coinsurance, which will impact how much you will pay.
Types of Dental Coverage
Similar to medical insurance plans, dental insurance plans offer different levels of coverage, and the type of dental plan you choose has varying features. Here are some of the options from which you can choose:
Dental Health Maintenance Organization (DHMO): A DHMO is similar to a health insurance HMO. These plans offer a network of dentists that accept your dental insurance plan. Some have a copay and others require no fee at all. But like an HMO, you may not be able to visit a dentist that is out of network. You can see an out-of-network dentist, but you will be responsible for the entire fee.
Preferred Provider Organization (PPO): A PPO plan provides a list of dentists who accept your plan. You are given the option to see a dentist out of your PPO network, but your out-of-pocket expenses will be higher.
Discount or referral dental plan: After you look at the cost of dental treatments and the amounts insurance plans cover, you may decide a discount or referral plan is best for savings. These plans offer a substantial discount on dental services from a group of dentists. These plans are different than a PPO or DHMO because they won't pay anything for your care. But you might decide you can save more with a discount plan because you can get 10%–60% off of each service your dentists provides.
Managed care plans: These plans usually have dental provider networks. Participating dentists set pre-negotiated rates for services they provide and typically submit the claim to the insurance company. With these plans, you will have less paperwork to complete and less out-of-pocket expenses. Managed-care plans also tend to offer more dentists for a broader range of provider choices.
What Does Dental Insurance Cover?
Dental insurance plans usually covers part of the cost your dentist charges for cleanings, preventive care, fillings, crowns, molds, root canals and oral surgery such as having a tooth pulled.
The plans also may cover braces or orthodontics, periodontics or the teeth's supporting structures, prosthodontics such as bridges and dentures or false teeth. Most dental coverage includes 2 visits each year. No dental plan covers all of the costs of every treatment you may need.
What Does Dental Insurance Not Cover?
You may be surprised to find that when you go to the dentist, even with the best dental insurance plan, you'll probably end up with a bill. That's because while most plans cover basic preventive services such as cleanings, X-rays and fillings, they may not cover tooth-colored fillings.
You may pay for things like extra cleanings due to some type of oral health problem. Most dental insurance plans don't pay for braces or other orthodontic treatments, dentures, dental impacts or dental care related to a medical condition, but your plan may pay for a small portion.
Dental insurance often does not cover preexisting conditions you had before you enrolled. So if you have a preexisting condition, you will have to pay for services for those medical conditions.
About half of PPOs have maximum coverage amounts of $1,500 per year. So you are held financially responsible for treatments you receive in a year that are more than the maximum coverage limit.
If you don't check carefully, you may find your plan doesn't cover or has restrictions on some treatments such as flouride treatments for your children, crowns, bridges, multiple fillings on the same tooth and X-rays. It's important to pay attention to what your policy includes and consider your options carefully.
How to Buy Dental Insurance in Michigan
If you're in the process of finding the best plan for you, there a few steps to follow as you search:
Think about what type of coverage is best for your dental needs
Consider how much you can afford to pay for a premium each month
Consider your coverage options — are you buying private dental insurance or is your employer offering it as part of a benefit package?
Compare quotes from multiple providers
While this isn't an exhaustive list, it's a general guide to help you navigate your search for the right dental coverage. Check out some quotes from great dental providers in Michigan below:
Get Coverage From Top Michigan Dental Insurance Carriers
If you haven't had major dental issues, you're either graced with good teeth or you've been diligent about brushing and flossing consistently and have regular checkups.
You may not know that the cost of avoiding the dentist and proper oral care can result in spending more on other health issues. Studies show that people who don't have dental care benefits are more likely to have extractions and dentures. They also are less likely to have restorative care or receive treatment for gum disease.
Not only could you have not-so-sweet breath, you could have other illnesses such as oral cancer and cardiovascular conditions such as stroke and heart diseases. Selecting affordable dental insurance or a discount dental plan and getting the care you need may be far more critical than you think.
Frequently Asked Questions
Does dental insurance cover cosmetic dental work?
Generally, dental insurance covers routine care, fillings, etc. Most times, dental insurance does not cover cosmetic services.
Answer Link
Does dental insurance come as part of your health insurance?
Dental insurance is a separate policy. While you may have some allowances for dental care under your health insurance plan, they are limited.
Answer Link
Dental Insurance Methodology
To determine the best dental insurance providers, we pored through all United States carriers. We winnowed the list by only including companies that have a wide coverage area and product offering. To further break down the list to the true best dental insurance providers, we gave weight to carriers that offer discounts, are available in all states and have multiple payment plan options.
Dental Plans Promo
Get 10% off any dental savings plan at DentalPlans.com. You can reduce your dental care costs by saving 10-60% off at the dentist!