Did you know most of our readers choose The Hartford for their professional and business insurance needs?
With over 150,000 stores across the nation, the local convenience store has become a staple in modern America. From a quick fuel fill-up to a fast bite to eat on a lunch break, convenience stores offer a faster way to get what you need and get on with the day.
If you're a convenience store owner, having the right insurance coverage is key. Which types of coverage you'll need often depends on what your store sells. Here's what you should know before choosing the best convenience store insurance.
Best Convenience Store Insurance
Compare quotes from multiple providers to find the best rates for convenience store insurance. You can also customize your coverage to suit the specific need of your convenience store business.
For example, the National Association of Convenience Stores (NACS) reports that about 80% of convenience stores sell fuel. Stores that sell fuel need coverage for the tanks, as well as the pumps, canopies, and other equipment. Check out the table below to get started.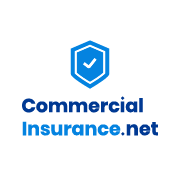 get started
securely through CommercialInsurance.net's website
1 Minute Review
Shopping for commercial insurance can be a daunting task. You need to contact multiple insurance companies, ask each for quotes on the different types of insurance and then finally compare quotes to make the best choice.
Or you could simplify things and visit CommercialInsurance.net. With CommercialInsurance.net, you can easily get quotes on the insurance you need from multiple reputable insurance companies like Progressive, The Hartford and Liberty Mutual Insurance. You can get a quick quote online or give CommercialInsurance.net a call. 
CommercialInsurance.net can connect you with all types of business insurance, including general liability, commercial property and workers' compensation insurance. It's best for business owners who want to save time and money by getting insurance quotes from multiple providers with 1 quote request.
Best For
Busy business owners
Comparing insurance policies
Pros
Easy quote process
Quotes from multiple insurers at once
Cons
No mobile app
No tools for managing multiple policies from different providers

1 Minute Review
Shopping for business insurance can be a tedious process. It takes time to collect and review quotes and coverage unless you visit CoverWallet. CoverWallet, an Aon company, makes it easy to get quotes from multiple insurance providers.
With CoverWallet, you can start by talking with an insurance advisor or start directly with quotes. You can get quotes from multiple reputable insurers, including Hiscox, Chubb and Progressive. Choose from a wide range of coverage options to protect every area of your business, including workers' compensation, general liability and commercial property insurance.
Once you decide on your insurance coverage, you can manage your policies through MyCoverWallet. This online dashboard allows you to send copies of your insurance certificates when needed, file claims and pay premiums. It keeps your policies organized and allows you to reach out to an expert at any time.
CoverWallet also offers extensive educational resources. You can review its recommended coverage by industry. You can also dig into more specific information based on your industry, location, number of employees and annual revenue.
The one drawback to the CoverWallet is that it doesn't have a mobile app. You can still access the site through your mobile browser and you can call any time for assistance. Overall, CoverWallet makes it easy to shop for and buy business insurance, and it's an excellent fit for small businesses and the self-employed.
Best For
Self-employed
Start ups
Small to medium businesses
Pros
Can get multiple quotes easily
Can learn about recommended insurance for your industry
Offers many types of insurance
Types of Convenience Store Insurance
It's often wiser to buy a package rather than a standalone policy or multiple policies from multiple providers. With a customized insurance package, you can often save money by purchasing multiple policy types through the same insurer. Insurers call this bundling.
You'll also benefit from purchasing policies built to work together, often eliminating troubling gaps that can plague mix-and-match policies from multiple providers. Consider these common coverage types when shopping for convenience store insurance.
Commercial General Liability Insurance
Your general liability insurance is the core coverage for your convenience store insurance package and protects against common 3rd-party risks like slip and fall accidents. With hundreds or even thousands of customers coming through your store each day, the risks are high. Base coverage amounts begin at $1,000,000. Higher limits are available through most insurers.
Commercial general liability insurance also protects your business against claims due to slander, libel or advertising injury. However, commercial liability coverage only protects against certain types of liability. If you have employees, for example, consider a workers' compensation insurance policy as well to help protect against work-injury liability.
Commercial Property Insurance
Commercial property insurance shields your convenience store business against a wide range of risks including the more destructive side of nature like wind, hail or snow. Your policy also protects against fire damage and lightning as well as human risks such as vandalism and theft. 
A commercial property insurance policy covers the building itself, but also protects your inventory, supplies and equipment.
With many insurers, you can purchase commercial general liability insurance combined with commercial property insurance coverage in 1 policy called a business owners' policy (BOP). This structure combines 2 key coverage types in one easy-to-manage policy.
Business Interruption Coverage
If your business suffers lost income due to a covered commercial property insurance claim, business interruption coverage can help pay for standard operating expenses while your business is being repaired.
Workers Compensation
In most states, workers' compensation coverage is required by law. However, this coverage often makes a wise choice even when not required. Workers' comp provides no-fault coverage for work-related injuries to employees but can also protect the business against many work-injury related lawsuits.
Commercial Auto Insurance
If your business owns vehicles, a commercial auto insurance policy can cover business auto risks and provides higher liability insurance limits than personal auto policies offer. For mixed-use vehicles that include both personal and business use, discuss your coverage needs with your broker or agent. Personal auto policies don't cover business use, but a policy add-on can address some use types.
Specialty Coverages For Convenience Stores
The key to effective coverage for your convenience store is customization. Many businesses are similar, but each faces a unique combination of risks that may require specialized coverage.
Below are some of the coverages you might wish to add to your policy:
Employment practices liability insurance
Liquor liability coverage
Environmental liability insurance
Sign coverage
Cyber liability insurance
Garagekeepers liability insurance
Equipment breakdown coverage
Umbrella insurance or excess liability insurance
Crime coverage
Employee dishonesty coverage
Cost of Convenience Store Insurance
Business insurance rates for convenience stores are a reflection of risk. Longer hours and cash on hand in the convenience store industry itself invite more crime than seen in many other business types. Expect to pay a bit more based on crime risk, but other factors can play a role in rates as well.
Insurers also consider prior losses as a possible indicator of future losses. Many insurance companies require your loss history for the past 3 years, also called a loss run. Prior claims of any type can drive insurance costs north, as can gaps in coverage, meaning periods during which your business was uninsured.
The method for calculating the cost of insurance for convenience stores also varies based on insurance type. Workers' comp rates vary by payroll costs, while commercial liability coverage cost varies based on top-line revenue.
All these moving parts make it difficult to predict a cost for coverage because the profile for each business is different. Here are some examples of typical costs for lower risk businesses.
| Policy type | Annual cost | Coverage limit |
| --- | --- | --- |
| General liability insurance | $750 | $1,000,000 (minimum) |
| Commercial property insurance | $500 | Replacement cost |
| Business owners' policy | $1000 to $1250 | Varies |
| Workers' compensation | $1,000 | Varies |
| Liquor liability | $550 | Varies |
Depending on your business, you may not need all these coverage types or you might need some coverage types not listed in the table. And costs compete with profits in business but insurance is an area where you don't want to make a decision based on price alone. Details matter when choosing coverage options and limits. You'll want to be sure your business is well protected.
How Convenience Store Insurance Works
Rather than being a single policy, convenience store insurance often includes 2 or more business insurance policies that address the specific risks of convenience stores. For example, about 80% of convenience stores sell fuel. A standard business liability policy doesn't cover the risks associated with selling fuel and maintaining fuel tanks, but a convenience store insurance package can be customized to cover this risk and other risks unique to your business.
A business owners' policy (BOP) offers a common solution because this policy type combines both general liability insurance and business property insurance. You can also add coverages to your policy or extend your coverage limits through additional policies like an umbrella policy or excess liability policy.
Insurance is the transfer of risk. In exchange for a monthly or annual premium, which is the money you pay for your coverage, your policy protects you against potential risks that can far exceed the amount you pay in premiums. For example, liability limits often start at $1 million, although most businesses won't pay this much in premiums over the life of the business.
Many coverage types also use a deductible. The deductible is the part of the claim that you pay and having a deductible helps keep insurance rates more affordable for everyone by inhibiting smaller claims. Much as with your business itself, you've got some skin in the game. However, you can often adjust your deductibles to match your risk tolerance. A higher deductible often leads to lower rates because your business assumes more risk.
Insurers may offer preferred rates for a clean claims history and discounts for safety measures are common. Ask your insurer which additional discounts are available for your business. Also, consider consolidating your policies with one insurer if possible.
Many insurers offer discounts for buying more than one type of coverage from the same provider. But savings aren't the only reason to consider bundling. Different policy types from the same insurer often fit together well and eliminate gaps that can create risk.
Choosing the Best Convenience Store Insurance
On an individual business level, liability risks and risks to your business property can be difficult to predict which makes choosing the right coverage essential. Insurance coverage limits that are too low or coverage that overlooks potentially large exposures can put the future of your business at stake.
When choosing the best convenience store insurance, price is an important consideration, but more complete coverage makes a better focus — even if it costs a bit more. Compare rates and weigh coverage features to find the best business insurance policy today.