Did you know most of our readers prefer DentalInsurance.com for their dental insurance needs?
Dental crowns do more than just improve the appearance of your smile. They help to rebuild your teeth so you can maintain good oral health.
Committing to crowns can be pricey — but the right dental insurance plan can help you foot the bill. Read on for everything you need to know about dental insurance that covers crowns.
Quick Look: Best Dental Insurance that Covers Crowns
Best Dental Insurance that Covers Crowns
Ready to find the best dental insurance providers? Here are Benzinga's picks for providers that cover crowns.
1. Best Overall: Delta Dental
Delta Dental has been in business for 70 years and has focused exclusively on dental care. It has an extensive network that includes 3 out of 4 dentists in the country, so it's easy to find a great provider.

It offers online tools to make it easy to manage your plan. Premium plans include 50% coverage for crowns with a relatively short waiting period — 6 months.
Best For
Cleaning + exams
1 Minute Review
Delta Dental is a dental insurance company with over 80 million members and a network of nearly 339,000 dentists nationwide. As the largest dental insurer in the U.S., Delta Dental offers coverage for individuals and families and small businesses and retirees. With over 60 years of experience, Delta Dental offers some of America's best dental insurance plans.
Best For
Orthodontic procedures
Cleaning and exams
Pros
Nationwide coverage available
Multiple dental insurance options
Price matches discount providers
No waiting period for preventative treatments
Cons
Availability varies by state
2. Best for Added Benefits: UnitedHealthcare
UnitedHealthcare may be best known for health insurance, but it's partnered with Golden Rule Insurance Company to offer dental plans as well. Several plans include coverage for crowns along with free preventive care.

UnitedHealthcare's dental plans also include access to hearing aid discounts at thousands of providers. As a bonus, you can also add on vision benefits to cover annual eye exams, glasses and contacts.
3. Best for Discount Plans: Dentalplans.com
Dental discount plans give you painless access to lower-cost dental care. You don't have to worry about what's covered and what's not, and you don't have to file any claims.

Dentalplans.com makes it easy to find and compare dental discount plans in your area. With just a few clicks, the site provides you with a list of plans to review and a link to sign up for each.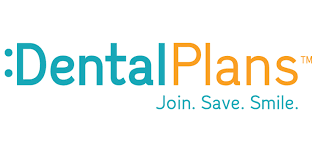 Best For
Saving money on dental expenses
1 Minute Review
It can be time-consuming to find the best dental plan. You need to visit the websites of insurance companies, review the plans and determine which one fits into your budget while giving you the benefits you need. 
DentalPlans.com takes the stress out of finding a dental plan. It focuses on dental savings plans, also known as dental discount plans. 
These plans aren't insurance, but they can still save you a significant amount of money on your dental costs. They also have some advantages over dental insurance. For example, while traditional insurance typically has waiting periods, dental savings plans do not. And you can typically use a dental savings plan for cosmetic procedures. 
DentalPlans.com has been in business for over 20 years and it has excellent reviews from its customers. You can choose among 30+ dental savings plans, and if you prefer dental insurance, DentalPlans.com offers that as well. Its customer service team is available to help you choose the best plan, and you can switch plans at any time. You can also buy a plan online. 
DentalPlans.com is best for people who need dental services immediately or who need extensive dental care. It has a wide range of plans and extensive customer service availability. The website can be challenging to navigate, though, and your options are limited if you prefer dental insurance. 
Learn more in this DentalPlans review. 
Best For
Those who need cosmetic dental services
Those who need dental care immediately
Pros
Wide variety of dental savings plans
Extensive customer service availability
Cons
Website can be difficult to navigate
Limited dental insurance options
4. Best for Affordability: Humana
Humana offers affordable dental coverage and multiple plans that help pay for crowns. You'll also find plans that cover 100% of preventive dental care and low deductibles.

Humana offers an easy-to-navigate website and an extensive provider network. You can enroll online, but if you prefer a more personal experience, you can also call and talk to a representative.
1 Minute Review
As one of the largest and most popular dental insurance providers in the United States, Humana offers customers a wide network of dentists, with approximately 270,000 current dental care providers. Humana dental insurance lets you save money on costs without traveling far for care. Rates for basic plans are low and include 100% coverage for preventive services. Humana can help you get the most out of your money for dental benefits. 
Best For
Families
Early retirees
Entrepreneurs
Pros
Preventive care at 100% coverage
Can be used with more than 270,000 dentists nationwide
Cons
Annual maximum benefits as low as $1,000
Can be used with more than 270,000 dentists nationwide
5. Best for Flexibility: Ameritas
Ameritas' multiple plans cover crowns and other restorative dental care. It also covers you whether you go to an in-network or out-of-network dentist — although you may save money if you see an in-network provider.

You'll find plans with low deductibles and high annual maximums. No waiting period for benefits and no enrollment fee set Ameritas apart from other plans.

Best For
Adult and child orthodontia benefits
1 Minute Review
Ameritas offers trusted health, dental and vision insurance plans. Find a provider in your area using America's largest network.
Best For
Orthodontic benefits
People who have health or vision insurance with Ameritas
Large provider network
Pros
AM Best Rating A
Wide range of coverage options
Ortho coverage up to 50%
Does Dental Insurance Cover Crowns?
Dental insurance may cover crowns, but inclusion of major restorative work varies by plan and provider. Some plans just cover basic, preventive services. Other plans cover more. Here are the levels of coverage you'll typically see in dental plans:
Preventive care includes cleanings at regular intervals, oral exams and routine X-rays.
Basic restorative care goes beyond preventive care to add on extensive X-rays, fillings and tooth extractions (removing a tooth).
Major restorative care for crowns, bridges and dentures.
Orthodontic care covers the cost of braces and other devices to straighten and move your teeth.
As you review potential dental plans, double-check the plan to see if crowns are included. Many full coverage plans include crowns, but every company is different.
Review plan exclusions and the policies on preexisting conditions. Some plans don't cover conditions that happen before you begin coverage, while others have a waiting period. For example, a plan might have a 180-day waiting period before you can get a crown.
Types of Dental Coverage
Dental insurance plans also vary when it comes to how you can access care. As you review your options, you'll see several types of plans, including:
Dental PPO plans: Dental preferred provider organization (PPO) plans have a network of dentists. If you see a dentist within the network, you'll receive lower rates. You may be able to see dentists outside the network, but you will pay more if you do.

Dental HMO plans: Dental health maintenance organizations (HMOs) are more restrictive than dental PPO plans. You choose a dentist or dental facility that's a part of the HMO network, and that dentist coordinates all of your care. The plan pays the dentist a monthly fee to cover your care, and this helps keep your costs down. If you see an out-of-network dentist, you may be responsible for all the costs.

Fee-for-service plans: Insurance companies may also refer to these plans as indemnity or traditional dental plans. With this type of plan, the provider pays a percentage of the charges for any dental services you receive.

Dental discount plans: These plans aren't insurance plans. A discount plan provider negotiates with dentists to offer a set discount on services. You pay a monthly or annual fee to join the plan. When you go to the dentist, you'll receive a discount on your dental services. You don't have to file a claim or worry about plan limits.
The right plan for you depends on several factors, including the plan coverage, the dental network and your budget.
Average Cost of Dental Insurance that Covers Crowns
The average cost of dental insurance ranges from $15 to $50 per month. Comprehensive plans that pay for crowns may be on the higher end of that range. Your costs may be higher or lower based on certain factors:
Where you live
Whether you have an individual or group plan
The type of plan you choose
Whether or not your coverage is through an employer
A few dental plans offer limited discounts. Some plans may offer a small reward you can use to help cover your deductible if you stay below a certain threshold. You may also find plans that offer special rates to seniors. If you're concerned about finding affordable dental insurance, the best approach is to shop around and compare multiple quotes.
What to Look for in a Dental Insurance Provider
Dental insurance plans vary, so what should you look for? Here are a few things to keep in mind:
The dental network: Do you already have a dentist you and your family like working with? If so, choose a plan that has your dentist in-network.

Your dental needs: If you or a family member is going to need a crown or orthodontic work, look for a plan that provides that coverage. Keep in mind there may be a waiting period before coverage starts, and not all plans cover preexisting conditions.

The out-of-pocket costs: Like most types of insurance, dental plans require you to pay for a share of costs out of pocket. These may include:


Copays: Copays are a set amount you pay for a given service. For example, your plan might require you to pay $20 for a routine preventive care visit.

Coinsurance: Your coinsurance is the percentage of the service cost you're responsible for. For example, you might have a 20% coinsurance for a crown, which means you pay 20% of the costs. Your insurance plan pays the other 80%.

Deductible: This is the amount you pay for covered dental services before your plan starts paying. If you have a $500 deductible and you get $1,000 in covered dental work, you have to pay $500 before your plan will contribute.

Annual limit: Your annual limit is the most your dental insurance plan will pay in benefits per calendar year. If you have a $2,000 annual limit, your plan will pay up to $2,000 toward dental costs for the year. After that, all costs are your responsibility.

Premium: This is the amount you pay for dental coverage. You may pay on a monthly, quarterly, semi-annual or annual basis.
If you want a lower premium, you can choose a plan with a high deductible and low annual limit. However, such a plan will bring higher out-of-pocket costs, so you may not save money in the long run.
Which Dental Plan Is Right for Me?
There is no one-size-fits-all dental plan. Plans vary significantly, and the plans available to you depend on where you live.
If you want simplicity, dental discount plans are a great choice. You pay an annual fee and receive discounts upfront. You don't have to worry about whether an insurance company will pay your claim. You can find plans in your area by visiting our trusted partner — Dentalplans.com.
If you prefer more traditional dental plans, take the time to compare multiple quotes. Dig into the details of each plan and analyze the short- and long-term benefits. For example, many plans increase your benefits over the first few years you have the plan. It might cover 20% for crowns in year 1, 30% for crowns in year 2 and 50% in year 3.

Take the time to understand the details and find the most value for your money.
How much does a crown cost without insurance?
Dental crowns average around $1300 without insurance.
Answer Link
What category does a crown fall under?
Dentals crowns fall into the major services category with fillings, root canals, bridges, dentures, etc.
Answer Link
Dental Insurance Methodology
To determine the best dental insurance providers, we pored through all United States carriers. We winnowed the list by only including companies that have a wide coverage area and product offering. To further break down the list to the true best dental insurance providers, we gave weight to carriers that offer discounts, are available in all states and have multiple payment plan options.
Dental Plans Promo
Get 10% off any dental savings plan at DentalPlans.com. You can reduce your dental care costs by saving 10-60% off at the dentist!