Want to save money on your car insurance? Find and compare free custom quotes here.
Car insurance is expensive, but how big of a chunk does it carve out of household incomes in every state? We've completed a unique 50-state study to analyze and report how much of a typical household's income is devoted to paying auto insurance.
The results show that households spend anywhere between 2% and 8% of their income on car insurance. We've highlighted the cheapest and most affordable states for car insurance so you can make the most informed decisions about car insurance in your state.
See All Car Insurance Quotes
Tip: compare 2-3 companies
States with the Least Affordable Car Insurance
The highest insurance rates by state are affected by litigation rates in that state, the preponderance of risk factors in that state and traffic patterns in the area. While reviewing the car insurance rate map and the least affordable states remember that these are merely hindrances. Your insurance premiums can drop if you're working with the right carrier, if your driving record indicates that you're a safe driver or if your vehicle is maintained properly.
Louisiana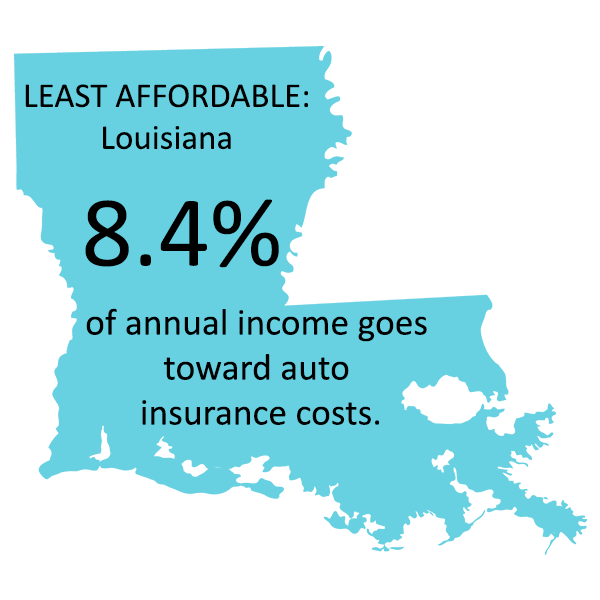 Average 2-car premium: $4,046
8.4% of income
Louisiana's especially high premiums and notably low incomes means the average household may struggle to pay for car insurance.
The state has relatively low requirements for liability coverage. You might assume that low liability requirements under state law would lead to lower insurance premiums. That's not necessarily the case. Those low limits leave many drivers underinsured — which compounds the problems when drivers are found responsible for a major accident.
Insurance companies pass along those anticipated costs to their customers through vehicle premiums. Louisiana households earn a full 1/3 less than the national average.
Read more about Louisiana auto insurance.
Michigan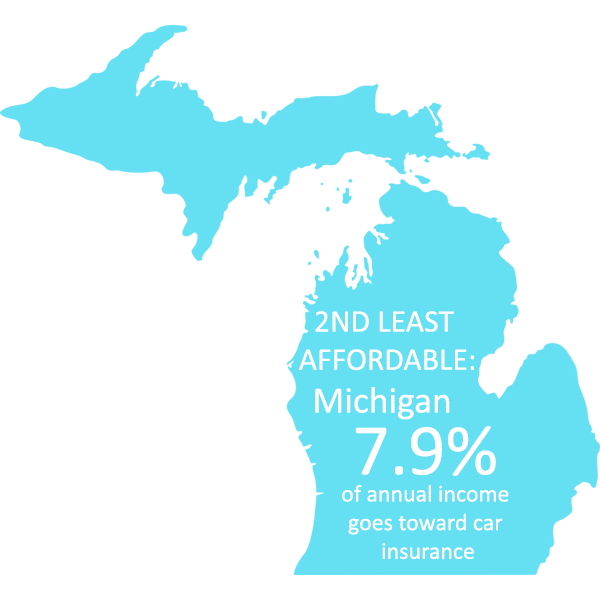 Average 2-car premium: $4,486
7.9% of income
If low liability limits are a big part of Louisiana's pricy insurance costs, Michigan has the opposite problem. The state requires drivers to carry large amounts of liability coverage. Michigan is second only to Louisiana for the chunk of household income devoted to car insurance.
Michigan's auto insurance premiums are the highest of any state in the U.S. and its reported resident income is a little below average compared to the rest of the country.
Therefore, many Michiganders are forced to skip paying for insurance. The state insurance commission imposes a mandatory levy on all Michigan car insurance policies to combat the problem and cover the damage caused by uninsured drivers.
This levy — at nearly $200 per insured car — helps drive up Michigan's auto premiums. There's an ongoing effort among state legislators to fix the problem and reduce the burden on Michigan drivers.
Learn about Michigan's car insurance laws and state limits.
Oklahoma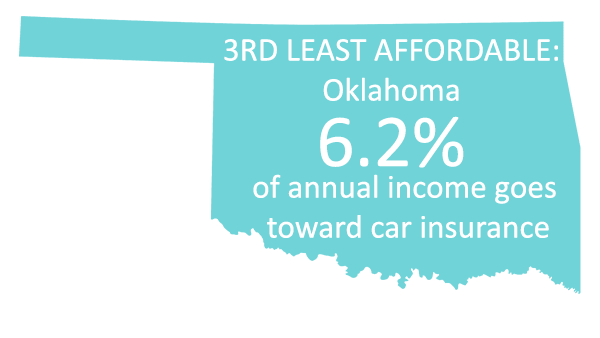 Average 2-car premium: $3,203
6.2% of income
Oklahoma's high insurance rates are most often attributed to bad weather. The state typically leads the country in property and vehicle damage from hail and tornadoes.
Continue reading about Oklahoma state car insurance policies and rates.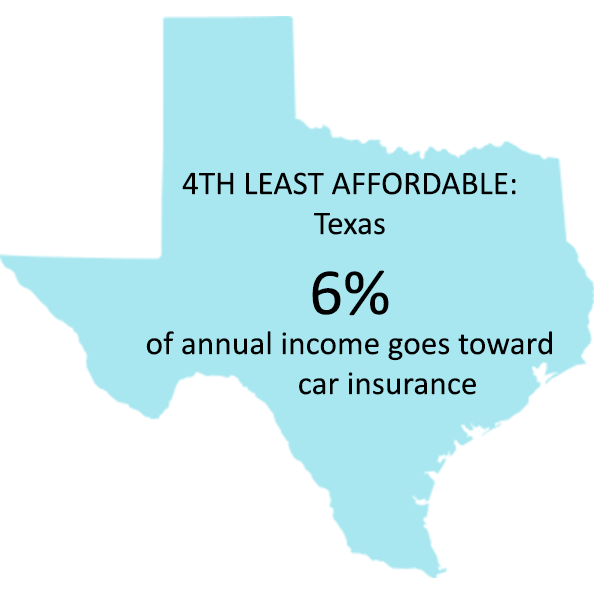 Texas
Average 2-car premium: $3,656
6% of income
Texas combines fairly high premiums with an average household income that's a little below the national average. Texans drive a lot, and on roads that are busier and more urban than many parts of the country. As a rule, accidents are more likely to happen on busier roads in more crowded areas and insurers pass these costs along to drivers.
Read our full story on auto insurance in Texas.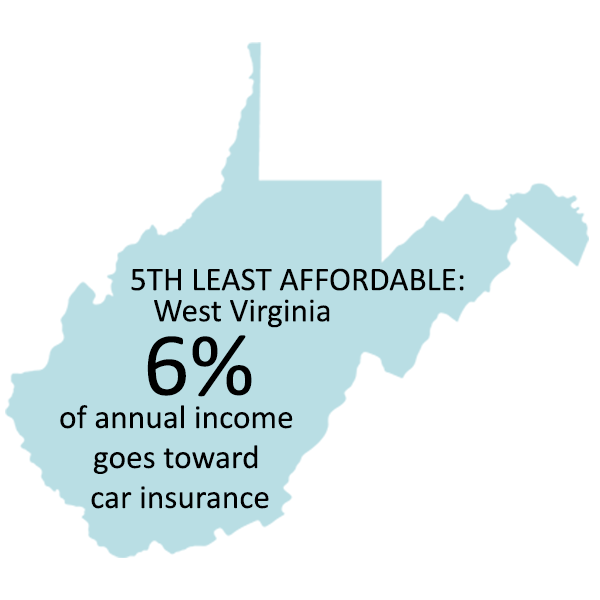 West Virginia
Average 2-car premium: $2,637
6% of income
The Mountain State reveals how insurance premiums that are close to average nationally become fairly unaffordable when families make much less than the rest of the country.
Household incomes in West Virginia are in the low $40,000s — about a third below the average compared to all states. That means car insurance takes almost twice the financial bite of states with comparable premiums but much higher incomes.
States With the Most Affordable Car Insurance
At times, the least expensive states to live in often have the cheapest insurance. Remember, however, that state minimum car insurance levels do not allow you to pay nothing for your insurance. Moreover, insurance rates by car determine how much you pay because some vehicles are more expensive to insure than others.
Alaska
Average 2-car premium: $1,818
2.3% of income
Learn about Alaska's auto insurance limits and affordability.
Hawaii
Average 2-car premium: $1,818
2.3% of income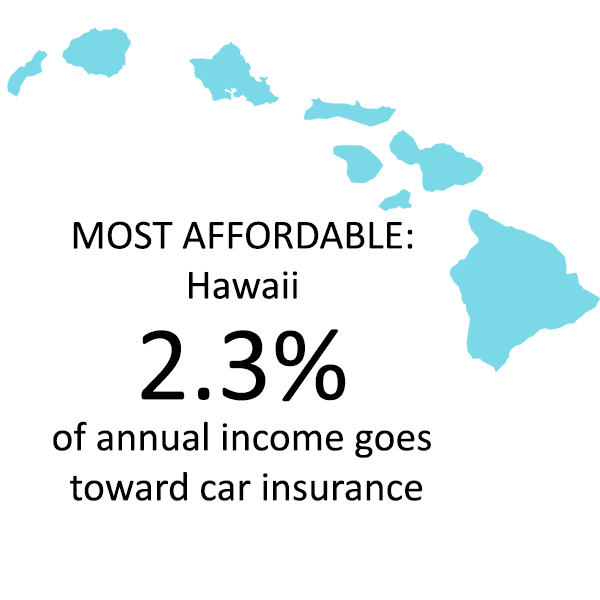 See our full article on car insurance in Hawaii.
There are less expensive places to insure a car than in the two non-contiguous states of the union. In both cases, regulations raise prices a bit more than many other state. Alaska has relatively high liability limits and Hawaii has a no-fault system, which can also increase premiums.
Both of these far-flung states remain below average for premiums and household incomes that are well above average — at least 15% more, in fact. This means that Alaska and Hawaii car insurance inflicts the least financial pain on the average household.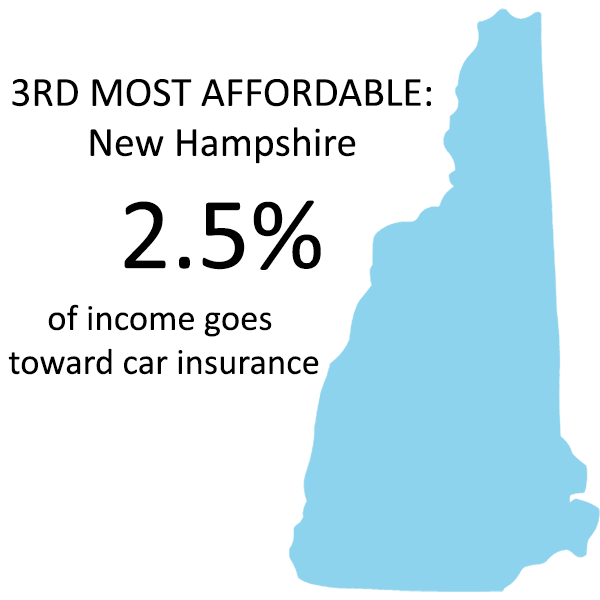 New Hampshire
Average 2-car premium: $1,907
2.5% of income
Learn about New Hampshire's car insurance rates.
Idaho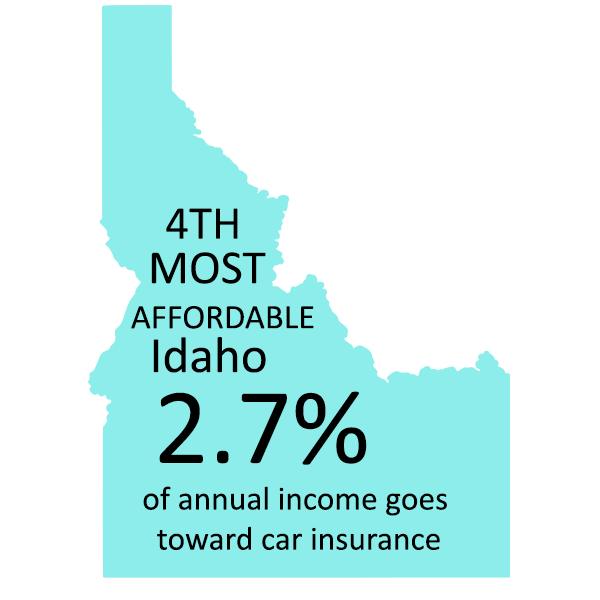 Average 2-car premium: $1,493
2.7% of income
Continue reading about Idaho car insurance and laws specific to Idaho.
Virginia
Average 2-car premium: $1,984
2.7% of income
Learn more about car insurance in Virginia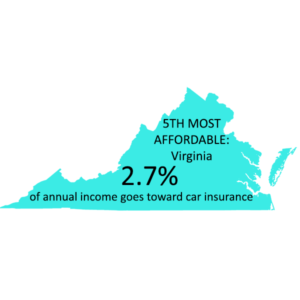 If urbanization and busy roads helped make auto insurance expensive in some of the least affordable states, this trio demonstrates the flip side of the coin. New Hampshire, Idaho and Virginia are more rural and have fewer uninsured drivers.
Those factors help drive down the state premiums, which are at least 25% below the national average.  New Hampshire and Virginia also rank well above the national norm in average household income. Idaho is a little below it but it has by far the lowest average premium of the three.
What Affects Car Insurance Rates?
Traditionally, you'll search car insurance rates by zip code because location plays quite a role in setting your premium. As you check insurance rates, remember that you might also find the highest insurance rates by city change based on your liability relative to your proximity to the city center, etc.
Moreover, the cheapest states do have locations where prices tend to skyrocket. For example, you might be excited that Virginia has low insurance rates, but residents living near massive cities like Richmond, Washington and Norfolk tend to see higher rates.
Other items that impact your car insurance rates include:
Location
State minimums (generally $15,000 per person and $30,000 per incident)
The carrier's credit rating
The amount of coverage you carry
Economic impacts of the COVID-19 pandemic
The Data
The average premium is based on Benzinga's survey of quotes in multiple cities within the state, supplemented by additional price research from multiple online sources. The total shown is for a 2-car household and includes discounts for a married couple. Married-couple discounts average 12% across states but can range between 0% and 18%. Many insurers offer a discount for multiple vehicles on the same policy, regardless of whether the drivers of the vehicles are married. Household incomes are drawn from 2018 U.S. Census Data.
We calculated the proportion of income devoted to paying for insurance on 2 cars in each state household. We've also divided the average premium shown by the average household income to yield a representative percentage of household income. The average car insurance cost by state includes:
State
Insurance Cost
Average Annual Policy
per 2-Car Household
Average Annual
Household Income
Median for State
Percent of Income Required
to Pay Car Insurance
Louisiana
$4,046
$47,905
8.40%
Michigan
$4,486
$56,697
7.90%
Oklahoma
$3,203
$51,924
6.20%
Texas
$3,656
$60,629
6%
West Virginia
$2,637
$44,097
6%
Mississippi
$2,616
$44,717
5.90%
Rhode Island
$3,622
$64,340
5.60%
Arkansas
$2,643
$47,062
5.60%
Florida
$3,076
$55,462
5.50%
Montana
$3,036
$55,328
5.50%
South Carolina
$2,834
$52,306
5.40%
Alabama
$2,647
$49,861
5.30%
Kentucky
$2,592
$50,247
5.20%
New York
$3,455
$67,844
5.10%
Delaware
$3,213
$64,805
5%
Nevada
$2,748
$58,646
4.70%
Georgia
$2,705
$58,756
4.60%
New Jersey
$3,738
$81,740
4.60%
Pennsylvania
$2,729
$60,905
4.50%
New Mexico
$2,078
$47,169
4.40%
Tennessee
$2,298
$52,375
4.40%
California
$3,264
$75,277
4.30%
Missouri
$2,353
$54,478
4.30%
Arizona
$2,376
$59,246
4%
Wyoming
$2,454
$61,584
4%
Minnesota
$2,749
$70,315
3.90%
South Dakota
$2,180
$56,274
3.90%
Ohio
$2,151
$56,111
3.80%
Connecticut
$2,905
$76,348
3.80%
Oregon
$2,406
$63,426
3.80%
Kansas
$2,139
$58,218
3.70%
North Carolina
$1,958
$53,855
3.60%
Colorado
$2,557
$71,953
3.60%
Nebraska
$2,082
$59,566
3.50%
Massachusetts
$2,757
$79,835
3.50%
North Dakota
$2,148
$63,837
3.40%
Washington
$2,457
$74,073
3.30%
Wisconsin
$2,012
$60,773
3.30%
Indiana
$1,833
$55,746
3.30%
Maryland
$2,628
$83,242
3.20%
Maine
$1,715
$55,602
3.10%
Illinois
$1,900
$65,030
2.90%
Utah
$2,047
$71,414
2.90%
Iowa
$1,677
$59,955
2.80%
Vermont
$1,695
$60,782
2.80%
Virginia
$1,984
$72,577
2.70%
Idaho
$1,493
$55,583
2.70%
New Hampshire
$1,907
$74,991
2.50%
Alaska
$1,770
$74,346
2.40%
Hawaii
$1,818
$80,212
2.30%